Access to Higher Education: Diploma in Science and Engineering

It is never too late to return to study or even study for a degree, even if you have no qualifications at all. Or you may already have some qualifications at GCSE, NVQ or BTEC but not enough to get into university. Many adults decide to return to education to change careers, develop a career after taking a break to have a family or to increase their future career opportunities.
On our Diploma in Science and Engineering course, you can choose THREE from the following subjects:
– Biology
– Chemistry
– Psychology
– Sociology
In each of your chosen Level 3 subjects, you will take five modules over the year and, depending on what subjects you choose, you can expect to study:
– Biology: Biological Chemistry, Unicellular Life, Physiological Processes, Human Disease and Immunity, Inheritance.
– Chemistry: Structure and Bonding, Practical Inorganic Chemistry, Formulae, Equations and the Mole, Practical Organic Chemistry, Chemical Reactions.
– Psychology: Key Perspectives in Psychology, Research Methods in Psychology, Social Psychology, Cognitive Psychology, Atypical Psychology.
– Sociology: Key Perspectives in Sociology, Stratification and Differentiation, Media, Inequalities and Achievement in Education, Research Methods in Sociology.
All our Diplomas also include Study Skills, where you will gain valuable skills for university study such as academic writing, Harvard referencing, and how to effectively locate and use a range of sources.
Sep 2022 : Mid Devon : Full-time
Mid Devon campus
Assessments
The Access Diploma is predominantly based upon continuous assessment (coursework).

There will be a variety of teaching methods used throughout the course, including individual practical work, small group exercises, online research, group presentations, whole-class teaching and peer assessment.

You will be supported and encouraged to develop and practice the skills that will enable you to become an independent learner and fully prepare you for Higher Education. Students compile a portfolio of assessed work throughout the course, which is externally moderated at the end of the course.

In some subjects, such as Chemistry, Biology and Psychology, there will be in-class timed tests, practical experiments and presentations. Examination practise is a mandatory requirement of all Access courses. Students taking GCSE English or Maths will also have external examinations in May/June.
Progression
This Diploma leads to a wide range of degree courses in, for example, Human Biosciences, Podiatry, Mental Health Nursing, Child Nursing, Adult Nursing, Paramedic Science, Midwifery, Occupational Therapy, Physiotherapy, Radiography, Dental Hygiene & Nursing, Sports Coaching.
Facilities and resources
All classrooms are stimulating learning environments which are also excellently resourced with a fully interactive SMART board, visualizers and access to laptops and/or computers.
FAQs
Q: Do universities recognise the Access to HE Diploma?

A: The Access to HE Diploma is a national qualification and is recognised and accepted by UK universities. Many universities have policies to encourage applications from Access to HE students, who are valued for their maturity and willingness to contribute to discussions.



Q: How much does it cost?

A: You are entitled to full fee remission if the following applies to you:

– Not in education, employment or training and in receipt of Job Seekers Allowance or Employment Support Allowance (WRAG).

– Unemployed and in receipt of a state benefit.

– Aged 19 to 23 and studying your first full Level 3 qualification.

Contact our Advice & Guidance Centre on 01884 235245 for more information.



Q: How many days a week will I be in college?

A: Three days a week – 15 hours a week of lectures. However the demands of the course require you plan to study a further 15 hours a week outside of the classroom.
Study Programme
Every full-time student at Petroc will have their own Study Programme which will include:

– Your academic or vocational qualification.

– Maths and English Language development – if you have not achieved GCSE grade 4 in either of these subjects.

– Work Experience – hours will vary depending on your qualification and course level.

– Tutor Support – to support your personal, academic and professional development.

– Sustainability – helping you to identify how you can improve the sustainability of your future employment sectors.

– Personal Development Awards – developing six key areas of personal and employability behaviours to prepare you for the working world.
Staring Date : 12/09/2022
Course Code : FTT151
Mid Devon campus
Why Petroc should be your first choice
Petroc offers high quality education and training across North and Mid Devon. We provide outstanding learning, excellent facilities, strong connections to employers and a supportive environment to help you fulfil your education goals and set you on your path to the career of your dreams.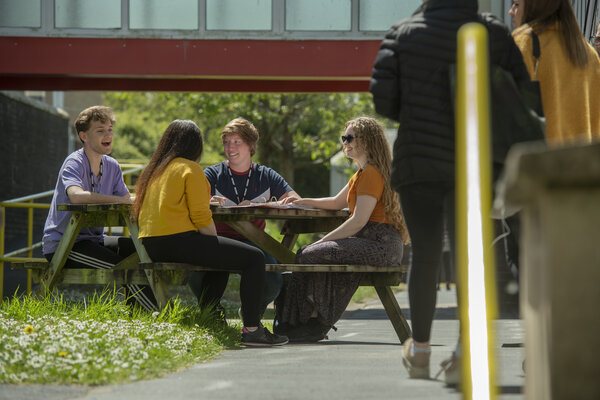 SUPPORTIVE
We offer a supportive and inclusive environment where you can flourish and feel a valued member of the college and wider community. 
INSPIRING
Our teaching spaces and facilities are some of the best in the region, providing stimulating and true-to-life learning environments. 
CONNECTED
We'll provide you with the experiences you need to be ready for employment or the next step on your educational journey.
You may also be interested in