Advanced Carpentry & Joinery (Site Carpentry) – Advanced Apprenticeship

This Advanced Site Carpenter apprenticeship will give you an understanding of working on building sites and domestic and commercial premises. You will learn how to prepare and install complex and bespoke building components such as high quality doors, shaped linings, staircases with turns, complex wall and floor units, as well as how to erect bespoke structural carpentry and complex roof structures.Use timber products to create and install building components.
During this apprenticeship, you will be required to learn the following knowledge, skills and behaviours:
CORE SKILLS:
– Work safely and pro-actively in the application of good health and safety practice.
– Understand the programme and work schedule and plan work accordingly.
– Develop and maintain good working relationships with managers, supervisors and work colleagues.
– Determine the best way of carrying out the work and ensure this is communicated clearly to colleagues.
– Interpret technical specifications and ensure compliance with legislation/guidance.
– Select the required quantity and quality of resources required for carrying out complex and non-standard work.
– Be prepared to take a lead when working in a team.
SPECIFIC SKILL REQUIREMENTS:
– Utilise a range of advanced trade skills, to include measuring, marking out, fitting, cutting, splicing, finishing, positioning and securing.
– Install complex and non-standard doors and window frames, shaped door and hatch linings, partitions with openings and changes of direction and staircases with turns.
– Install accessible service encasements, bespoke wall/ floor units and fitments, panelling and stair components.
– Erect inclined roofs with gables, roof verges and eaves, including finishings, joists and roof coverings.
– Repair and or replace frames, mouldings, floor or flat roof joist coverings, door and window ironmongery, window components, structural joists and rafters, window components, guttering and downpipes.
CORE KNOWLEDGE:
– Understand the key aspects of health, safety and welfare good practice and how to apply these to create a safe and healthy working environment.
– Understand how to plan and carry out work effectively.
– Understand how to develop and maintain excellent working relationships with others.
– Understand how to access data needed to plan and execute work tasks accurately, including an understanding of Building Information Modelling (BIM).
– Understand broader responsibilities under current legislation and guidance.
– Understand the importance of team working and being prepared to take a lead.
SPECIFIC KNOWLEDGE REQUIREMENTS:
– Understand the technical principles of advanced site carpentry, such as effective and appropriate installation practices, being able to apply this knowledge in preparing and fixing complex, non-standard timber based products and components.
– Understand how to carry out advanced calculations and work out cutting angles for complex carpentry work.
– Understand how to form complex joints associated with advanced site carpentry work.
BEHAVIOURS:
– Effective communication
– Team work
– Independent working
– Logical thinking
– Working effectively
– Time management
– Adaptability
Assessments
Assessments will consist of On-programme Assessment, Assessment Gateway and End-point Assessment (knowledge assessment and practical assessment).
Entry Requirements
You will have undertaken a Level 2 apprenticeship, or be able to demonstrate the same knowledge, skills and competency levels. You must also complete, or have previously completed, English and Mathematics Level 2 qualifications.
Progression
On completion of this standard, you can progress to a wide range of employment opportunities or further develop your knowledge through a higher level apprenticeship.
Facilities and resources
As an apprentice, you will have full access to the college facilities.
FAQs
Q: Is there any equipment needed to participate on this course?

A: You will need to buy safety boots as well as your own stationery and textbook; a full equipment list will be provided at interview.



Q: Does the college find me an employer?

A: No, you are responsible for finding your own work placement. We can help by following up on leads you may have and discussing apprenticeship requirements with a prospective employer, as well as checking them for suitability.



Q: Will I get paid for working with my employer?

A: You may start initially on a work trial basis for a week or two, but once a position has been confirmed you should be paid a trainee wage, legislation states this can be below minimum wage and tends to vary between employers.



Q: Should my employer pay me while I am at college?

A: Yes, you will be paid for the time you are at college irrespective of whether you attend on a block or day release basis.
Starting Date : 01/08/2023
Course Code : AT95 (2023)
Tiverton campus
Starting Date : 09/09/2024
Course Code : AT95 (2024)
Tiverton campus
Why Petroc should be your first choice
Petroc offers high quality education and training across North and Mid Devon. We provide outstanding learning, excellent facilities, strong connections to employers and a supportive environment to help you fulfil your education goals and set you on your path to the career of your dreams.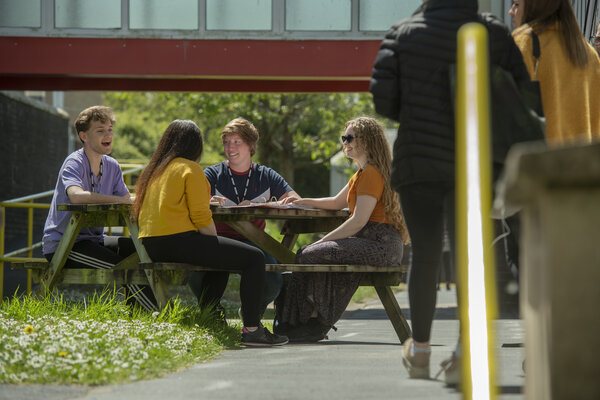 SUPPORTIVE
We offer a supportive and inclusive environment where you can flourish and feel a valued member of the college and wider community. 
INSPIRING
Our teaching spaces and facilities are some of the best in the region, providing stimulating and true-to-life learning environments. 
CONNECTED
We'll provide you with the experiences you need to be ready for employment or the next step on your educational journey.
You may also be interested in