BSc (Honours) Integrated Technologies Engineering

A degree tells employers your capacity for research, problem-solving, critical thinking and communication skills are at an advanced level. It is the start of your career. Our honours degree programmes, enable you to apply for graduate roles, to develop your own business, or go on to postgraduate study, qualifying in a range of professions.
This exciting and fascinating engineering degree, awarded by the University of Plymouth, will provide you with the skills and knowledge needed to combine mechanical, electrical, electronic and digital technologies to develop engineering solutions.
You will gain the skills to apply technology to engineering problems and processes, and maintain and manage current technology – sometimes within a multidisciplinary engineering environment. It will encourage you to be forward-thinking and embrace new technologies.
Throughout the programme, you will develop your understanding of, and intellect for, the parameters of engineering industries, the application of project management, and the ethos and skills for career-long professional development through topics including Leadership and Enterprise, Project Management, Professional Development for Contemporary and Future Engineering Sectors and Integrating Technologies for Contemporary and Future Engineering Sectors. You will also undertake an individual engineering project.
By enrolling on this programme, you will become part of SWIoT – the South West Institute of Technology. SWIoT is a unique collaboration between Petroc and a number of prestigious higher and further education partners, designed to provide innovative technical education and deliver a skilled local workforce, economic growth, and prosperity to the South West. We offer a purpose-built, specialist training facility, professionally-equipped with the very latest in industry equipment including high-tech CAD facilities, 3D printing, electronics design and assembly, a fabrication and welding workshop, CNC and manual machining, and a bench fitting workshop.
Select from the start date/s below…
Assessments
Assessment will be through a combination of coursework and practical work consisting of interim reports and moderator interview, poster and project discussion, final report, research log book, group trade show stand and poster defence, plus an engineering solution pitch.

You will receive either a Pass or Fail on your assessment.
Entry Requirements
You will need to have successfully completed a foundation degree or equivalent in an engineering, computing or digital technology discipline.
Progression
On successful completion of this programme, you will have the skills and knowledge to implement current and evolving technologies in the workplace. You may also wish to further your studies at MSc Level 7.
Facilities and resources
This programme will be taught at the Engineering Centre of Excellence, which is a specialist training and assessment facility for engineering and manufacturing students. The centre contains high-tech CAD facilities, 3D printing, electronics design and assembly, a fabrication and welding workshop, CNC and manual machining, and a bench fitting workshop.
FAQs
Q: Are there examinations?

A: Examinations are not a planned assessment method in this programme.



Q: Do I need to know about all of the disciplines when I start?

A: No, you will bring to the programme the knowledge and skills gained at college and in the workplace as well as life skills.



Q: Will I have to do CPD or PDP?

A: Yes, the programme is focused on your development toward becoming an incorporated technologist, engineer or higher, and this is one key element that is needed by the institutions.



Q: How will CPD take place?

A: You will attend a number of technical and academic training sessions which will link to your personal development plan.



Q: How much practical work is there?

A: You will carry out practical work exercises across a number of disciplines on a regular basis.



Q: Will I need to commit to time outside of college?

A: Yes, working for this level of study requires some self-discipline to study outside of class, however, the resources at college are available throughout the week, so you will be encouraged to work in college to complete tasks in addition to teaching sessions.
Starting Date : 09/09/2024
Course Code : HEB126F / G402 (2024)
North Devon Campus
Starting Date : 09/09/2024
Course Code : HEB126P (2024)
North Devon Campus
Why Petroc should be your first choice
Petroc offers high quality education and training across North and Mid Devon. We provide outstanding learning, excellent facilities, strong connections to employers and a supportive environment to help you fulfil your education goals and set you on your path to the career of your dreams.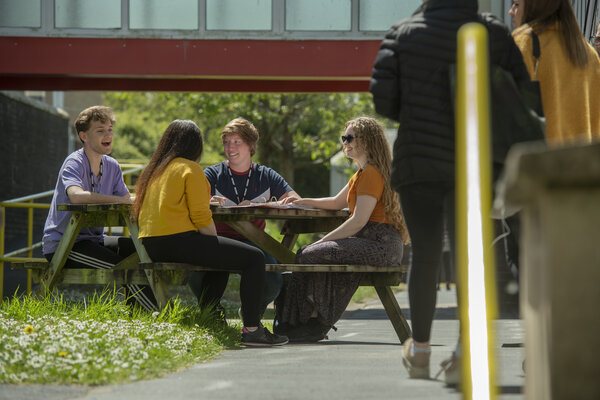 SUPPORTIVE
We offer a supportive and inclusive environment where you can flourish and feel a valued member of the college and wider community. 
INSPIRING
Our teaching spaces and facilities are some of the best in the region, providing stimulating and true-to-life learning environments. 
CONNECTED
We'll provide you with the experiences you need to be ready for employment or the next step on your educational journey.
You may also be interested in