Certificate in Information & Creative Technology

IT skills are your passport to a wide range of career options. This Level 2 Certificate in Information & Creative Technology covers all aspects of computing and covers practical skills and knowledge of underlying technologies. It can give you specialist work-relevant IT skills in many aspects of computing, including units on computer hardware, programming, website design and knowledge of underlying principles of the internet.
You will study nine units on a variety of topics
– Online World: Extend your knowledge of the main technologies and processes which make the internet work.
– Technology Systems: Extend your knowledge of the hardware and software components that make up a range of technology systems.
– Digital Portfolio: Create an exciting and dynamic showcase for your achievements on the course.
– Creating Digital Graphics: Investigate the use of digital graphics, learn new skills using two industry-standard graphical packages and then design and create your own graphic images.
– Spreadsheet Development: Create your own spreadsheet to demonstrate advanced skills and meet specified user requirements.
– Software Development: Learn the fundamentals of programming and create your own program using Visual Basic.
– Website Development: Investigate a wide variety of website components and then develop an effective website to meet user requirements.
– Creating Digital Animations: Learn the fundamentals of animation and create your own animation using industry-standard software.
– Installing and Maintaining Computer Hardware: Understand the benefits of maintaining hardware and carry out practical maintenance activities.
Assessments
For most units, there will be three or four assignments. These will be prepared on word processing software. All units are assessed and graded by your lecturers. Your work will have to meet the mark criteria laid down by the examinations board. Some of the marks will be checked by the exam board. An overall grade is awarded, which may be Pass, Merit or Distinction.
Entry Requirements
All entrants must hold four GCSEs at grade 3 or equivalent (or above), preferably including GCSE Maths and English. If you do not have a GCSE grade 4 in Maths and/or English you will continue studying these subjects alongside your chosen course(s). At the end of the year, you are expected to have completed and achieved all the components of your Level 2 Study Programme and improved your Maths and English skills before progressing to your next level course
It is preferable that you have a grade 4/5 in either Maths or English before starting the programme. Entrants who do not have a GCSE grade 4 in Maths and/or English will continue studying these subjects.
Progression
Most students use this qualification as a basis for further study. You could go on to a more advanced course such as the Digital Production, Design and Development T-level or Digital Support Services T-level, A-levels, or follow an apprenticeship/employment route.
Facilities and resources
We have a number of IT `super rooms', housing new i7 computers equipped with High Resolution Displays for computing/design work. These rooms have Creative Cloud and computer applications.

You will be taught mostly in computing rooms, equipped with modern networked PCs. Each student will have the use of their own PC. For the theory parts of the course, you may occasionally be taught in a standard classroom.
FAQs
Q: Will this qualification give me the practical skills to apply for work?

A: Yes. However, you must remember that IT jobs have a lot of applicants, and after completing the BTEC First Diploma, you may well be advised to study for a higher qualification if you want a career in IT.



Q: Will this qualification enable me to progress further with my education?

A: Yes. Once you have completed the BTEC First Diploma, you will be able to apply for Level 3 qualifications (A-levels or equivalent courses).



Q: Will I get help if I have trouble with my reading and writing?

A: Yes. The College allocates extra time to support students with reading and writing difficulties. There is also extra support available if your maths could do with improvement.
Study Programme
Every full-time student at Petroc will have their own Study Programme which will include:

– Your academic or vocational qualification.

– Maths and English Language development – if you have not achieved GCSE grade 4 in either of these subjects.

– Work Experience – hours will vary depending on your qualification and course level.

– Tutor Support – to support your personal, academic and professional development.

– Sustainability – helping you to identify how you can improve the sustainability of your future employment sectors.

– Personal Development Awards – developing six key areas of personal and employability behaviours to prepare you for the working world.
Staring Date : 13/09/2021
Course Code : FTB061 (2021)
North Devon campus
Staring Date : 12/09/2022
Course Code : FTB061 (2022)
North Devon campus
Why Petroc should be your first choice
Petroc offers high quality education and training across North and Mid Devon. We provide outstanding learning, excellent facilities, strong connections to employers and a supportive environment to help you fulfil your education goals and set you on your path to the career of your dreams.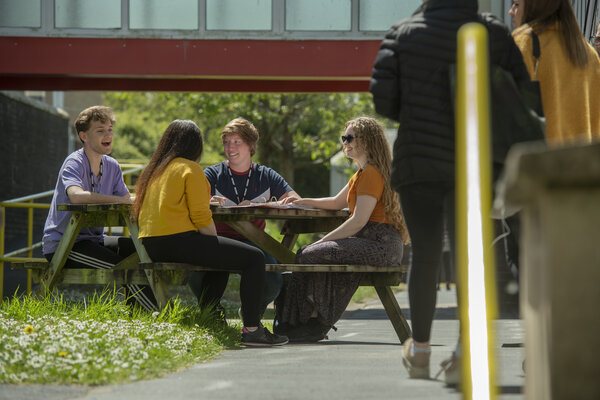 SUPPORTIVE
We offer a supportive and inclusive environment where you can flourish and feel a valued member of the college and wider community. 
INSPIRING
Our teaching spaces and facilities are some of the best in the region, providing stimulating and true-to-life learning environments. 
CONNECTED
We'll provide you with the experiences you need to be ready for employment or the next step on your educational journey.
You may also be interested in