This Diploma in Art & Design course is taught in a supportive and lively studio atmosphere, where you will soon discover new skills and brush up on your existing talent.
Our dedicated and enthusiastic team of industry experienced lecturers will introduce you to concepts and artists that will inspire your creative journey and challenge the way you create, think and write about art. You'll experiment with materials and techniques from disciplines as diverse as Drawing, Painting, Fashion, Animation, Printing, Graphics, Illustration, Photography, Textiles and 3D.
Units modules include:
– Introduction to materials, processes and technical skills in art and design
– Introduction to contextual research in art and design
– Introduction to drawing skills
– Introduction to communication skills in art and design
– Solving 3D creative problems
– Solving Time-based creative problems
– Developing and producing a personal project in art and design
If you have completed a creative GCSE at school but didn't get the grades you were expecting, or if you need to retake your Maths or English alongside a course, then this creative course is for you; it will give you the opportunity to gain confidence to progress onto our Level 3 Diploma.
Assessments
The course has no exams, instead, your coursework portfolios will be assessed and graded Pass, Merit, or Distinction.



All assessed work is scheduled to strict deadlines over the course of the programme. Failure to submit work on time can affect the overall grade awarded.
Entry Requirements
All entrants must hold four GCSEs at grade 3 or equivalent (or above), preferably including GCSE Maths and English. If you do not have a GCSE grade 4 in Maths and/or English you will continue studying these subjects alongside your chosen course(s). At the end of the year, you are expected to have completed and achieved all the components of your Level 2 Study Programme and improved your Maths and English skills before progressing to your next level course
You will also be required to bring a portfolio of work to your interview to show us your interests and skill development so far.
Progression
Most of our students who are thinking about some aspect of art and design as a career will choose to progress to the Extended Diploma in Art and Design here at Petroc as the gateway to Higher Education and the world of employment.
Facilities and resources
We have purpose-built, art studios where students have their own personal work and storage areas.



In addition, we have specialist workshops and facilities to support each of the specialist areas:

– Fashion/textiles – industrial and domestic machines, mannequins, pattern cutting, print and constructed textiles

– Graphics/illustration – a full suite of apple mac computers with industry-standard software for graphics, image-making, film and animation

– Fine art – painting, printmaking, sculpture, film, photography

– 3D crafts – mixed media, wood, stitch and metal facilities.
FAQs
Q: Who is the course for?

A: This course is for anyone who wishes to further their art and design education but did not get sufficient grades to go onto our level 3 course. This course will give you the confidence to progress onto our level 3 courses. You will need to be innovative, creative and motivated. You will have an open mind and be prepared to explore and experiment within the structured yet flexible course.



Q: What can this course lead to?

A: This course can give you the opportunity to build a portfolio to progress onto our full time level 3 Art and Media Courses as well as A levels.



Q: Can I study GCSE Maths and English alongside this course?

A: If you have not achieved a grade 4 or higher in maths or English, this course is timetabled to facilitate study of GCSE maths and English alongside.



Q: What happens if I need help with my assignments?

A: All learners are given regular 1:1 support from their lecturers, workshops are arranged throughout the year, these sessions will be used to support learners in completing assignments.
Study Programme
Every full-time student at Petroc will have their own Study Programme which will include:

– Your academic or vocational qualification.

– Maths and English Language development – if you have not achieved GCSE grade 4 in either of these subjects.

– Work Experience – hours will vary depending on your qualification and course level.

– Tutor Support – to support your personal, academic and professional development.

– Sustainability – helping you to identify how you can improve the sustainability of your future employment sectors.

– Personal Development Awards – developing six key areas of personal and employability behaviours to prepare you for the working world.
Staring Date : 12/09/2022
Course Code : FTB045 (2022)
Brannams campus
Why Petroc should be your first choice
Petroc offers high quality education and training across North and Mid Devon. We provide outstanding learning, excellent facilities, strong connections to employers and a supportive environment to help you fulfil your education goals and set you on your path to the career of your dreams.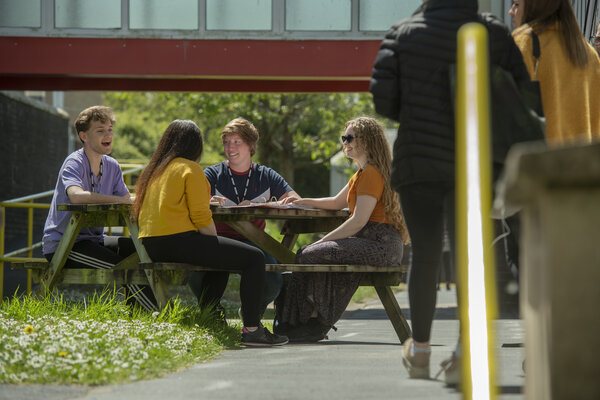 SUPPORTIVE
We offer a supportive and inclusive environment where you can flourish and feel a valued member of the college and wider community. 
INSPIRING
Our teaching spaces and facilities are some of the best in the region, providing stimulating and true-to-life learning environments. 
CONNECTED
We'll provide you with the experiences you need to be ready for employment or the next step on your educational journey.
You may also be interested in