Diploma in Performing Arts (Dance)

This Performing Arts (Dance) programme focuses on technical training and performance skills on a range of dance styles. The course is designed for those wanting to pursue a career within the dance sector and will focus on developing dance technique across a range of styles, while fostering creative practice and choreographic studies.
The programme will prepare you for professional training as a performer, as well as providing you with the knowledge and understanding required to pursue alternative career pathways.
Technical training will cover ballet, contemporary, jazz, tap and musical theatre. Basic anatomy and physiology, healthy living and injury prevention are also integral to your studies. You will study the wider areas of the dance sector such as performing arts business, historical context, the healthy performer, physical theatre and dance in the community, providing a comprehensive understanding of the dance sector. You will also work as a company to take part in full-scale productions for public audiences.
These topics are taught within seven mandatory units and six optional units which are assessed by experienced teachers who are professionally trained in their respective specialist areas.
Mandatory units include:
– Developing Skills and Techniques for Live Performance
– Group Performance Workshop
– Final Live Performance to an Audience
These units develop performance and technical skills and are centred around practical assessment. Investigating Practitioner's Work, Employment Opportunities in the Performing Arts, Individual Performance Commission, Performing Arts in the Community are theoretical externally assessed units that develop a deep understanding of contextual studies.
Optional units focus on the technical development of specific performance genres such as:
– Contemporary
– Jazz
– Tap
– Ballet
– Physical Theatre
– Musical Theatre
Based at Brannams' purpose-built dance studio, this exciting course will give you an insight into life as a dance professional. We have a reputation for producing outstanding productions and in addition to your training and studies, you will also have the opportunity to work with visiting artists through workshops, and make trips to see professional productions including an educational visit to New York.
Assessments
Assessed work will be graded pass, merit, or distinction (the A Level equivalents are E for pass, C for merit and A for distinction). These are then condensed down to the three grades you will receive at the end of the course. Each of the three grades is equivalent to an A Level and accepted as such by universities and the industry.

The course is mainly assessed through coursework: rehearsal, performances, research, portfolio, presentation discussion and evaluation.

Practical work is assessed in public and studio performances. All assessed work is scheduled to strict deadlines over the course of the programme. Failure to submit work on time can affect the overall grade awarded. All assessments are marked by two lecturers and a sample is verified by an Edexcel examiner. This ensures that all marking is fair and matches Edexcel national standards. There are three externally assessed units one of which consists of a timed written exam.
Entry Requirements
To be accepted onto a Level 3 programme, you must hold at least five GCSEs at grade 4 or above, including GCSE Maths and English language.
Entry onto the course is by audition and interview; you will be required to prepare and perform a one-minute dance in a style of your choice.
Progression
Successful completion of the programme will provide progression to Higher Education routes where you can study a broad range of dance-related degree programmes. Dance students from Petroc have also progressed to higher education at establishments such as Laban, London Contemporary Dance School and Northern Contemporary Dance School. Students are trained to a high standard of technical and performance skills, beyond this they will learn about the wider aspects of the dance and performing arts industry. This opens up the opportunity to work across a broad spectrum of jobs.
Facilities and resources
The college has a fully equipped theatre, purpose built dance studio and rehearsal rooms.
FAQs
Q: What types of employment can you engage with if you have this qualification?

A: Students are trained to a high standard of technical and performance skills, beyond this they will learn about the wider aspects of the dance and performing arts industry. This opens up the opportunity to work across a broad spectrum of jobs such as dance therapy, teaching; formal and private, community dance practitioner, dance company education officer, dance company administration roles such as manager, marketing and fundraising, theatre management and administration, local and national dance agency managers and administrators and many more!



Q: Do I need to have GCSE Dance to do the course?

A: No, as long as you have some experience in dance in addition to your GCSE then you can do the course.



Q: Will doing a full-time vocational course limit my career opportunities?

A: No, the course develops a wide range of transferable skills beyond the subject specialism. You will learn how to work as part of a company or team to produce, as well as perform, in shows. You will learn how to communicate effectively, use your own initiative, lead a small team of people, perform under pressure, meet the demands of a competitive employment market, create your own employment opportunities, present yourself with confidence in interviews. This provides you with the skills needed to progress in careers outside of the performing arts industry.
Study Programme
Every full-time student at Petroc will have their own Study Programme which will include:

– Your academic or vocational qualification.

– Maths and English Language development – if you have not achieved GCSE grade 4 in either of these subjects.

– Work Experience – hours will vary depending on your qualification and course level.

– Tutor Support – to support your personal, academic and professional development.

– Sustainability – helping you to identify how you can improve the sustainability of your future employment sectors.

– Personal Development Awards – developing six key areas of personal and employability behaviours to prepare you for the working world.
Staring Date : 12/09/2022
Course Code : FTB095 (2022)
Brannams campus
Why Petroc should be your first choice
Petroc offers high quality education and training across North and Mid Devon. We provide outstanding learning, excellent facilities, strong connections to employers and a supportive environment to help you fulfil your education goals and set you on your path to the career of your dreams.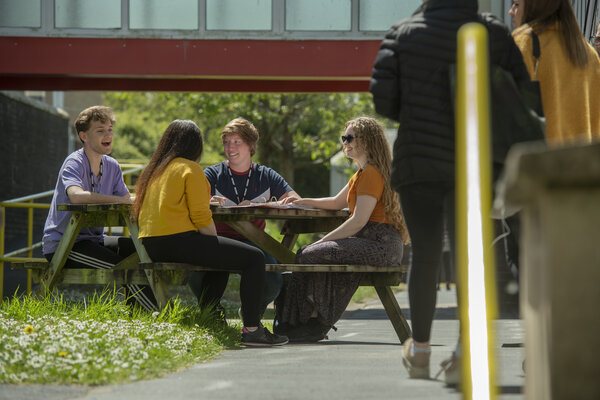 SUPPORTIVE
We offer a supportive and inclusive environment where you can flourish and feel a valued member of the college and wider community. 
INSPIRING
Our teaching spaces and facilities are some of the best in the region, providing stimulating and true-to-life learning environments. 
CONNECTED
We'll provide you with the experiences you need to be ready for employment or the next step on your educational journey.
You may also be interested in