Diploma in Sports Massage (Level 3/4)

This year-long Sports Massage Therapy programme is a combination of the Level 3 Diploma in Sports Massage Therapy and the higher level Level 4 Certificate in Sports Massage Therapy which learners progress onto in the second part of the course. These are technical qualifications aimed at developing the knowledge, understanding and technical skills needed for a career as a Sports Massage Therapist – either employed or self-employed.
The primary outcome of the programme is to prepare you to enter the specific sector of sports massage as a practitioner, however, it could be used to give a strong basis for 3rd year FE learners looking to progress onto a Higher Education (university) course related to sports rehabilitation, physiotherapy, sports massage therapy or sports science.
LEVEL 3:
The Level 3 sports massage therapist will be able to work safely and effectively on dysfunctional tissue in a range of context, to include pre-event, post-event, intra-event and for maintenance purposes. The content of this qualification is comprised of all the required elements needed to work effectively and efficiently as a sports massage therapist.
Modules include:
– Anatomy and physiology
– Professional practice
– An understanding of the principles of health and fitness
– How to provide sports massage treatments.
LEVEL 4:
This qualification will develop your knowledge and understanding of anatomy and physiology to work on post acute injury and pre-existing conditions, dealing with musculo-skeletal and para-tendon injuries. This is a vocational qualification and includes all the required elements to work effectively as a sports massage practitioner.
Modules include:
– Conducting subjective and objective assessment
– Providing sports massage techniques to prevent and manage injury
– Treatment modalities to support soft tissue repair.
You will develop the skills to conduct subjective and objective assessments, which will cover active, passive and resisted range of movements, detailed postural analysis, functional testing and special tests. You will also develop the skills to work safely and effectively on muscle and para-tendon injuries using a variety of soft tissue techniques and will be able to advise on treatment modalities to support soft tissue repair.
Assessments
Assessment is by exams, case studies, practical observations and workbooks. You will need to log a significant number of sports massage therapy hours before gaining certification for the Level 3 qualification.
Entry Requirements
To be accepted onto a Level 3 programme, you must hold at least four GCSEs at grade 4 or above, including GCSE Maths and English language.
Applicants will need to prove a solid background in science including at least one year of study on a full Level 2 or Level 3 sport or fitness related course, or related A-levels. It is advisable that learners are at least 18 years old before completion of the course.
Progression
This qualification will prepare you for employment as a sports massage practitioner working with injured clients. Learners who complete this qualification will be able to gain employment and obtain insurance to work as a sports massage practitioner. Employment opportunities exist in a variety of settings, including:

– Private health clubs and leisure centres

– Sports centres and clubs

– Working independently/self-employed/mobile/home-based settings



Some learners will choose to progress onto a Higher Education course in order to expand their knowledge and qualifications further. Relevant HE courses include sport science, massage and nutrition, sports rehabilitation, sports conditioning, sports and exercise therapy and physiotherapy.
Facilities and resources
Here at Petroc we have a purpose built lifestyle centre with therapy suites and a commercial spa. Learners will also further their learning and experience at local sports events, providing pre- and post-event massage to participants.
FAQs
Q: I am keen on becoming a sports therapist and I'd like to join this course straight after completing my GCSE's at School. Is this a possible option for me?

A: No, learners cannot access this programme directly from Year 11 at school. Before joining the full-time Sports Massage programme, applicants need to show a strong background in science which should include at least one year of study on a full Level 2 or Level 3 sport or fitness related course, or related A-levels. We would recommend that you study a fitness or sport qualification before you apply for this more specialised, fast track qualification. Good examples of courses to follow are our Level 2 Diploma in Exercise and Fitness Instruction, BTEC Foundation Diploma in Sport or our A-level equivalent BTEC alongside other A-level choices.
Study Programme
Every full-time student at Petroc will have their own Study Programme which will include:

– Your academic or vocational qualification.

– Maths and English Language development – if you have not achieved GCSE grade 4 in either of these subjects.

– Work Experience – hours will vary depending on your qualification and course level.

– Tutor Support – to support your personal, academic and professional development.

– Sustainability – helping you to identify how you can improve the sustainability of your future employment sectors.

– Personal Development Awards – developing six key areas of personal and employability behaviours to prepare you for the working world.
Staring Date : 12/09/2022
Course Code : FTB325 (2022)
North Devon campus
Why Petroc should be your first choice
Petroc offers high quality education and training across North and Mid Devon. We provide outstanding learning, excellent facilities, strong connections to employers and a supportive environment to help you fulfil your education goals and set you on your path to the career of your dreams.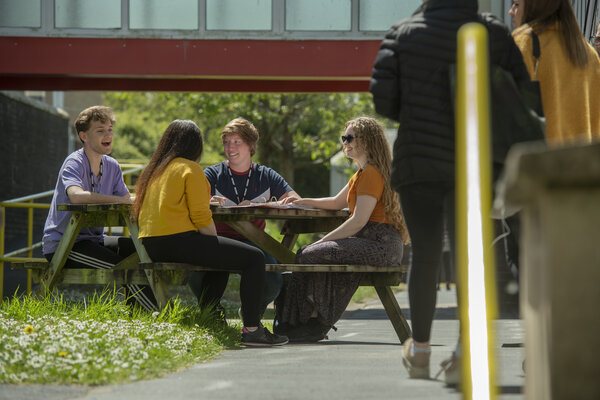 SUPPORTIVE
We offer a supportive and inclusive environment where you can flourish and feel a valued member of the college and wider community. 
INSPIRING
Our teaching spaces and facilities are some of the best in the region, providing stimulating and true-to-life learning environments. 
CONNECTED
We'll provide you with the experiences you need to be ready for employment or the next step on your educational journey.
You may also be interested in