Engineering Technician (Mechatronics) – Apprenticeship (Standard)

Mechatronics Maintenance Technicians ensure that plant and equipment perform to the required standard to facilitate production targets regarding safety, quality, delivery and cost within high value manufacturing environments. Typically your work as an apprentice would cover a broad range of activities including installation, testing, fault finding and the on-going planned maintenance of complex automated equipment.
During this apprenticeship, you will be required to learn the following knowledge, skills and behaviours:
KNOWLEDGE:
– Understanding the importance of complying with statutory, quality, organisational and health and safety regulations.
– Understanding of general engineering/manufacturing mathematical and scientific principles, methods, techniques, graphical expressions, symbols formulae and calculations used by engineering technicians.
– Understanding the structure, properties and characteristics of common materials used in the sector.
– Understanding the typical problems that may arise within their normal work activities/environment.
– Understanding approved diagnostic methods and techniques used to help solve problems.
– Understanding the importance of only using current approved processes, procedures, documentation.
– Understanding and interpreting relevant engineering/manufacturing data and documentation.
– Understanding the different roles and functions in the organisation.
– Understanding why it is important for an organisation to continually review processes and procedures.
SKILLS:
– Obtaining, checking and using the appropriate documentation.
– Working safely at all times.
– Planning and obtaining resources required to undertake the work activity.
– Undertaking the work activity using the correct processes, procedures and equipment.
– Carrying out the required checks.
– Dealing promptly and effectively with problems.
– Completing any required documentation using the defined recording systems.
– Restoring the work area on completion of the activity.
BEHAVIOURS:
– Personal responsibility, resilience and ethics.
– Work effectively in teams.
– Effective communication and interpersonal skills.
– Focus on quality and problem solving.
– Continuous personal development.
SPECIFIC SPECIFIC KNOWLEDGE:
– Understand mathematical techniques, formula and calculations in a mechatronics maintenance environment and the type of equipment being maintained.
– Understand mechanical, electrical, electronic, fluid power and process control principles in a mechatronics maintenance environment.
– Understand how equipment being maintained functions and operating parameters in individual components and how they interact.
– Understand fault diagnostic methods, techniques and equipment used.
– Understand condition monitoring methods and equipment used and understand how the information gained supports the planning of maintenance activities.
– Understand how to minimise machinery downtime.
SPECIFIC SPECIFIC SKILLS:
– Read and interpret relevant data and documentation used to maintain components, equipment and systems.
– Carry out condition monitoring of plant and equipment.
– Carry out planned maintenance activities on plant and equipment.
– Carrying out complex fault diagnosis and repair activities on high technology engineered systems.
– Carrying out confirmation testing and subsequent smooth hand over of equipment and plant.
– Contribute to the business by identifying possible opportunities for improving working practices, processes and/or procedures.
Assessments
You'll be assessed via a combination of end-point assessment and on-programme Assessment.
Entry Requirements
Individual employers will set the recruitment and selection criteria for their Apprenticeships. In order to optimise success, you should have 4 GCSEs at Grade C/4 or equivalent, including Mathematics, English and a Science.
Progression
Upon completion, you can study a Level 4 apprenticeship or Higher Education qualifications including HNC or Foundation degree. Completion of the Apprenticeship is designed to be recognised by relevant Professional Engineering Institutions at the appropriate level of professional registration (EngTech). In the case of the Military specific pathway in the Aircraft Maintenance Fitter/Technician Standard, professional competence will be recognised by the Military Independent Assessment Authority (MIAA).
Facilities and resources
You will be based at Petroc's state-of-the-art Institute of Technology; providing industry-standard facilities and equipment, for the study of both Digital Science and Engineering.



Our newly-developed South West Institute of Technology (SWIoT) has been created as part of the Department for Education's (DfE) £170 million investment, to establish a network of technology institutes across the country.



In addition to our purpose-built facilities, our industrial partners have given us the benefit of their expertise, so that the specialist equipment we have installed is of the highest professional quality, and is at the cutting edge of current industry-standard specifications.



The Engineering facility will house clean room fabrication capabilities; electronics design, manufacture and testing laboratories; additive technologies (3D); and production robotics.



The Digital Science suite contains a bespoke area for developing virtual environments; a large space for drone experimentation; and the latest specification networking, software, and data engineering facilities.



Petroc's dedicated SWIoT building also has a large, welcoming social space, in which you can work and relax, while enjoying excellent connectivity.
Staring Date : 01/08/2021
Course Code : AB177 (2021)
North Devon campus
Why Petroc should be your first choice
Petroc offers high quality education and training across North and Mid Devon. We provide outstanding learning, excellent facilities, strong connections to employers and a supportive environment to help you fulfil your education goals and set you on your path to the career of your dreams.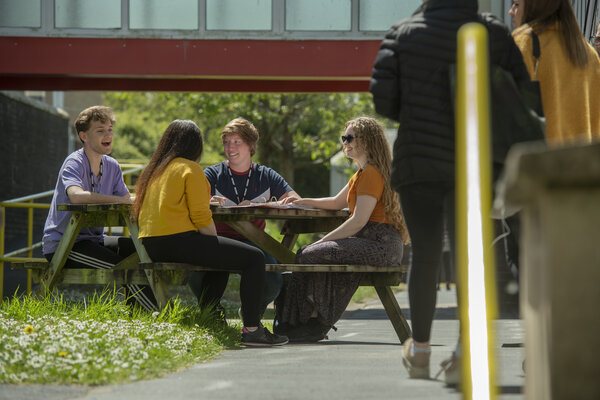 SUPPORTIVE
We offer a supportive and inclusive environment where you can flourish and feel a valued member of the college and wider community. 
INSPIRING
Our teaching spaces and facilities are some of the best in the region, providing stimulating and true-to-life learning environments. 
CONNECTED
We'll provide you with the experiences you need to be ready for employment or the next step on your educational journey.
You may also be interested in