This is a one-year full-time study programme for learners aged 16 to 18 years, who would like to develop personal, social and employment skills to move into work or further education.
The course offers vocational studies alongside Maths and English, tutorial and career enhancement. The programme will help you to gain confidence and self-esteem, improve your Maths and English, and decide what your next step in life will be.
During the course you will look at the following:
– Vocational Skills: Gain an introduction to catering, art, public services, human growth & development, UK tourism destinations, and, environmental issues.
– Work Experience: Undertake 30 hours of work experience in an area of your choice.
– Residential: Choose to go on residential trip to build confidence and gain new experiences.
After the course, we will help you decide on a progression route and support you towards it.
Assessments
You will have ongoing continuous assessment, and Functional Skills and GCSE exams.
Entry Requirements
For all learners joining Entry Level Study Programmes, there are no formal entry requirements, however you will have a one-to-one interview to discuss your personal learning needs. You will also be required to study English and Maths at an appropriate level to suit your ability.
There are no formal entry requirements for this programme other than the desire to study and develop into someone who is ready for employment or further training. Applicants will need to attend all elements of the course and be part of a class. An informal interview is part of the process.
Progression
Natural progression from this course could be on to the Career Skills programme or other college courses. Equally, this course can lead to employment, traineeships or apprenticeships.
Facilities and resources
The course is situated in its own area within the campus. You will benefit from your own base room, a communal space as well as the staff room being situated in the middle of the foundation learning area.
Study Programme
Every full-time student at Petroc will have their own Study Programme which will include:

– Your academic or vocational qualification.

– Maths and English Language development – if you have not achieved GCSE grade 4 in either of these subjects.

– Work Experience – hours will vary depending on your qualification and course level.

– Tutor Support – to support your personal, academic and professional development.

– Sustainability – helping you to identify how you can improve the sustainability of your future employment sectors.

– Personal Development Awards – developing six key areas of personal and employability behaviours to prepare you for the working world.
Starting Date : 08/09/2023
Course Code : FTB086 (2023)
North Devon campus
Starting Date : 09/09/2024
Course Code : FTB086 (2024)
North Devon campus
Why Petroc should be your first choice
Petroc offers high quality education and training across North and Mid Devon. We provide outstanding learning, excellent facilities, strong connections to employers and a supportive environment to help you fulfil your education goals and set you on your path to the career of your dreams.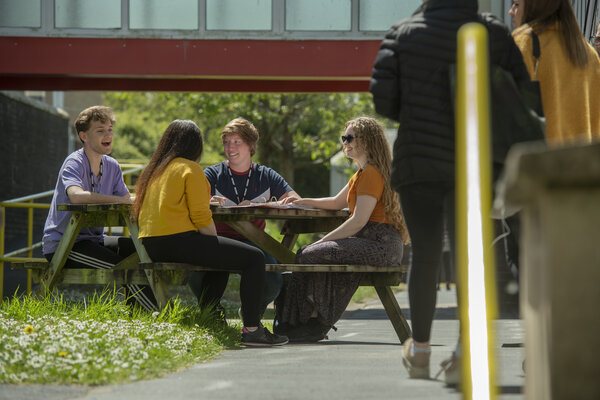 SUPPORTIVE
We offer a supportive and inclusive environment where you can flourish and feel a valued member of the college and wider community. 
INSPIRING
Our teaching spaces and facilities are some of the best in the region, providing stimulating and true-to-life learning environments. 
CONNECTED
We'll provide you with the experiences you need to be ready for employment or the next step on your educational journey.
You may also be interested in