Extended Diploma in Art, Design and Communication

If you love art and think you would like to make a career out of it, then this creative course is for you. In a dedicated studio space, you'll experiment with materials and techniques from disciplines as diverse as Drawing, Painting, Fashion, Animation, Printing, Graphics, Illustration, Photography, Textiles and 3D.
You will have the opportunity to undertake two weeks of supported work experience in Berlin with our partner college in the city.
The course is accredited by the University of the Arts London, and is equivalent to three full A Levels, or a maximum of 168 UCAS points. An increasing number of our graduates are now taking advantage of the new apprenticeship scheme to head straight into creative employment.
Units for Year One include:
– The creative process
– Developing creative practice
– Responding to a set brief
Units for Year Two include:
– Researching a specialist industry practice
– Specialist technical skills development
– Specialist creative outcome
Work experience includes opportunities to be involved in live industry briefs, public exhibitions, open events, running workshops, self-promotion, visiting artists' talks, and national competitions!
In a fast-paced and lively studio atmosphere, you will soon discover where your career is heading; the majority of our learners who graduate progress onto creative university courses directly after this course because their portfolio is abundant with high-quality work that is personal to them and focused on their future aspirations.
Our dedicated and enthusiastic team of industry-experienced lecturers will introduce you to concepts and artists that will inspire your creative journey and challenge the way you create, think and write about art. Opportunities for gallery visits, a London trip to National Exhibitions and an exchange trip to Berlin, encourage and foster an inquisitive and innovative approach to learning.
If you want to become a talented, confident creative professional, then the journey starts here!
Assessments
Assessed work will be graded Pass or Fail until the final major project, which will be graded as Pass, Merit, Distinction or Fail. The course is assessed through coursework portfolios. All assessed work is scheduled to strict deadlines over the course of the programme, failure to submit work on time can affect the overall grade awarded.
Entry Requirements
To be accepted onto this Level 3 programme, you must hold at least five GCSEs at grade 4 or above, including GCSE Maths and English Language.
You will also be asked to provide a portfolio of recent artwork showing your skills and interest in art and design and reflecting your chosen specialism. All applicants should have completed an art and design-related GCSE.
Progression
On successful completion, you could progress on to specialist degree in art and design – either here at Petroc or elsewhere, freelance work, apprenticeships and work placements. Application through UCAS, portfolio development and interview preparation are all completed alongside the course.



Whatever your plans in life, whether you decide to study further, go on to work or an apprenticeship, or set up your own business, your qualification will be your passport to success in the next stage of your life.
Facilities and resources
We have purpose-built art studios where you will have your own personal work area. In addition, we have specialist workshops and facilities to support each of the specialist areas:

– Fashion/textiles – industrial and domestic machines, mannequins, print and constructed textiles

– Graphics illustration – full suite of apple mac computers with industry-standard software for graphics, image making, film and animation

– Fine art – painting, printmaking, sculpture, film, photography

– 3D crafts – mixed media, glass, wood, stitch and metal facilities
FAQs
Q: Who is the course for?

A: Anyone who wishes to further their art and design education and has a strong desire to pursue a career in any of the art and design industries. You will need to be innovative, creative and motivated. You will have an open mind and be prepared to explore and experiment within the structured yet flexible course.



Q: What can this course lead to?

A: This course can give you the opportunity to build a portfolio to progress onto university in specialist areas such as graphics, illustration, photography, fine art, sculpture, painting, arts practice, 3D, crafts, fashion, textiles, interior design, fashion promotion and styling, animation, film, multi-media design and theatre costume.
Study Programme
Every full-time student at Petroc will have their own Study Programme which will include:

– Your academic or vocational qualification.

– Maths and English Language development – if you have not achieved GCSE grade 4 in either of these subjects.

– Work Experience – hours will vary depending on your qualification and course level.

– Tutor Support – to support your personal, academic and professional development.

– Sustainability – helping you to identify how you can improve the sustainability of your future employment sectors.

– Personal Development Awards – developing six key areas of personal and employability behaviours to prepare you for the working world.
Starting Date : 06/09/2024
Course Code : FTB047 (2024)
North Devon Campus
Why Petroc should be your first choice
Petroc offers high quality education and training across North and Mid Devon. We provide outstanding learning, excellent facilities, strong connections to employers and a supportive environment to help you fulfil your education goals and set you on your path to the career of your dreams.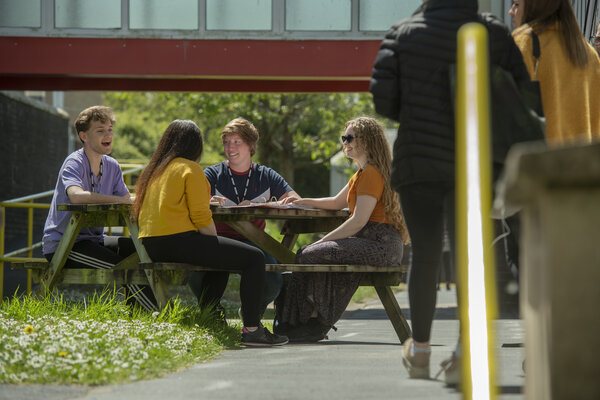 SUPPORTIVE
We offer a supportive and inclusive environment where you can flourish and feel a valued member of the college and wider community. 
INSPIRING
Our teaching spaces and facilities are some of the best in the region, providing stimulating and true-to-life learning environments. 
CONNECTED
We'll provide you with the experiences you need to be ready for employment or the next step on your educational journey.
You may also be interested in