Extended Diploma in Creative Media Production & Technology

Do you want to work in the film, TV or interactive media industries? Whether you want to be a film director, camera operator or a designer of interactive or print media, this course is for you.
Creative Digital Media Production and Technology will help you to develop your understanding of the media industry, improve your technical skills, understand creative thinking and production processes, and help find the best route for you into university, employment or an apprenticeship.
You will also learn about professional practice as well as develop your design and research skills, and will finish the year by completing an extended project in the media area you are most interested in.
During the course you will study the following units:
– An introduction to a range of processes and skills used in creative media production and technology, such as camera skills and video editing.
– An introduction into a range of design and research activities that play a vital role in helping to develop ideas in creative media production.
– An introduction into different job roles and progression opportunities in creative media production. You will be encouraged to start planning an individualised learning route towards the job role or university course you are aiming for.
– You will look a little deeper into areas of creative media which you are interested in, and think about the historical and contemporary contexts and perspectives influencing the development of ideas and technology.
– You will use your learnings to date to research and solve an audio-based problem and evaluate the outcome. This unit usually involves recording and editing sound clips and dialogue to create a soundtrack for video.
– You will use your learnings to date to research and solve a visual-based problem and evaluate the outcome. This unit may involve animation, album cover design, or filmmaking.
– You will use your learnings to date to research and solve an interactive-based problem and evaluate the outcome. This unit may be completed by creating websites, podcasts and vlog posts.
The final, summative unit of the year, will be an extended project of work that you choose to suit your interests and skills. You can choose from a wide range of possibilities including making short films, documentary, influencer-type videos, posters, websites, game art, fashion photography, short animations among others. You can choose to collaborate with other students if their project is suitable.
Assessments
There are no exams for this course. The units will be internally assessed by coursework units and externally moderated.
Entry Requirements
To be accepted onto this Level 3 programme, you must hold at least five GCSEs at grade 4 or above, including GCSE Maths and English Language.
English Literature would be accepted as an alternative to English Language. You do not need to have studied GCSE Media Studies, but if you did, you will need to have achieved a grade 4 or above.
Progression
The qualification is intended to carry UCAS points, and as it is equivalent to three A Levels. It meets admission requirements for a range of related Higher Education courses such as BA (Hons) Filmmaking, BA (Hons) Photography, BA (Hons) Media Studies, BA (Hons) Computer Animation, BA (Hons) Media Production, BA (Hons) Film, BA (Hons) Digital Television Production or BSc (Hons) Broadcast Audio Technology.
Facilities and resources
Our resources include suites of iMacs complete with Adobe Creative Cloud software, DSLR cameras to use when you are filmmaking or doing your own photoshoots, and studios where you can record sound and still or moving images. All of our creative learners are also given remote access to Adobe Creative Cloud so you can work from a suitable computer at home. Our knowledgeable and enthusiastic staff being years of experience in the creative media industries and can help you learn new skills and develop your ways of creative thinking.



Learning Technologies and Library Services offer relaxed, quiet and comfortable places to study. You will find a variety of private and group study spaces on campus and multiple computers that can be pre-booked. The college WiFi also allows you to bring your own devices to use.



There are always friendly members of staff on hand to help you find information to assist your study, and you can borrow items including books, journals and media equipment in the Library.
FAQs
Q: Do I need to buy a MAC computer?

A: No, we have Mac labs where you can work on your projects and most students store their work on the cloud for access at home.



Q: Do I need to buy an expensive camera?

A: No, we have DLSR cameras that can be taken out on loan for your media projects.
Study Programme
Every full-time student at Petroc will have their own Study Programme which will include:

– Your academic or vocational qualification.

– Maths and English Language development – if you have not achieved GCSE grade 4 in either of these subjects.

– Work Experience – hours will vary depending on your qualification and course level.

– Tutor Support – to support your personal, academic and professional development.

– Sustainability – helping you to identify how you can improve the sustainability of your future employment sectors.

– Personal Development Awards – developing six key areas of personal and employability behaviours to prepare you for the working world.
Starting Date : 04/09/2023
Course Code : FTB268 (2023)
North Devon campus
Why Petroc should be your first choice
Petroc offers high quality education and training across North and Mid Devon. We provide outstanding learning, excellent facilities, strong connections to employers and a supportive environment to help you fulfil your education goals and set you on your path to the career of your dreams.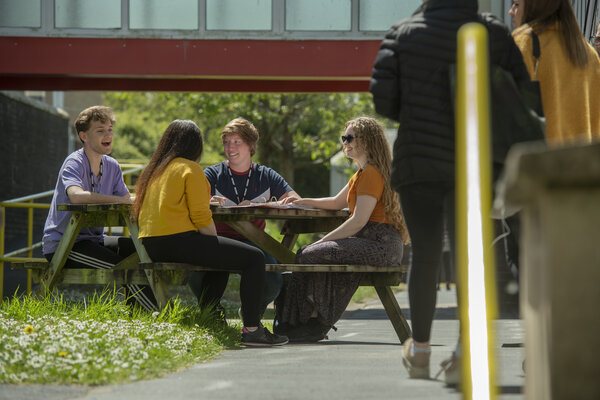 SUPPORTIVE
We offer a supportive and inclusive environment where you can flourish and feel a valued member of the college and wider community. 
INSPIRING
Our teaching spaces and facilities are some of the best in the region, providing stimulating and true-to-life learning environments. 
CONNECTED
We'll provide you with the experiences you need to be ready for employment or the next step on your educational journey.
You may also be interested in