Foundation Degree Computing

Our foundation degrees, in partnership with the University of Plymouth, are equivalent to studying for the first two years of an honours degree, but unlike traditional degrees, there are no formal entry requirements. Created in collaboration with employers, they combine academic study with developing the skills and attributes needed in the workplace. It makes them ideal preparation for a specific profession or industry or for making progress in your existing career. You can always convert to a full honours degree by taking a top-up course on completion.
Our Foundation Degree in Computing is designed to arm you with the theoretical knowledge and technical skills needed to succeed in an ever-evolving IT sector.
During the course's 12 modules, you'll be learning about web development, security, enterprise networks, and object-orientated programming, and exploring the rapidly expanding areas of mobile applications and emerging technologies.
Beginning with fundamental concepts in computing, you'll learn the principles underpinning hardware and software development, before diving straight into web design and development using web languages and frameworks.
An introduction to programming concepts follows, progressing towards more complex techniques in a specific course on object orientated programming. Building on your development knowledge, you'll look at mobile app development, and explore best practice in user experience.
Looking beyond software to systems, the operating systems and networking module integrates theory with practical experience to understand networking and operating system infrastructure. This thread continues in a study of enterprise networks and cloud service, with practical work in our well-equipped networking laboratory. Allied to networking, an introduction to security for IT and networked systems considers security threats to corporate networks.
Remaining in the corporate sphere, you'll learn about client server applications interacting with stored data as well as emerging technologies, including AI, IoT, and machine learning.
During the course you will also work as a group in an agile team-oriented project to develop a solution to a live industry requirement.
Computing is an intensive course but also teaches wider skills, such as version control, project management, and presentation skills, problem-solving, lifelong learning and integrating theory with practical experience.
Select from the start date/s below…
Assessments
Assessment on this course uses a combination of written and practical assignments, in-course assessments, coursework, research projects, presentations, and end-of-module formal examinations.
Entry Requirements
You'll need four GCSEs (or equivalent qualifications) at Grade C/4 or above, including Maths and English at a minimum of Grade C/4.


You'll require 56 UCAS points for admission onto this course. All applicants will be interviewed, and for mature learners, we will be able to take any related experience or training into consideration.
Progression
The natural progression from the foundation degree is to the BSc (Hons) Computing and Software Development at the University of Plymouth. Alternatively, it could lead directly to a career in the information technology industry or computing sector.
FAQs
Q: What is the pass mark for assignments?

A: There are two grades: Pass and Distinction. The Pass mark for all assignments is 40%. A module mark of 70% will earn you a Distinction. FdSc (Distinction) can be gained with an overall module average of 70% over two years.



Q: What programming languages will I learn?

A: C#, JavaScript, PHP, but more importantly, you will learn underpinning transferable programming skills to build confidence and flexibility.



Q: Can I take a 'year out' between the second and third years of study?

A: Yes, we encourage students to try and find an internship and gain industry experience.
Please note: If you are only applying for a degree course at Petroc, you can do so through our website. If you are applying to more than one college or university, then you are required to apply via the UCAS application system
Starting Date : 11/09/2023
Course Code : HEB009F / G401 (2023)
North Devon campus
Starting Date : 11/09/2023
Course Code : HEB009P (2023)
North Devon campus
Why Petroc should be your first choice
Petroc offers high quality education and training across North and Mid Devon. We provide outstanding learning, excellent facilities, strong connections to employers and a supportive environment to help you fulfil your education goals and set you on your path to the career of your dreams.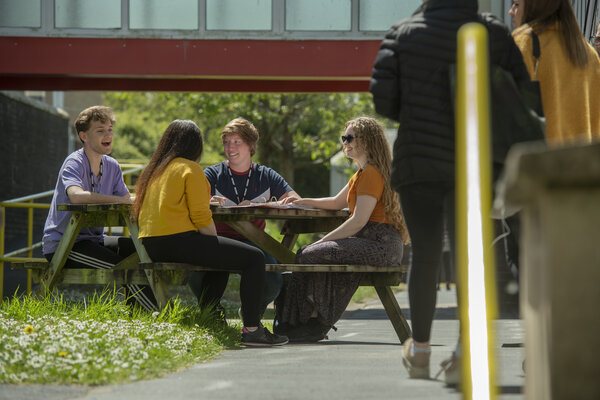 SUPPORTIVE
We offer a supportive and inclusive environment where you can flourish and feel a valued member of the college and wider community. 
INSPIRING
Our teaching spaces and facilities are some of the best in the region, providing stimulating and true-to-life learning environments. 
CONNECTED
We'll provide you with the experiences you need to be ready for employment or the next step on your educational journey.
You may also be interested in