Foundation Degree Production and Manufacture

Our foundation degrees, in partnership with the University of Plymouth, are equivalent to studying for the first two years of an honours degree, but unlike traditional degrees, there are no formal entry requirements. Created in collaboration with employers, they combine academic study with developing the skills and attributes needed in the workplace. It makes them ideal preparation for a specific profession or industry or for making progress in your existing career. You can always convert to a full honours degree by taking a top-up course on completion.
Anything that can be made, especially in a high output production environment, can be automated. The trend towards automation and robotics in previously manual production is, along with increasing digitsation, changing the face of manufacturing worldwide. As a field of study, it cuts across many disciplines and you will be using maths, engineering, mechanics and robotics to solve problems, in addition to learning the human elements of managing production.
Learning encompasses vocational subjects relating to the work environment as well as more academic study.
On the theoretical side, engineering science and materials engineering cover the materials suitable for manufacturing: understanding frameworks, resolving stress and strain, gaining an appreciation of static and dynamic modules. Mechatronics considers the principles of operation and applications of sensors, conditioners and actuators in a range of engineering environments. The instrumentation and control module comprises a comprehensive study of sensors, conditioners and actuators, types of instrumentation, measurements and determining uncertainties.
Other, more business-oriented, modules consider organisational behaviour, and general production management; specific modules deal with the growing food production industry, including food manufacturing, quality, hygiene and safety, and innovation in the industry.
You will also complete an engineering project which may be directly related to work or your own interest. You will consider all aspects of prototyping and product development using a wide range of skills including planning and managing your work, and gaining familiarity with the mathematical and data manipulation typically required for further study.
Select from the start date/s below…
Assessments
Assessments is through coursework (including practical assessments) and formal examinations. An assessment plan will be published at the start of the each year.
Entry Requirements
56 UCAS points, including Maths and Science at Grade 3 and above.
Progression
This course leads naturally to the BSc (Hons) in Engineering (Integrated Technologies) at Petroc.
FAQs
Q: Are there examinations?

A: Examinations are a part of a planned assessment method in this programme, you will be given practice papers and examination skill building during the programme.



Q: Do I need to know about all of the disciplines when I start?

A: No, you will bring to the programme the knowledge and skills gained at college and in the workplace as well as life skills.



Q: How will CPD take place?

A: You will attend a Engineering Graduate Skills module which will give you opportunity develop your personal development plan.



Q: How much practical work is there?

A: You will carry out practical work exercises across a number of disciplines on a regular basis.



Q: Will I need to commit to time outside of college?

A: Yes, working for this level of study requires some self-discipline to study outside of class, however the resources at college are available throughout the week, so you will be encouraged to work in college to complete tasks in addition to teaching sessions.
Please note: If you are only applying for a degree course at Petroc, you can do so through our website. If you are applying to more than one college or university, then you are required to apply via the UCAS application system
Starting Date : 11/09/2023
Course Code : HEB127F / G100 (2023)
North Devon campus
Starting Date : 11/09/2023
Course Code : HEB127P (2023)
North Devon campus
Why Petroc should be your first choice
Petroc offers high quality education and training across North and Mid Devon. We provide outstanding learning, excellent facilities, strong connections to employers and a supportive environment to help you fulfil your education goals and set you on your path to the career of your dreams.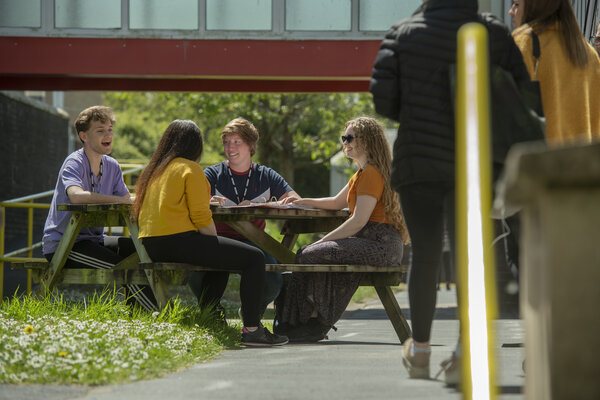 SUPPORTIVE
We offer a supportive and inclusive environment where you can flourish and feel a valued member of the college and wider community. 
INSPIRING
Our teaching spaces and facilities are some of the best in the region, providing stimulating and true-to-life learning environments. 
CONNECTED
We'll provide you with the experiences you need to be ready for employment or the next step on your educational journey.
You may also be interested in