Foundation Degree Sport; Coaching, Health and Fitness

Our foundation degrees, in partnership with the University of Plymouth, are equivalent to studying for the first two years of an honours degree, but unlike traditional degrees, there are no formal entry requirements. Created in collaboration with employers, they combine academic study with developing the skills and attributes needed in the workplace. It makes them ideal preparation for a specific profession or industry or for making progress in your existing career. You can always convert to a full honours degree by taking a top-up course on completion.
If you crave a dynamic, active and challenging education, this academic, practical and work-based course will be an invigorating test of your capabilities. The study is broad, including sports, sports coaching, health promotion, fitness training, testing, nutrition, and psychology. It is a strongly interpersonal course, working directly with clients, requiring you to understand sport and health policy, health promotion strategies, and exercise prescription.
The modules focus on the main scientific disciplines underpinning coaching, fitness development and health maintenance, as well as providing an insight into historical and organisational perspectives.
Modules include human performance in sports, sports coaching, health and fitness principles, developing graduate skills, sport, health and physical activity organisations, research methods, health promotion, health and activity for young people, special populations, further principles of sports coaching, and exercise prescription and behaviour change.
Sports coaching, health promotion, and sports development are growing industries with rewarding careers on offer that support your own health and that of your clients. The course content gives you the academic theory as a background to the practical work environment and you will have a substantial work-based project to complete which will involve work with local employers.
Foundation Degree Sport; Coaching, Health and Fitness Handbook
Assessments
Assessment is through written assignments, presentations, academic posters, seminars, professional portfolio and examinations. You will study six modules each year with two assessments per module.
Entry Requirements
The programme will be of interest to those with a sports background, those interested in health care and also health maintenance, as well as those looking to pursue a career within the teaching, coaching or fitness sector. Ideally you will need to be educated to A-level or BTEC National standard with 64 UCAS points, but applications from mature applicants without these qualifications are also considered.
Progression
You might decide to apply to spend a further year on the BSc (Hons) Health and Fitness top-up, BSc (Hons) Health, Exercise and Physical Activity, BSc (Hons) Coaching and Fitness Education, or BSc (Hons) Strength and Conditioning at the University of St Mark & St John in Plymouth. Another local option is a third year top up at Richard Huish College, Taunton completing the Sports Development and Coaching Degree; this may also be a good route if you are interested in teaching PE in schools. Career avenues you could work towards include fitness instructor, sports coach, health consultant, personal trainer, sports teacher/lecturer, primary school teacher with PE specialism, researcher, health promotion officer, sports development officer and youth worker.
FAQs
Q: How much will this course cost?

A: For more information about course fees, please visit www.petroc.ac.uk/hefees



Q: Is this a full-time programme?

A: The course runs for two years. You will attend Petroc for two days per week.



Q: What days and times does each year run?

A: Year One runs on Tuesdays and Wednesdays; Year Two runs on Wednesdays and Thursdays. You will start at 9am and finish at 4.30pm.



Q: What will the content be like on the days we attend Petroc?

A: Each day will consist of both practical sessions and academic theory-based lessons.



Q: Will I be able to work whilst studying?

A: The timetable is delivered over 2 days per week; therefore, you will be able to work during the rest of the week. This also means that any students living at home can potentially make significant financial savings.
Please note: If you are only applying for a degree course at Petroc, you can do so through our website. If you are applying to more than one college or university, then you are required to apply via the UCAS application system
Staring Date : 12/09/2022
Course Code : HEB014F / C600 (2022)
North Devon campus
Why Petroc should be your first choice
Petroc offers high quality education and training across North and Mid Devon. We provide outstanding learning, excellent facilities, strong connections to employers and a supportive environment to help you fulfil your education goals and set you on your path to the career of your dreams.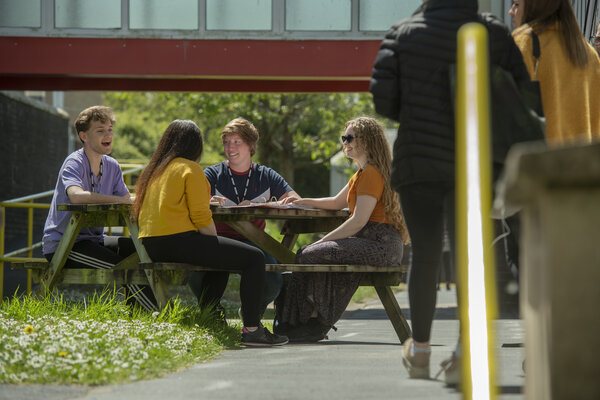 SUPPORTIVE
We offer a supportive and inclusive environment where you can flourish and feel a valued member of the college and wider community. 
INSPIRING
Our teaching spaces and facilities are some of the best in the region, providing stimulating and true-to-life learning environments. 
CONNECTED
We'll provide you with the experiences you need to be ready for employment or the next step on your educational journey.
You may also be interested in