Foundation Degree Sustainable Environment Management

This new Foundation degree in Sustainable Environment Management, validated by the University of Plymouth, has been created in response to the climate crisis as declared by the Government and Devon County Council.
The programme will provide you with an awareness of sustainability issues, develop a professional understanding of business, and provide you with the skills needed for managing the environment and environmental protection.
The two-year full-time (or three years, part-time) programme includes modules on ecology and conservation, low carbon futures, sustainable coastal communities, ethical leadership and developing a sustainable built environment. You can pursue your own interests and passions through a research/industry project in your final year. There is also an opportunity to have a 20-day work placement internship (including a generous bursary payment) with an environmental-focused business or charity group.
During the course, you will undertake the following modules:
Year One
– Understanding Sustainability
– Ecology and Conservation?
– Sustainable Coastal Communities?
– Low Carbon Futures?
– Ethical Leadership?
– Developing Graduate Skills
Year Two
– Environment Issues, Communication and Society?
– Sustainability in Business?
– Sustainable Built Environments?
– Experimental Design and Analysis
– Personal Research/Industry Project?
Petroc is proud to be situated in an Area of Outstanding Natural Beauty and UNESCO Biosphere Reserve. By working with employers, charities and environmental bodies across Devon, students will gain the skills needed to support the region in developing sustainable environmental practices to ensure Exmoor, Dartmoor and other rural environments, are sustainably managed now and for future generations.
Select from the start date/s below…
Sep 2023 : North Devon : Full-time
Cost : * Annual Fee £9250
North Devon campus
Sep 2023 : North Devon : Part-time
Cost : * Annual Fee £6166
North Devon campus
Sep 2024 : North Devon : Part-time
Assessments
The method of assessment varies between modules reflecting the need to develop a range of different knowledge, understanding and skills. Typically, you will encounter essay and case study questions, fieldwork, group reports, discussion and presentations, larger research projects, formal examinations and in-class tests.
Entry Requirements
You should have prior attainment of a Level 3 qualification (such as A Levels, T Levels or BTEC) with the equivalent of 48 UCAS points or above. However, you may also be considered if you have relevant employment experience. Please contact our Advice & Guidance Team for more information.
Progression
Upon completion of this programme, you can progress to the final year of the BSc (Hons) Environmental Management and Sustainability at the University of Plymouth.

A foundation degree in sustainable environmental management equips you with the skills and knowledge for a range of jobs in areas such as conservation, sustainability, and environmental research and education. You could go on to be a successful horticulturist, environmental consultant, environmental education officer, environmental engineer, environmental manager, nature conservation officer, recycling officer, sustainability consultant or landscape architect.
Facilities and resources
We offer excellent facilities on campus and a supportive learning environment.

We have a strong emphasis on fieldwork, and links with employers and external organisations.
FAQs
Q: Will I have the chance to do project work and develop my own interests?

A: There is a 40 credit research or industry project in the final year of the course.



Q: What is the pass rate for this course?

A: This foundation degree is brand new and running for the first time in 2022/23.



Q: Will I have to purchase textbooks for this course?

A: There is a core reading list for each module and these books are available in our learning resource centres.



Q: Is this course suitable for mature students?

A: Yes, there is a diverse range of ages and backgrounds on this programme.



Q: Is there any funding available?

A: You will have the opportunity to take part in the HE student Internship and bursary scheme.
Starting Date : 11/09/2023
Course Code : HEB134F / B100 (2023)
North Devon campus
Starting Date : 11/09/2023
Course Code : HEB134P (2023)
North Devon campus
Starting Date : 09/09/2024
Course Code : HEB134P (2024)
North Devon campus
Why Petroc should be your first choice
Petroc offers high quality education and training across North and Mid Devon. We provide outstanding learning, excellent facilities, strong connections to employers and a supportive environment to help you fulfil your education goals and set you on your path to the career of your dreams.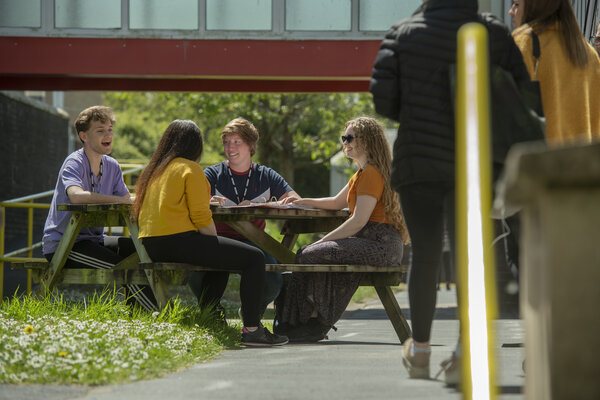 SUPPORTIVE
We offer a supportive and inclusive environment where you can flourish and feel a valued member of the college and wider community. 
INSPIRING
Our teaching spaces and facilities are some of the best in the region, providing stimulating and true-to-life learning environments. 
CONNECTED
We'll provide you with the experiences you need to be ready for employment or the next step on your educational journey.
You may also be interested in