Healthcare Support Worker – Apprenticeship

Healthcare support workers (HCSWs) work as part of a team providing high quality and compassionate care to individuals. You will carry out well-defined routine clinical duties like monitoring an individual's conditions (e.g. by checking blood pressure, temperature or weight), checking on their overall progress, comfort and wellbeing.
During this apprenticeship, you will be required to learn the following knowledge, skills and behaviours:
– Communication
– Health Intervention
– Person Centred Care & Support
– Dementia, cognitive issues, mental health
– Basic Life Support
– Physiological Measurements
– Personal & People Development
– Health, Safety & Security
– Duty of Care
– Safeguarding
– Infection Prevention & Control
– Moving & Handling
– Equality & Diversity
Alongside this you will meet the 15 standards required by the Care Quality Commission as set out in the Care Certificate.
Aug 2022 : North Devon : Part-time
Nov 2022 : North Devon : Part-time
Aug 2023 : North Devon : Part-time
Assessments
The end-point assessment consists of a multiple Choice test, observation of practice and a portfolio of evidence with an interview.
Entry Requirements
If you do not already have a Level 2 English and maths, you will need to achieve this before the end of your apprenticeship.
Progression
Upon completion of this apprenticeship, you will be a competent and job-ready Healthcare Support Worker. You can work in a range of services such as a midwifery led unit, someone's home, operating theatre, nursing or care home, assessment centre, hospice, school, prison, GP surgery, charity or voluntary organisation. You may also be able to undertake a Senior Healthcare Support Worker apprenticeship.
Facilities and resources
As an apprentice, you will have full access to the college facilities.
FAQs
Q: Do I need to be working in a health care setting to complete this qualification?

A: Yes, you need to be able to demonstrate practical skills and these will be assessed in the workplace.
Starting Date : 01/08/2022
Course Code : AB203 (2022)
North Devon campus
Starting Date : 01/11/2022
Course Code : AB234 (2022)
North Devon campus
Starting Date : 01/08/2023
Course Code : AB203 (2023)
North Devon campus
Why Petroc should be your first choice
Petroc offers high quality education and training across North and Mid Devon. We provide outstanding learning, excellent facilities, strong connections to employers and a supportive environment to help you fulfil your education goals and set you on your path to the career of your dreams.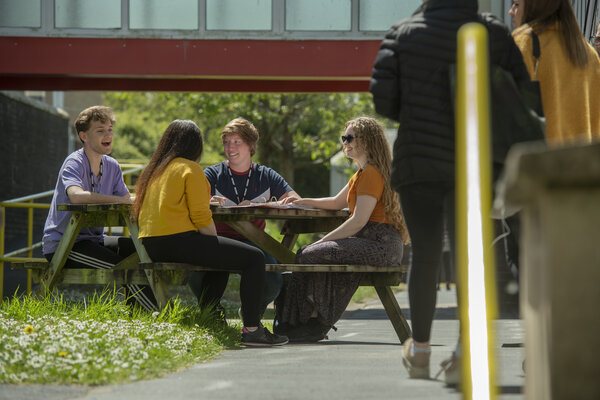 SUPPORTIVE
We offer a supportive and inclusive environment where you can flourish and feel a valued member of the college and wider community. 
INSPIRING
Our teaching spaces and facilities are some of the best in the region, providing stimulating and true-to-life learning environments. 
CONNECTED
We'll provide you with the experiences you need to be ready for employment or the next step on your educational journey.
You may also be interested in