Hospitality Team Member – Apprenticeship

The Hospitality Team Member Apprenticeship is perfect for anyone looking to develop a range of hospitality skills and gain a recognised qualification within this fast paced industry. You will learn how to develop your skills and knowledge such as recognising customer needs, knowing how to match them to the products and services of the business and working as part of a team to ensure that every customer feels welcomed and looked after.
During this apprenticeship, you will be required to learn the following knowledge, skills and behaviours:
KNOWLEDGE:
– Customer: Recognise customer profiles in hospitality; Understand the importance of meeting, customer expectations; Understand the importance of receiving and dealing with customer feedback.
– Business: Know the business vision and values; Know the products / services that are offered by the business; Know how the business aims to increase its market share; Understand how the use of technology can enhance customer service and productivity; Recognise and understand legislative responsibilities; Know how the activities in hospitality businesses can have a negative effect on the environment.
– People: Understand the importance of using methods of communication for different situations and individuals needs; Know how to support and influence the team; Understand how to work with people from a wide range of backgrounds and cultures.
– First line supervision/Team leading: Understand how to support the supervision of team members.
SKILLS:
– Customer: Use clear and engaging communication to establish a good rapport with customers; Deliver excellent customer service in line with the business / brand standards.
– Business: Perform activities to positively promote business and identify opportunities to increase sales and customer loyalty; Clearly communicate relevant information on products and services; Use technology appropriately and efficiently in line with company policy; Work in a way that minimises negative effects on the environment.
– People: Communicate accurately and effectively with others; Support team members to ensure that the products and services delivered are of a high quality and meet customer expectations.
– First line supervision/Team leading: Contribute to meetings and planning shifts, support shift briefings and assist in the monitoring of standards to help ensure quality is maintained.
BEHAVIOURS:
– Customer: Use own initiative and have confidence in determining customers needs; Take an enthusiastic and positive approach to providing excellent customer service; Take feedback from customers seriously and actively improve own customer service.
– Business: Proactively support the reputation of the business; Carry out activities with consideration of their cost and value; Organise own work and have the confidence to ask for guidance; Confidently demonstrate a belief in the products/services the business offers; Keep up to date with how the business positions itself within the wider hospitality industry; Use technology responsibly and take an interest in new developments; Work with integrity in a safe, honest and trustworthy manner; Demonstrate personal commitment to minimising the negative affect on the environment caused by work activities
– People: Take a friendly and outgoing approach and enjoy talking and interacting with others; Demonstrate pride in own role through a consistently positive and professional approach; Operate in a fair and professional manner.
– First line supervision/Team leading: Demonstrate the ability and confidence to deputise for the line manager when necessary.
You must also select one of the following specialist functions:
– Food and beverage service
– Alcoholic beverage service (Wine Service, Beer/Cask Ale or Cocktails/Mixology)
– Barista
– Food production
– Concierge and guest services
– House-keeping
– Reception
– Reservations
– Conference and Events Operation
Assessments
You will be assessed using four complementary assessment methods:

– On Demand Test

– Practical Observation

– Business Project

– Professional Discussion
Entry Requirements
Employers will set their own entry requirements in order to start on this apprenticeship.
Progression
Progression from this apprenticeship is expected to be onto a hospitality supervisory or team leading role.
Facilities and resources
As an apprentice, you will have full access to the college facilities.
Starting Date : 01/08/2023
Course Code : AB151 (2023)
North Devon campus
Why Petroc should be your first choice
Petroc offers high quality education and training across North and Mid Devon. We provide outstanding learning, excellent facilities, strong connections to employers and a supportive environment to help you fulfil your education goals and set you on your path to the career of your dreams.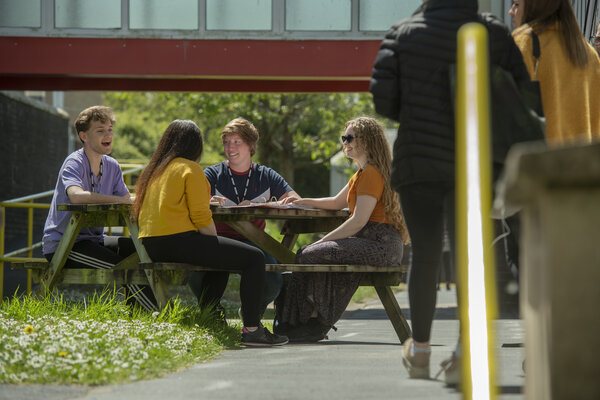 SUPPORTIVE
We offer a supportive and inclusive environment where you can flourish and feel a valued member of the college and wider community. 
INSPIRING
Our teaching spaces and facilities are some of the best in the region, providing stimulating and true-to-life learning environments. 
CONNECTED
We'll provide you with the experiences you need to be ready for employment or the next step on your educational journey.
You may also be interested in