IT Solutions Technician – Apprenticeship

IT Solutions Technicians develop, implement and maintain complete IT solutions, including their hardware infrastructure and software. They work as part of a multi-disciplinary team which carry out the full set of stages across the whole solution lifecycle: requirements gathering, solution development, testing, implementation and ongoing support.
An IT Solutions Technician applies a professional methodology or framework to gather and analyse requirements; to design, develop, test, and implement IT solutions and to provide ongoing support both directly to end users and for the underlying IT services. The specific tasks undertaken vary depending on what needs to be achieved by the team at any particular time.
This qualification was written in partnership with some of the globes biggest names, including IBM, Accenture, BT, Cisco, Fujitsu, Greenacre Academy, Red Eye International, Miggle & RAF.
This apprenticeship has been specifically chosen by Petroc because of its suitability for smaller IT companies and IT departments where Help-Desk duties are an integral part of the job – and it can be started at any time of year.
It is an ideal choice for a Level 3 qualification because the aim of this apprenticeship is to provide a fundamental understanding of computing which will include networks, how data is transferred, the Cloud, understanding the internet, hardware, software, Operating Systems, project organisation and security.
During this apprenticeship, you will be required to learn the following knowledge, skills and behaviours:
SKILLS:
– Apply a professional methodology or framework in work tasks.
– Execute appropriate due diligence, including formal testing or validation
– Apply a range of technical IT skills
– Operate in line with organisational polices, standards, legislation, security requirements, professional ethics, privacy and confidentiality
– Create and maintain documentation in accordance with best practice, organisational guidance and legislation
– Identify appropriate technical solutions using both logical and creative thinking
– Diagnose and understand client requirements and problems using sound analytical and problem-solving skills
– Communicate effectively in a variety of situations
– Operate securely across all areas of responsibility, in line with organisational guidance and legislation
KNOWLEDGE:
– Stages within the overall solution lifecycle.
– Main principals, features, differences and benefits of Waterfall and Agile type methodologies and the function of service management frameworks.
– Aims and benefits of DevOps approaches; including the benefits of automation, the ideas behind continuous integration and monitoring.
– Principles of Solution Architecture including the importance of re-use.
– Why testing is necessary
– Planning and delivery
– End-user context
– Key features of organisational requirements
– Main legislation, policies and standards that apply to IT solutions.
– Concepts of networking
– Different types of network devices, routers and network switches
– Main components within an IT Solution including how hardware and software components work together
– Main components of a computer system and their purpose, including servers, end-user computers, and mobile devices (both physical and virtual), user interfaces, CPUs, -storage and connectivity.
– The purpose of an Operating System.
– Concepts of Cloud, Cloud Services and storage.
– Emerging technologies
– Numerical skills including Binary and Hexadecimal.
– Cyber security
– Configuration management and version control systems and when they should be used.
– The use of different platforms (including web, mobile, or desktop applications).
BEHAVIOURS:
– Work professionally and independently, taking responsibility and initiative as appropriate
– Demonstrate standard business courtesies and professional ethics
– Demonstrate a productive and organised approach to work
– Work effectively with customers, clients and users.
You will also study a choice of pathways depending on your current role.
Please note that an offer of an apprenticeship from an employer is needed before applying for this apprenticeship but we welcome all inquiries and Petroc is here to help you find out how to go about finding an apprenticeship or how to find an apprentice.
Assessments
Upon successful completion of the above, you will then be passed through a Gateway. Once you have passed through the Gateway you will be assessed by an end-point assessment Organisation who will complete a knowledge test, project portfolio and interview to test your competence.
Entry Requirements
You will be required to achieve Level 2 English and Maths prior to completing your apprenticeship.
Progression
Upon completion of this apprenticeship, you could further develop your knowledge through a higher level apprenticeship. This apprenticeship is recognised for entry onto the BCS, The Chartered Institute for IT, Register of IT Technicians confirming Level 3 professional competence. Those completing the apprenticeship can apply for registration.
Facilities and resources
This programme will be taught in our specialist training and assessment facility for engineering and manufacturing students.
FAQs
Q: How do I know if this apprenticeship is the right pathway for me?

A: Our subject experts will conduct a thorough interview and skills scan to ensure you are placed on the right apprenticeship path
Starting Date : 12/09/2022
Course Code : AB191 (2022)
North Devon campus
Starting Date : 01/08/2023
Course Code : AB191 (2023)
North Devon campus
Why Petroc should be your first choice
Petroc offers high quality education and training across North and Mid Devon. We provide outstanding learning, excellent facilities, strong connections to employers and a supportive environment to help you fulfil your education goals and set you on your path to the career of your dreams.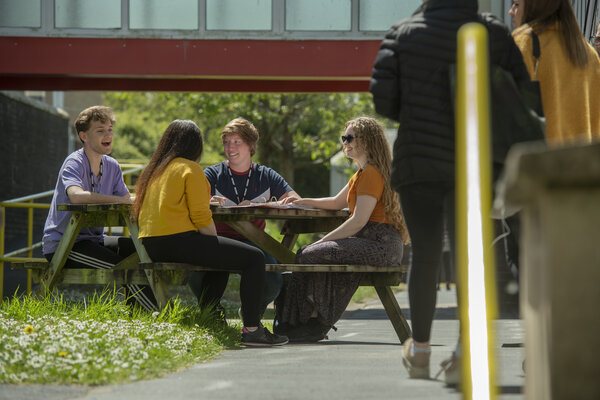 SUPPORTIVE
We offer a supportive and inclusive environment where you can flourish and feel a valued member of the college and wider community. 
INSPIRING
Our teaching spaces and facilities are some of the best in the region, providing stimulating and true-to-life learning environments. 
CONNECTED
We'll provide you with the experiences you need to be ready for employment or the next step on your educational journey.
You may also be interested in