National Extended Diploma In Sport

If you have a passion for sport and would like a career within sport, fitness or physical education, this could be the study programme for you.
This course covers many aspects of the sports industry and gives an excellent academic sport background to take forward into a related career. The course also offers many opportunities to develop industry-specific practical employability skills.
The qualification combines theoretical research assignments with practical assessment and includes a wide range of areas related to sport and fitness.
Modules include:
– Anatomy and physiology
– Sports leadership
– Professional development in the sports industry
– Fitness testing
– Fitness training and programming for sport, health and wellbeing
– Research methods in sport
– Investigating business in sport and the active leisure industry
– Development and provision of sport and physical activity
– Skill acquisition
– Practical sport
– Rules, regulations and officiating in sport, sports coaching, and sports development
The professional development module will give you the chance to explore careers in sport e.g. sport psychology, sports massage and rehabilitation, sports science, nutrition, PE teaching, sports coaching, sports analysis, personal training. Employment skills are also developed by participating in work experience, realistic interviews, presentations and job application procedures.
You'll learn by completing assignments based on real challenges faced by sports development officers, fitness instructors, sports teachers and other sport and leisure professionals.
Assessments
There are two externally-assessed units in year one, and a further two in year two; these will be formal assessments under exam conditions. All other units are assessed by coursework assignments and these are projects that are based on realistic workplace situations. You will be expected to produce a large number of these each year, so time management and organisation are important.



As part of these assignments you will be expected to complete practical coaching, attend interviews, give presentations, analyse sporting performance, design fitness training programmes, produce videos and edit audio. You will also need to produce and monitor training log books, exercise programmes and sports development strategies.
Entry Requirements
To be accepted onto this Level 3 programme, you must hold at least five GCSEs at grade 4 or above, including GCSE Maths and English Language.
English Literature would be accepted as an alternative to English Language. There is significant scientific content in this course so we recommend that you come with a good understanding of science subjects. We also accept applicants who hold a Merit or above in a relevant Level 2 Diploma.

You will also have to complete a Disclosure and Barring Service (DBS) check.
Progression
This Diploma is valued by employers and universities. Current second year learners are progressing to university degree courses in sports massage, sports analysis, PE teaching, football development, sports coaching and sports development. You may also wish to sports-based higher education courses closer to home at Petroc. Following further degree study, you can progress into careers in primary and secondary teaching, sports development, sports coaching and fitness management and sports rehabilitation and massage.

Some learners will choose to study a further FE year at Petroc. Other learners enter direct employment in the sports coaching industry and the leisure industry as a result of successful work experience placements.
Facilities and resources
Theory sessions take place in a variety of classrooms that are equipped with the latest interactive whiteboard technology. Practical sessions take place in our large sports hall, on the practical hard court area, field, or in our well-equipped gym and fitness studio. Throughout your time on the course, you will be introduced to a range of up-to-date fitness testing and performance analysis equipment.

We also take full advantage of opportunities to take learning into the community, learning by leading, officiating or coaching in local schools, or by contributing to community events. Learners love the practical interaction involved in this aspect of the programme.
FAQs
Q: How much practical sport does the course involve?

A: Students usually have a minimum of two practical sessions a week which cover a range of different sports and include fitness room sessions. There is an opportunity to do extra sport by joining one of the performance academies or lunchtime sports clubs.



Q: Is this course easier or harder than A Levels?

A: : The course content is the same level as A Levels so the level of learning is just the same and as such the course outcomes are recognised on the same UCAS tariff. This full-time BTEC is however worth three full A Levels so you wouldn't choose any additional subjects to study alongside it. Because it has fewer exams than A levels, it is much more demanding in terms of its coursework requirements, but if you are dedicated and hard working you can gain some outstanding grades.
Study Programme
Every full-time student at Petroc will have their own Study Programme which will include:

– Your academic or vocational qualification.

– Maths and English Language development – if you have not achieved GCSE grade 4 in either of these subjects.

– Work Experience – hours will vary depending on your qualification and course level.

– Tutor Support – to support your personal, academic and professional development.

– Sustainability – helping you to identify how you can improve the sustainability of your future employment sectors.

– Personal Development Awards – developing six key areas of personal and employability behaviours to prepare you for the working world.
As this course requires you to undertake work placements with children and/or vulnerable adults, a DBS check is required.
Starting Date : 09/09/2024
Course Code : FTB102 (2024)
North Devon campus
Why Petroc should be your first choice
Petroc offers high quality education and training across North and Mid Devon. We provide outstanding learning, excellent facilities, strong connections to employers and a supportive environment to help you fulfil your education goals and set you on your path to the career of your dreams.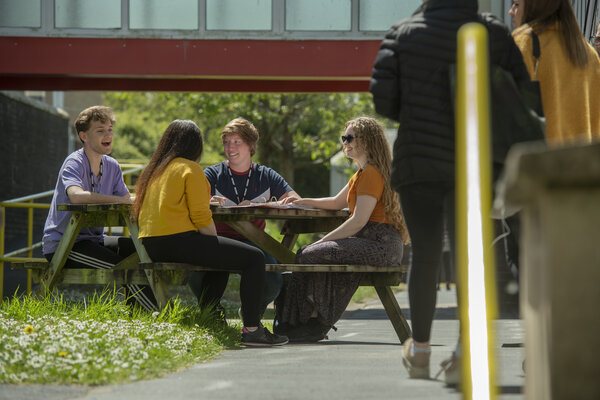 SUPPORTIVE
We offer a supportive and inclusive environment where you can flourish and feel a valued member of the college and wider community. 
INSPIRING
Our teaching spaces and facilities are some of the best in the region, providing stimulating and true-to-life learning environments. 
CONNECTED
We'll provide you with the experiences you need to be ready for employment or the next step on your educational journey.
You may also be interested in