Want a career in the great outdoors? Love life and adventure? If so, this is the course for you!
On this Outdoor Adventure course, you'll gain lots of practical experience of a wide range of land- and water-based outdoor adventurous activities, to back up the theoretical aspects of living and working in the adventure industry.
We aim to make the course as practical as possible and therefore being cold, wet and muddy comes with the territory – but that's all part of the adventure and challenge! Activities include climbing, kayaking/canoeing, mountain biking, and navigation/orienteering – and more – making full use of our local, national and international rivers, crags and mountains. You'll also learn about environmental knowledge and risk awareness.
Core units will include:
– Careers in the sport and active leisure industry
– Health, wellbeing and sport
– Personal skills development in outdoor activities
– Applied leadership and instructing in outdoor activity
– Health and safety factors in outdoor learning
– Outdoor activity provision
You will also study for three other units which may include:
– Impacts and sustainability of outdoor activities
– Expedition experience
– Organising events in sport and physical activities
– Nutrition
– Sports development
This programme will reward you with a specialist vocational qualification to be an Outdoor Activities Instructor, and will also award UCAS points for entry to university.
Assessments
All units are internally assessed via assignments and projects that are based on realistic workplace situations, activities and demands.



Assignments are graded Pass, Merit or Distinction, and from these, an overall grade for the qualification is awarded.
Entry Requirements
To be accepted onto a Level 3 programme, you must hold at least five GCSEs at grade 4 or above, including GCSE Maths and English language.
You can apply with a Merit in a BTEC Level 2 Diploma in a related subject. Suitability will be discussed during the interview process.

Practical experience in at least one relevant outdoor activity and genuine commitment to outdoor adventure is also important.

Entry requirements for mature learners will be discussed on an individual basis.
Progression
Most students go on to gain employment in the outdoor activity industry. There are many jobs available throughout the UK, and each year some students go on to work abroad, however with the local outdoor industry on our doorstep here in North Devon, there are also many local employment opportunities following successful completion of the course.

The Institute of Learning has confirmed endorsement that this qualification can lead to employment as an Outdoor Activities Instructor.

As the course awards UCAS points, some learners go on to university to study a variety of subjects such as outdoor education, teaching, geography, psychology, environmental studies, public services, sports coaching.
Facilities and resources
A variety of specialist equipment is available for student use including harnesses, ropes, helmets, kayaks, canoes, mountain bikes, surfboards and expedition equipment such as tents and stoves.



The college climbing wall is excellent with over 30 graded routes up to 8m high. We also have onsite teambuilding resources that will be used however, as much time as possible will be spent outside using local crags, moors, estuaries, rivers and lakes.



We are in a great location and often can be found:

– Climbing on Baggy Point, Valley of the Rocks and the tors of Dartmoor

– Kayaking/canoeing on the rivers Taw, Torridge, Exe and Barle

– Navigating on Exmoor and Dartmoor

– Mountain biking at Haldon and Cardingham
FAQs
Q: What type of assignments are there?

A: The assignments are all based on realistic, practical outdoor scenarios and include practical assessments, essays, reports, presentations, interviews, videos, sketches, displays and posters. You will usually need to produce typed work to evidence your learning.



Q: This course is advertised to run over two years, what if I change my mind partway through?

A: The Outdoor Adventure Diploma is a specialist vocational programme that qualifies you as an Outdoor Activity Instructor, and because of this learners are expected to study over two years in order to gain the qualification. There is however a three week period of 'chance to change' when you first start the course so if you change your mind in the first few weeks of study you will be able to look at other options.



Q: Do I need to have all my own kit?

A: No. All specialist kit is provided for you; you're not expected to purchase this. All you need to provide is your personal kit for the practical days – warm clothes, waterproofs, walking boots and the all-important food and drink!



Q: How much theory is there?

A: The course is designed to be as practical as possible and therefore a lot of the theoretical aspects of the course are covered during activities. The essential theory, such as health and safety in the outdoors and the principles of outdoor activities, is covered through short lectures and seminars.



Q: What happens if the weather is too bad for a practical session to take place?

A: This never happens! No practical has ever been cancelled in over 10 years. Plans/venues can and do regularly change but that's what life is like when working in the outdoors – it's part of the fun and the challenge.



Q: How safe is it?

A: We have an excellent safety record, and follow strict Health and Safety Policies appropriate to Outdoor Education and Adventurous Activities however, we are doing 'REAL' activities in 'REAL' environments so you can expect to get cold, wet and muddy.
Study Programme
Every full-time student at Petroc will have their own Study Programme which will include:

– Your academic or vocational qualification.

– Maths and English Language development – if you have not achieved GCSE grade 4 in either of these subjects.

– Work Experience – hours will vary depending on your qualification and course level.

– Tutor Support – to support your personal, academic and professional development.

– Sustainability – helping you to identify how you can improve the sustainability of your future employment sectors.

– Personal Development Awards – developing six key areas of personal and employability behaviours to prepare you for the working world.
Staring Date : 12/09/2022
Course Code : FTB092 (2022)
North Devon campus
Why Petroc should be your first choice
Petroc offers high quality education and training across North and Mid Devon. We provide outstanding learning, excellent facilities, strong connections to employers and a supportive environment to help you fulfil your education goals and set you on your path to the career of your dreams.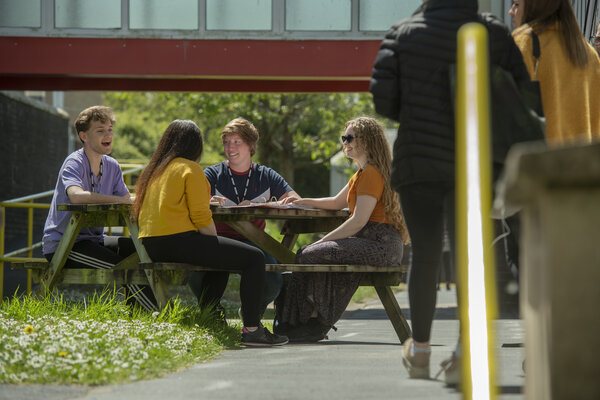 SUPPORTIVE
We offer a supportive and inclusive environment where you can flourish and feel a valued member of the college and wider community. 
INSPIRING
Our teaching spaces and facilities are some of the best in the region, providing stimulating and true-to-life learning environments. 
CONNECTED
We'll provide you with the experiences you need to be ready for employment or the next step on your educational journey.
You may also be interested in