Progression Into Adulthood

The Progression Into Adulthood programme is a progression route for students who are aged 18 years and over. It focuses on the four outcomes that young people with disabilities have said are important to them: Employment, Independent Living, Community Inclusion and Good Health.
Students on this course will usually have completed the Preparation for Adulthood course and require an additional year at college to further develop specific skills for independence and employability. Learners will follow a work-related programme, which includes subject based and vocational areas. Progression Into Adulthood focuses on any gaps in the specific skills set/knowledge for an individual's progression to employment and work-based participation in society. The aim of the programme is to enable students to move into supported, voluntary, paid employment or to progress into a Supported Internship.
Students on Progression Into Adulthood take part in a wide range of vocational work experience and social enterprise opportunities:
– The Liberty Centre experience: This allows learners to put Maths and English Functional Skills lessons into practice. Retail skills are enhanced through serving customers in the restaurant while on the till and waiting on tables, and hospitality skills are used to prepare and cook meals in the kitchen.
– Land-based skills: Students have access to purpose designed grounds, potting sheds and a greenhouse to practise horticulture skills.
– Craft and furniture upcycling: Students will learn specific, functional and transferable skills to create products to sell as part of social enterprise.
– English, Maths and ICT are embedded across the vocational element and include practical marketing and functional ICT.
– Work Experience and developing employability skills are a key part of this course and contribute to a successful transition out of college and into the community or workplace.
Assessments
Progression Into Adulthood delivers both Entry 2 and Entry awards and are assessed through a portfolio.
Entry Requirements
For all learners joining Entry Level Study Programmes, there are no formal entry requirements, however you will have a one-to-one interview to discuss your personal learning needs. You will also be required to study English and Maths at an appropriate level to suit your ability.
This is the course for you if you have:

– the ability to undertake supported work experience

– the knowledge, skills and understanding to work in a safe and mature way within an adult environment

– the necessary skills to manage the Petroc environment including self-directed breaks.


Students are expected to independently use the Food Hall and other common spaces on the North Devon campus.


For this course, students will need to have an Education, Health and Care Plan in order for course fees and/or support costs to be paid.
Progression
Progression Into Adulthood leads to Supported Internships, and supported, paid or voluntary employment. Those students who will not be able to access employment will transition into community provision that promotes independent and supported living. The aim of the course is for students to be equipped with the appropriate skills for their transition out of college.
Facilities and resources
Petroc has modern and custom-made facilities for our SLDD students. The Liberty Centre is a learning environment that provides our students with internal work experience placements and realistic context-specific opportunities for students to become ready for employment and supported employment. At the heart of The Liberty Centre is a busy and vibrant cafe that is open to the public with a commercial kitchen. Students cater in the kitchen and provide the front of house and waiting services, including taking and delivering orders and using the till for paying customers. There is a role for students of all abilities.



The Liberty Centre houses an arts, crafts, upcycling and furniture restoration centre where students learn these skills, take commissions and sell their projects.



Petroc SLDD department encourages students to be involved in the Ten Tors Challenge and The Jubilee Challenge. Students have built a roundhouse called The Copse which is the arena for Forest Schooling and developing horticultural skills.



Each student that enrols onto a SLDD course has a Transition Plan which includes initial visits, taster days and transition days in addition to individual trips and meetings. Potential students are invited to activities throughout the year, for example, the Christmas market, the Prom theatrical performances and fashion shows. Students are invited to enrichment activities over the summer holidays to maintain continuity and establish social contact with peers.
Study Programme
Every full-time student at Petroc will have their own Study Programme which will include:

– Your academic or vocational qualification.

– Maths and English Language development – if you have not achieved GCSE grade 4 in either of these subjects.

– Work Experience – hours will vary depending on your qualification and course level.

– Tutor Support – to support your personal, academic and professional development.

– Sustainability – helping you to identify how you can improve the sustainability of your future employment sectors.

– Personal Development Awards – developing six key areas of personal and employability behaviours to prepare you for the working world.
Starting Date : 04/09/2023
Course Code : FTB301 (2023)
North Devon campus
Why Petroc should be your first choice
Petroc offers high quality education and training across North and Mid Devon. We provide outstanding learning, excellent facilities, strong connections to employers and a supportive environment to help you fulfil your education goals and set you on your path to the career of your dreams.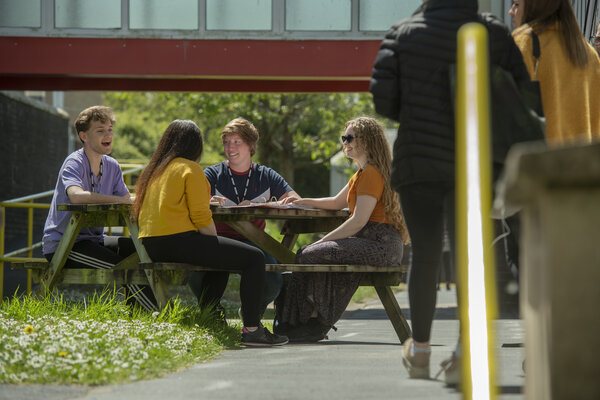 SUPPORTIVE
We offer a supportive and inclusive environment where you can flourish and feel a valued member of the college and wider community. 
INSPIRING
Our teaching spaces and facilities are some of the best in the region, providing stimulating and true-to-life learning environments. 
CONNECTED
We'll provide you with the experiences you need to be ready for employment or the next step on your educational journey.
You may also be interested in