RSL Diploma for Music Practitioners

This Music Practitioners qualification aims to offer practical structured learning with the flexibility to specialise in different disciplines directly relevant to employment in the music industry. It offers two pathways of Music Technology and Music Performance.
The course focus on practical skills that relate directly to industry-standard environments in both music and music technology. The programme is very much project-led and caters for both musicians and technicians.
You will have the opportunity to undertake work experience in our 800 capacity venue, (the biggest classroom/venue in the South West!). The First Extended Certificate is equivalent to three GCSEs.
Areas that will you be covering:
For both pathways you will take part in sessions that will include:
– Musical style development: The purpose of this unit is to generate an illustration and description of a chosen genre of music, including an exploration of its sub-genres in an historical, cultural, social and economic context, with reference to key exponents within the genre.
– Listening to Music: This unit aims to develop active listening skills to provide a platform for a greater understanding of the processes behind creating mood and feel for your own compositions and performances and of the structural elements and devices which can be employed to enable a range of audience emotional responses to the music.
– Contextualising Music: This unit aims to provide you with an understanding of the origins, characteristics and key players in the development of a musical style.
For the Music pathway:
– Live Music Performance: The purpose of the unit is to provide you with an opportunity to undertake a performance that will be performed in the Factory music venue. This unit aims to further develop your abilities in the area of live performance.
– Music Rehearsal skills: The purpose of the unit is to begin to enable the development of the skills required to function effectively in a rehearsal environment with the aim of rehearsing for a specific performance event. This unit aims to develop your ability to engage with the processes of effective rehearsal.
For the Music Technology pathway:
– Live Sound Recording: This unit aims to introduce you to the live sound recording process. The purpose of this unit is to enable you to develop a plan and undertake the recording of a piece of music within the Factory music venue.
– Music Sequencing and Production: The purpose of this unit is to develop skills in using music sequencing software. The aim of the unit is to produce a two-minute piece of music, following the set criteria using Logic on a Digital Audio Workstation.
Assessments
The study programme is assessed through assignments, externally assessed exams, observations and course work.

For the Music pathway, Live Music Performance will be externally assessed.

For the Music Technology pathway, Live Sound Recording will be externally assessed.

You will be encouraged to take responsibility for your own learning and achievement, taking account of the industry standards for behaviour and performance.
Entry Requirements
All entrants must hold four GCSEs at grade 3 or equivalent (or above), preferably including GCSE Maths and English. If you do not have a GCSE grade 4 in Maths and/or English you will continue studying these subjects alongside your chosen course(s). At the end of the year, you are expected to have completed and achieved all the components of your Level 2 Study Programme and improved your Maths and English skills before progressing to your next level course
A minimum of four GCSEs at Grade D or above, or equivalent, ideally to include Maths and English. At interview, we will ask you all about your music or music technology experience and interests.
Progression
On successful completion of this study programme, you can progress onto the level 3 Extended Diploma in either Music Performance or Music Technology
Facilities and resources
You will be working from the Brannams Campus and you will have access to Digital Audio Workstations, recording facilities, rehearsal facilities and the Factory, an 800 capacity performance venue.
FAQs
Q: What sort of shows can I do?

A: There will be opportunities for work experience within the Factory on shows that include touring bands and musicians and there will be lots of opportunities in meeting with other like minded musicians and performing your own shows within North Devon.
Study Programme
Every full-time student at Petroc will have their own Study Programme which will include:

– Your academic or vocational qualification.

– Maths and English Language development – if you have not achieved GCSE grade 4 in either of these subjects.

– Work Experience – hours will vary depending on your qualification and course level.

– Tutor Support – to support your personal, academic and professional development.

– Sustainability – helping you to identify how you can improve the sustainability of your future employment sectors.

– Personal Development Awards – developing six key areas of personal and employability behaviours to prepare you for the working world.
Staring Date : 12/09/2022
Course Code : FTB088 (2022)
Brannams campus
Why Petroc should be your first choice
Petroc offers high quality education and training across North and Mid Devon. We provide outstanding learning, excellent facilities, strong connections to employers and a supportive environment to help you fulfil your education goals and set you on your path to the career of your dreams.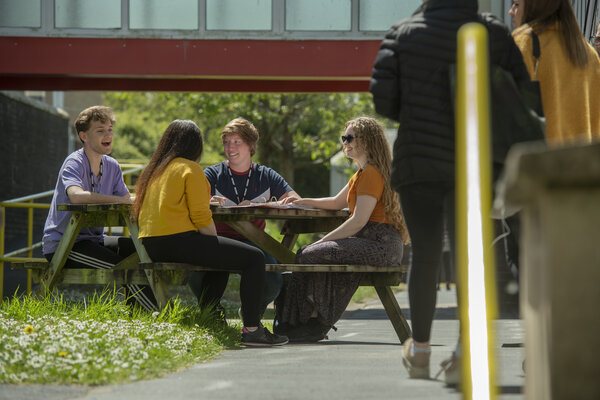 SUPPORTIVE
We offer a supportive and inclusive environment where you can flourish and feel a valued member of the college and wider community. 
INSPIRING
Our teaching spaces and facilities are some of the best in the region, providing stimulating and true-to-life learning environments. 
CONNECTED
We'll provide you with the experiences you need to be ready for employment or the next step on your educational journey.
You may also be interested in