RSL Music Technology (Subsidiary/Extended Diploma)

The Level 3 Subsidiary Diploma (first year) and Extended Diploma (second year) for Music Practitioners provide music industry qualifications that will equip you with the skills, knowledge and understanding for entry to employment in the music industry or progression to further study at a higher level.
Throughout the first year, you will complete a Subsidiary Diploma before moving onto an Extended Diploma in the second year.
Throughout the two years you will demonstrate:
– Sound recording skills
– Mixing and mastering skills
– Sequencing and production skills
– Live sound skills
– Video production skills
– Understanding of contextual issues relating to the music industry
Throughout the two years, you will cover units such as:
– Live Sound Recording and Sound Reinforcement
– Music Sequencing and Production
– Using Dynamic Processors, Multi Effects, EQ and Filters
– Studio Sound Recording and Mixing
– Music Sequencing and Production (Media)
– Music Video Production
– Live Sound Engineer FOH
– Live Sound Engineer Monitors
– Studio Audio Mastering
– Lighting For Music Events
– Remixing and production
– Rewire and synchronisation
– Using a Keyboard with a DAW
– Planning a Career in Music
– Music promotion
For the Music Technology pathway you will develop your skills and understanding of acoustics, inputs and levels, recording and sequencing skills, mixing and production, manipulation, historical and contextual issues and realisation of your repertoire.
Assessments
These qualifications focus upon the recognition and achievement through practical skills whilst following the Technology pathway.



In the first year, you will take one externally assessed core unit (Live Sound recording and Sound Reinforcement) and one internally assessed core unit (Planning a career in Music). All the other units that make up the first year will be a combination of units that will give you 90 credits to complete the Subsidiary Diploma. In the second year, you will take one externally assessed core unit (Studio Sound Recording and Mixing) with the remaining units making up 180 credits overall to complete the Extended Diploma.



External Assessments

You must undertake external assessments in the form of a task-based controlled assessment. These will be assignments that are set by Industry practitioners and marked by RSL. The assignments provide the opportunity for you to demonstrate and integrate your knowledge, understanding and skills from across your area of study. They will also enable you to develop study skills and to underpin practical skills with core knowledge and understanding.



Internal Assessments

All other units will be internally assessed through coursework (preparation and production, research, written assignments, log keeping, discussion and evaluation) and there are no exams. Over two years you will compile a portfolio of coursework. This coursework is all marked by our lecturers and a sample of units will be externally verified and moderated by RSL.



Our assessments are graded within four bands, these being Unclassified, Pass, Merit and Distinction.



Within assessments, you may be required to work alone or in small groups and your Lecturers will identify appropriate opportunities for collaboration to take place. Assignments have been designed to enable collaboration and teamwork will be encouraged so that all participants are actively involved in each stage of the production progress and you are able to work in co-operation towards a shared end. Individually you will need to provide your own personal response for assessment that can be identified, authenticated and evidenced. When assessed activity occurs in groups, assessment will be carried out on the individual and your contribution to group work.
Entry Requirements
To be accepted onto a Level 3 programme, you must hold at least five GCSEs at grade 4 or above, including GCSE Maths and English language.
English and Maths GCSE grade C/4 or above are essential. GCSE Music is desirable or equivalent such as a portfolio of material you have produced.
Progression
Upon successful completion of this course, you may wish to move on to further education or full-time employment.
Facilities and resources
As part of your study programme, you will have access to our 800 capacity live music venue, sound-proof rehearsal booths, iMac computer suites using Logic/Ableton and our recording studio. In addition to this, you have access to a wide range of live equipment ranging from analogue/digital mixing/recording desks, lighting desks, and a comprehensive selection of synth and music technology gear for live and recording-based music production. We also have experienced Music Industry staff that will be able to help and guide you through your two years on the course.
Study Programme
Every full-time student at Petroc will have their own Study Programme which will include:

– Your academic or vocational qualification.

– Maths and English Language development – if you have not achieved GCSE grade 4 in either of these subjects.

– Work Experience – hours will vary depending on your qualification and course level.

– Tutor Support – to support your personal, academic and professional development.

– Sustainability – helping you to identify how you can improve the sustainability of your future employment sectors.

– Personal Development Awards – developing six key areas of personal and employability behaviours to prepare you for the working world.
Staring Date : 12/09/2022
Course Code : FTB090 (2022)
Brannams campus
Why Petroc should be your first choice
Petroc offers high quality education and training across North and Mid Devon. We provide outstanding learning, excellent facilities, strong connections to employers and a supportive environment to help you fulfil your education goals and set you on your path to the career of your dreams.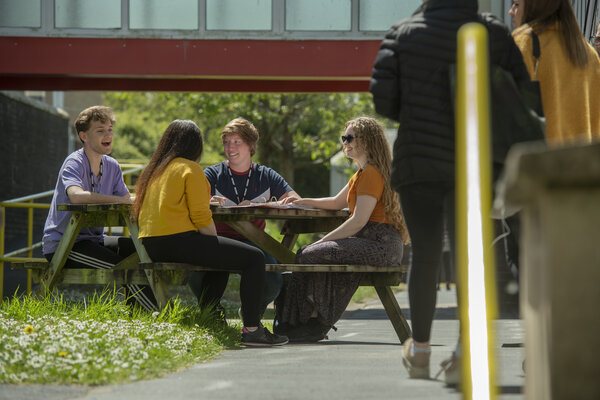 SUPPORTIVE
We offer a supportive and inclusive environment where you can flourish and feel a valued member of the college and wider community. 
INSPIRING
Our teaching spaces and facilities are some of the best in the region, providing stimulating and true-to-life learning environments. 
CONNECTED
We'll provide you with the experiences you need to be ready for employment or the next step on your educational journey.
You may also be interested in