Teaching Assistant – Apprenticeship (Standard)

Teaching Assistants work in Primary, Special and Secondary Education across all age ranges encompassing special educational needs and emotional vulnerabilities. They are good role models, who act with honesty and integrity, take part in team meetings, and contribute to planning and class activities. Promoting Fundamental British Values through spiritual, moral, social and cultural development and positive behaviours are crucial in contributing to improved pupil progress and development.
During this apprenticeship, awarded by the University of Plymouth, you will be required to learn the following knowledge, skills and behaviours:
KNOWLEDGE:
– Understanding how pupils learn and develop: Provide feedback to support and facilitate an appropriate level of independence. Identify and help address weakness, consolidate strengths and develop individualised expectations. Recognise different stages of child development through school.
– Technology: Recognise the importance of using appropriate technology to support learning.
– Work with teachers to understand and support assessment for learning: Understand the need to accurately observe, record and report on pupil's participation and understanding. Understand the school's assessment procedures.
– Curriculum: Have an appropriate knowledge of the curriculum and context you are working in.
– Keeping Children Safe in Education: Understand current statutory guidance. Understand the importance of sharing relevant information, in a timely manner with the designated Safeguarding lead. Understand the importance of first aid procedures and Health & Safety Policy.
SKILLS:
– Developing strategies for support: Use appropriately varied vocabulary to ensure pupils' understanding. Embed effective behaviour management strategies.
– Foster and encourage positive, effective, nurturing and safe learning environments. Recognise, adapt and respond to all pupils encompassing SEN/emotional vulnerabilities.
– Communication and teamwork: Work closely with teachers to ensure your own contribution aligns with the teaching. Build appropriate relationships with colleagues, pupils, parents, adults and stakeholders. Comply with policy and procedures for sharing confidential information. Support pupils' well-being.
– Working with teachers to accurately assess: Contribute to a range of assessment processes. Use specific feedback to help pupils make progress. Apply good subject knowledge to support accurate assessment.
– Using technology: Use school computer systems and relevant technology competently and effectively. Ensure pupils use technology safely.
– Problem solving/ability to motivate pupils: Use a range of strategies to enable pupils to access and engage in learning. Recognise the difference between pastoral and academic issues and model good behaviour for learning.
BEHAVIOURS:
– Build relationships/embrace change: Flexibility, trust, professional conduct, confidentiality and being respectful. Promote and exemplify positive behaviour and uphold the school ethos.
– Add value to education: Praise; provide constructive and specific feedback and support pupils.
– Promote equality, diversity and inclusion: Keep pupils at the centre of everything. Promote community cohesion and cultural diversity.
– Professional standards and personal accountability: Demonstrate professional relationships. Be diplomatic, a positive role model and maintain confidentiality.
– Teamworking, collaboration/engagement: Work collaboratively and constructively. Engage professionally as appropriate with outside professionals.
Anytime from Aug 2021 : North Devon : Part-time
North Devon campus
Anytime from Aug 2021 : Mid Devon : Part-time
Course Code : AT108 (2021)
Mid Devon campus
Assessments
You will be required to undertake an end-point assessment which will consist of a practical observation with questions and answers, and a professional discussion supported by portfolio of evidence.
Entry Requirements
Apprentices without English and Maths at Level 2 must achieve these prior to taking the end-point assessment.
Progression
As well as ensuring full competency as a Teaching Assistant, this apprenticeship provides a foundation for potential progression into a number of career paths in the Educational sector including Higher Level Teaching Assistant, Assistant Teacher and Teacher. You could also progress onto a Foundation Degree in Teaching and Leaning or Early Childhood Studies here at Petroc.
Facilities and resources
As an apprentice, you will have full access to the college facilities.
Staring Date : 01/08/2021
Course Code : AB109 (2021)
North Devon campus, Mid Devon campus
Staring Date : 01/08/2021
Course Code : AT108 (2021)
North Devon campus, Mid Devon campus
Why Petroc should be your first choice
Petroc offers high quality education and training across North and Mid Devon. We provide outstanding learning, excellent facilities, strong connections to employers and a supportive environment to help you fulfil your education goals and set you on your path to the career of your dreams.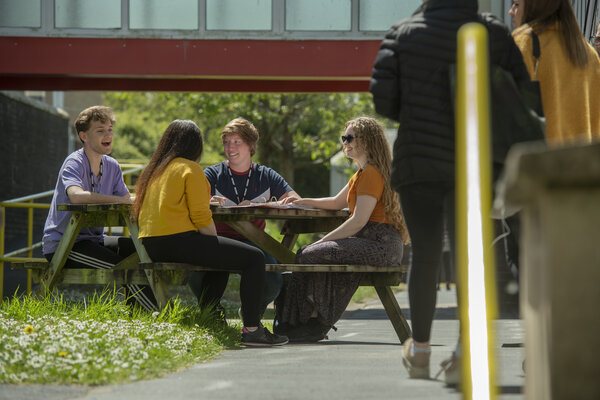 SUPPORTIVE
We offer a supportive and inclusive environment where you can flourish and feel a valued member of the college and wider community. 
INSPIRING
Our teaching spaces and facilities are some of the best in the region, providing stimulating and true-to-life learning environments. 
CONNECTED
We'll provide you with the experiences you need to be ready for employment or the next step on your educational journey.
You may also be interested in