Technical Certificate in Working with Children in Early Years Primary Setting

If you're someone who loves the idea of working with children, this course will help you gain essential knowledge and practical training to work with children in a wide variety of settings.
You'll study a combination of theory and practical skills, and the whole course is supported by placements to give you a real idea of what it's like to work in both nurseries and schools.
The core units you will cover include:
– Child Development from Birth to 11 Years: The aim of this unit is to explore stages and sequences of holistic development from birth to 11 years. You will also consider factors affecting holistic development, and the role of the childcare practitioner when supporting children through appropriate intervention strategies. Theoretical perspectives will also be introduced and built upon.
– Play and Learning: This unit will consider play and the value of play to holistic development and learning in childhood. Positive environments for children will be explored, introducing different approaches that influence and impact how we care and educate children in early years settings and primary school provision. Frameworks and curriculum development will also be included in this unit.
– Physical Development and Activity: The aim of this unit is to consider the role of physical activity in children's physical development and in relation to holistic health and well-being. You will explore health guidelines as well as educational requirements for physical activity. In addition, you will look at the role of the childcare practitioner when supporting confidence in relation to physical activity through own role-modelling and planning skills to encourage and motivate.
– Exploring Legislation: In this unit, you will explore legislation relevant to the care and welfare of young children. Learners will also be able to consider how legislation impacts policy and procedures within childcare environments. The role of the childcare practitioner when meeting the requirements of policies and procedures will also be included.
– The role of the children practitioner: The aim of this unit is to introduce what is meant by professional practice. This unit will explore the role and responsibilities of the childcare practitioner by considering; the range of provision available for children, professional skills, roles and responsibilities of the childcare practitioner and expectations, boundaries and limits of the childcare practitioner. This unit will also investigate professional development and personal development plans.
– Nutrition: Within this unit, you will consider the role of nutrition in relation to children's health and well-being. You will explore special dietary requirements as well as develop an understanding of ways in which the childcare practitioner can support healthy eating. This unit will include learning about the impact of nutrition on development.
– Work Experience: Throughout this course, students will complete around 300 hours of placement experience in a nursery and primary school setting.
Assessments
Most units are assessed through assignment-based written coursework, however, two units will be assessed through exam. English and Maths will be assessed using examinations. Please note that all placement hours must be completed to gain this qualification.
Entry Requirements
All entrants must hold four GCSEs at grade 3 or equivalent (or above), preferably including GCSE Maths and English. If you do not have a GCSE grade 4 in Maths and/or English you will continue studying these subjects alongside your chosen course(s). At the end of the year, you are expected to have completed and achieved all the components of your Level 2 Study Programme and improved your Maths and English skills before progressing to your next level course
We also accept applicants who have successfully completed a relevant Level 1 qualification, who have passed English and Maths at grade 3 or above or Functional Skills Level 1.
Progression
Many students go on to study the T-level in Education, or Level 2/3 Supporting Teaching & Learning in Schools. You can also choose to continue your training through employment, although some employers may require Level 3 qualifications.
Facilities and resources
Theory sessions take place in a variety of classrooms, most of which are equipped with the latest whiteboard technology. Work placement and an on-site training room are used to develop professional practice, knowledge and skills, and to build professional working relationships within settings.
FAQs
Q: What will I get at the end of the course?

A: You will achieve a Level 2 qualification which is equivalent to four GCSEs and demonstrates your commitment to a career in Children's Care, Learning and Development.



Q: What will be expected of me?

A: You should expect to go into a work placement and be prepared to be 'part of the team'. You will be in a trusted position, and as such, we expect you to maintain a professional manner and build on your professional practice skills at all times.
Study Programme
Every full-time student at Petroc will have their own Study Programme which will include:

– Your academic or vocational qualification.

– Maths and English Language development – if you have not achieved GCSE grade 4 in either of these subjects.

– Work Experience – hours will vary depending on your qualification and course level.

– Tutor Support – to support your personal, academic and professional development.

– Sustainability – helping you to identify how you can improve the sustainability of your future employment sectors.

– Personal Development Awards – developing six key areas of personal and employability behaviours to prepare you for the working world.
As this course requires you to undertake work placements with children and/or vulnerable adults, a DBS check is required.
Staring Date : 12/09/2022
Course Code : FTB065 (2022)
North Devon campus, Mid Devon campus
Staring Date : 12/09/2022
Course Code : FTT154 (2022)
North Devon campus, Mid Devon campus
Why Petroc should be your first choice
Petroc offers high quality education and training across North and Mid Devon. We provide outstanding learning, excellent facilities, strong connections to employers and a supportive environment to help you fulfil your education goals and set you on your path to the career of your dreams.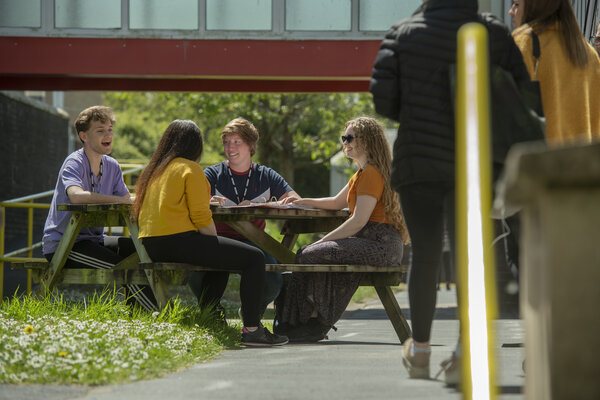 SUPPORTIVE
We offer a supportive and inclusive environment where you can flourish and feel a valued member of the college and wider community. 
INSPIRING
Our teaching spaces and facilities are some of the best in the region, providing stimulating and true-to-life learning environments. 
CONNECTED
We'll provide you with the experiences you need to be ready for employment or the next step on your educational journey.
You may also be interested in