Technician Scientist – Higher Apprenticeship

The Technician Scientist apprenticeship provides essential knowledge and skills for progression as a technician or laboratory scientist in biomedical science, public health or food quality control. Students enrolled on the Technician Scientist Apprenticeship Programme must currently be in suitable employment.
This apprenticeship course includes the Foundation Degree in Human Biosciences (FdSc) and gives progression to the third year of the BSc (Hons) Human Biosciences degree at the University of Plymouth.
During this apprenticeship, awarded by the University of Plymouth, you'll study modules in the following:
Biochemistry: Examine the essential features of living organisms starting with investigations into the chemical and biological properties of small biological molecules and how they are assembled into macromolecules essential to the structure and functioning of cells. A later module builds on the content of year one and shows how metabolism involves a wide range of biochemical pathways.
Microbiology: Gain an introduction to microbiology, including the diversity of microorganisms, their growth requirements, and clinical and industrial importance. There is an emphasis on aseptic techniques and good laboratory practice. A later module will develops your knowledge of the diversity of the microbial world including bacteria, fungi, protists and viruses.
Genetics: The first-year module introduces you to the structure and function of genes and how these, together with environmental factors, affect the characteristics of individuals and populations. A later module considers the processes that maintain genetic stability and promote genetic diversity at different levels of biological organisation.
Anatomy and physiology: Study the organisation of the human body into systems, including gross structure and histology. This first-year module is based around a number of practical sessions, including dissection and histology of a range of tissues. A later module in human physiology studies the functions of the various organs and systems of the human body and the changes that occur during stress.
Human Life Cycle: Looks at development from conception to old age. This module covers detailed study of the anatomy and physiology of the reproductive system, including specific areas of interest such as contraception, fertility, embryological/foetal development, adolescence and ageing.
Statistics: This first-year module develops previously learned mathematical skills within a scientific context and builds on these skills to allow students to learn statistical techniques which can be applied to testing scientific data.
Developing Graduate Skills: This first-year module helps you develop the qualities and transferable skills necessary for undergraduate academic work and employment requiring the exercise of responsibility and decision-making. As part of this module, you will complete at least 50 hours of supported relevant work experience with your current employer.
Cell Biology and Immunology: Learn about the ultrastructure and function of cells together with the principles underlying the major techniques used in modern studies of cellular biology. It includes a comprehensive introduction to immunology with particular reference to cellular and humoral responses to infection.
Research module: This later module focuses on core skills and techniques in good laboratory practice essential to human biosciences. You will carry out your own practical research project, working safely and efficiently within an appropriate experimental design. Your project will be preceded by a literature review of the topic, addressing wider issues. The whole project will be written up formally in the style of an academic paper and presented informally to your peers.
Full details of the specific knowledge, skills and behaviours required can be found at: https://www.instituteforapprenticeships.org/apprenticeship-standards/technician-scientist.
Assessments
Course assessment includes essays, presentations, laboratory reports and exams. Most modules have one coursework assessment during the year as well as a final exam. The coursework assessment makes up 60% of the final grade, with the exam being 40% end-point assessment may involve written assessments, professional discussions as well as practical observations.
Entry Requirements
You will need evidence of good academic attainment at Level 3 e.g. A Levels, BTEC Science, Access to Higher Education or Laboratory Technician Apprenticeship. GCSE English and Mathematics at grade 5/4 or above are essential. Applicants for the Technician Scientist apprenticeship programme must currently be in suitable employment.
Progression
Most Human Biosciences Foundation Degree graduates choose to progress to the third year of the BSc (Hons) Human Biosciences degree at the University of Plymouth. Some may complete their degree at an alternative institution. Successful apprentices may gain progression in their employment in laboratories concerned with biomedical science, public health, the pharmaceutical industry or food quality control.
Facilities and resources
As an apprentice, you will have full access to the college facilities. Most lessons are conducted in dedicated laboratories and there are specialist microbiology facilities. We also utilize online learning platforms which enable you to study at home flexibly as well as attending group lessons, practicals and seminar sessions. You will be assigned a mentor, with relevant experience, who will support you throughout the programme. External visits may be organized to local laboratories and further afield. Whenever possible we take advantage of opportunities to invite external speakers to talk to students about their specialist work.
FAQs
Q: Will I do a work placement?

A: In the first year, you will study a module on Developing Graduate Skills. As part of this, you are required to organize your own programme of work experience with your current employer. In addition, we organize external visits which broaden your experience. Trips have included tours of local facilities such as NDDH pathology and biochemistry laboratories, South West Water and local pharmaceutical companies. Excursions further afield are sometimes possible, including visiting science festivals or exhibitions.
Starting Date : 01/08/2023
Course Code : AB197 (2023)
North Devon campus
Why Petroc should be your first choice
Petroc offers high quality education and training across North and Mid Devon. We provide outstanding learning, excellent facilities, strong connections to employers and a supportive environment to help you fulfil your education goals and set you on your path to the career of your dreams.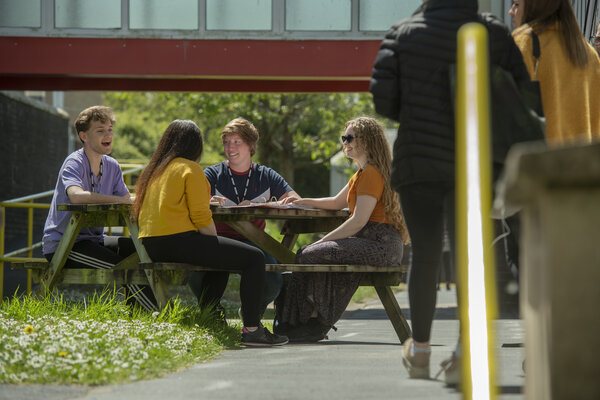 SUPPORTIVE
We offer a supportive and inclusive environment where you can flourish and feel a valued member of the college and wider community. 
INSPIRING
Our teaching spaces and facilities are some of the best in the region, providing stimulating and true-to-life learning environments. 
CONNECTED
We'll provide you with the experiences you need to be ready for employment or the next step on your educational journey.
You may also be interested in