Wood Occupations (Advanced Architectural Joinery) – Apprenticeship (Standard)

Wood Occupation involves carrying out advanced skilled work, primarily using timber products in a workshop, creating and installing building components.
The advanced joiner is able to undertake complex job tasks, requiring high levels of practical skills and knowledge, in addition to managing their own work and leading small teams.
During this apprenticeship, you will be required to learn the following knowledge, skills and behaviours:
KNOWLEDGE AND SKILLS:
– Understand, in more detail, the key aspects of health, safety and welfare good practice.
– Understand how to plan and carry out work effectively, taking into account complex environmental and task related challenges.
– Understand how to develop and maintain excellent working relationships with others.
– Understand your broader responsibilities under current legislation and guidance in undertaking construction work.
– Understand the importance of team working and being prepared to take a lead.
– Work safely and pro-actively in the application of good health and safety practice in your work area, to protect self and others.
– Understand the programme and work schedule for your work area and plan your work accordingly.
– Develop and maintain good working relationships with managers, supervisors and work colleagues.
– Interpret technical specifications and ensure compliance with legislation/guidance relevant to the work being done.
– Select the required quantity and quality of resources required for carrying out complex and non-standard work.
– Be prepared to take a lead when working in a team, especially when complex or non-standard work is involved.
SPECIFIC KNOWLEDGE AND SKILLS:
– Understand the technical principles of advanced architectural joinery, using this knowledge to set out and produce cutting lists for complex and non-standard products, marking, manufacturing, fitting and assembling complex, non-standard products.
– Understand how to take complex site and workplace dimensions.
– Understand how to form and proportion advanced wood joints associated with complex architectural joinery work.
– Understand how to set up, use and maintain fixed machinery used for complex joinery tasks.
– Utilise advanced trade skills to carry out complex architectural joinery work to a high standard and to demanding tolerances.
– Set out complex work tasks for non-standard architectural joinery products.
– Mark out accurately from setting out details for the manufacture of complex doors, opening windows, units and fitments and staircases.
– Manufacture complex and non-standard architectural joinery products.
– Use, maintain and store marking and testing tools, hand tools, power tools and associated equipment required for advanced work.
– Set up and use fixed machinery.
BEHAVIOURS:
– Effective communication: oral, written, listening, body language, presentation.
– Team work: work effectively without supervision and give leadership to others.
– Independent working: take responsibility for completing own work and monitoring the work of others.
– Logical thinking: use clear and valid reasoning when making decisions and in achieving work goals with others.
– Working effectively: undertake the work in a reliable and productive manner, lead others by example.
– Time management: use own time effectively to complete work on schedule and support effective team working.
– Adaptability: be able to implement change and adjust existing requirements to meet the work instruction
Assessments
The apprentice must complete all elements of the on-programme learning to achieve the assessment gateway requirements.

The end-point assessment will assess the knowledge, skills and behaviours required to undertake the work of an advanced architectural joiner.
Entry Requirements
You must be employed in order to start this programme. You should have 4 GCSEs at Grade 3 equivalent or above to include Maths and English, and progression and completion of the NVQ L2 in Site Carpentry. Enthusiasm for your subject and a willingness to work hard are essential.
Progression
On completion of this standard, you can progress to a wide range of employment opportunities, or move onto full or part-time further or higher education.



The achievement of this standard will meet the requirement of the Construction Skills Certification Scheme (CSCS) `Advanced Skilled Worker' standard, which is widely recognised as a `licence to operate' in a skilled construction trade.
Facilities and resources
As an apprentice, you will have full access to the college facilities including the IT suite and Library. Classrooms are fully-equipped with smart boards and other teaching and learning devices. Workshops are also fully-equipped with hand tools, power tools and up-to-date machinery. The use of Moodle (our Virtual Learning Environment) and Google Classroom is particularly important during teaching and learning; all learners will have access to both, at any time, to suit their needs.

The use of mobile devices (smartphone, iPad, tablet) is welcomed as long as they are used for learning. You will find many posters with QR codes allowing you to access resources such as videos, screen-casts and more.
FAQs
Q: Is there any equipment needed to participate on this course?

A: Safety boots need to be purchased by the student. Students are also required to provide their own stationery and textbook; a full equipment list will be provided at interview.



Q: Does the college find me an employer?

A: No, you are responsible for finding your own work placement. We can help by following up on leads you may have and discussing Apprenticeship requirements with a prospective employer, as well as checking them for suitability.



Q: Will I get paid for working with my employer?

A: You may start initially on a work trial basis for a week or two, but once a position has been confirmed you should be paid a trainee wage, legislation states this can be below minimum wage and tends to vary between employers.



Q: Should my employer pay me while I am at college?

A: Yes, you will be paid for the time you are at college irrespective of whether you attend on a block or day release basis.



Q: How many days do I attend college for?

A: One day per week over the 12-15 months programme.
Staring Date : 01/08/2021
Course Code : AT98 (2021)
Mid Devon campus
Why Petroc should be your first choice
Petroc offers high quality education and training across North and Mid Devon. We provide outstanding learning, excellent facilities, strong connections to employers and a supportive environment to help you fulfil your education goals and set you on your path to the career of your dreams.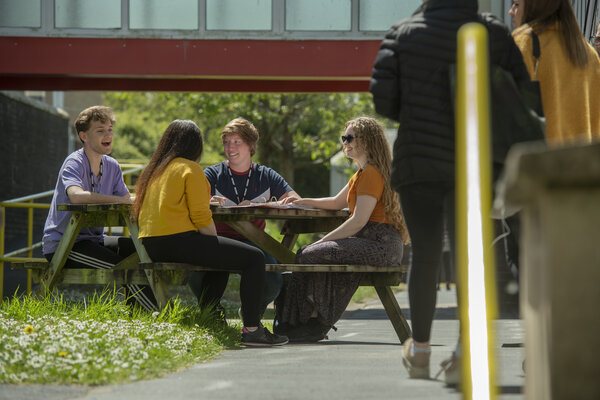 SUPPORTIVE
We offer a supportive and inclusive environment where you can flourish and feel a valued member of the college and wider community. 
INSPIRING
Our teaching spaces and facilities are some of the best in the region, providing stimulating and true-to-life learning environments. 
CONNECTED
We'll provide you with the experiences you need to be ready for employment or the next step on your educational journey.
You may also be interested in