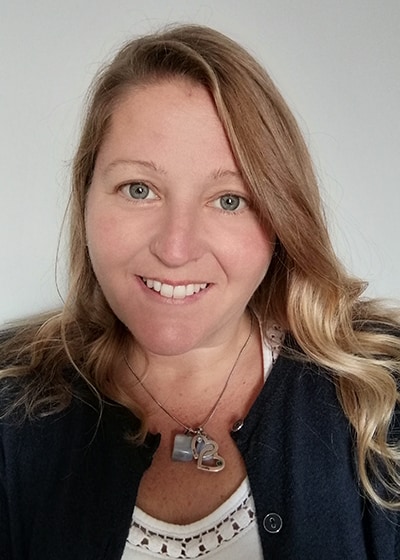 I had been interested in doing a degree for several years. However, with a young family to look after, traveling elsewhere to university was not feasible. Similarly, I knew that distance learning/Open University would not suit my style of learning.
Prior to my studies, I had spent many years teaching outdoor education, working predominantly with young people with social, emotional, and behavioural difficulties. Psychology is very relevant to this area of work and whilst I had a lot of practical experience, I didn't have any formal academic qualifications to support this.
I really enjoyed all of the course however, I am fascinated by the biological aspect of psychology. I also have a particular interest in health and wellbeing, so for me the biological psychology, health psychology and psychopathology modules were really interesting.
We had several seminars or talks from people outside of the college, which was really beneficial for contextualising the things we were learning. For example, we had a 'Behind the Bars' conference where we met a criminal psychologist and some ex-offenders who talked about some of the issues around crime and rehabilitation.
I think the size of the group made a real difference! When I started at Petroc I had been out of education for over 20 years, so the thought of sitting in a lecture theatre with hundreds of other students was quite overwhelming. However, as we were a small group we bonded quickly and everyone was really supportive of each other. It also meant that the lectures were much more personal and interactive. There was plenty of group discussions, opportunities for people to share their own experiences or ask questions, and lots of support from teaching staff. This really helped with my learning.
Next week I start a new job as a Trainee Psychological Wellbeing Practitioner with Devon Partnership NHS Trust. As part of this post, I will spend two days a week at Exeter University completing a Post Graduate Certificate in Cognitive Behavioural Therapy.
I would like to stay working for the NHS in the future – once I've qualified there are a number of progression routes available within the service, such as senior psychological wellbeing practitioner or high intensity therapist.
My advice for anyone thinking of taking this course is to go for it! When I first looked into this course I had my reservations. I was unsure whether I had the academic ability to study at this level, and whether I would be able fit in studying around work and family commitments. It wasn't always easy, but I'm so glad I did it. I've learnt so much, not only about the subject, but also about myself and what I can achieve.
Foundation Degree in Psychological Studies & BA in Human Behavioural Studies

I've learnt so much, not only about the subject, but also about myself and what I can achieve.
More stories from our students