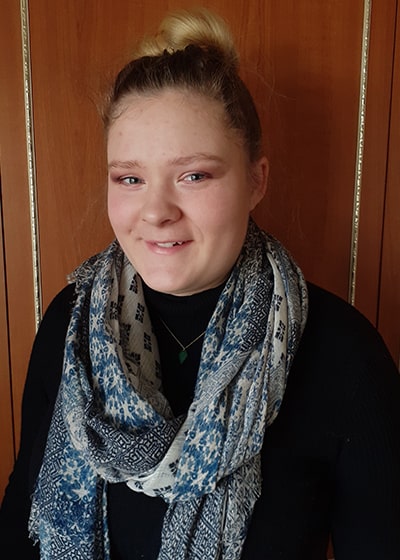 Why did you choose to come to Petroc?
When I visited the college on an open day in Year Ten, I spoke to various lecturers who inspired me to take the subjects I eventually chose, through both detailed explanations of what my studies could entail, and also pure enthusiasm! I instantly knew that Petroc was the place which would enable me to pursue my academic passions!
And what made you pick this particular course?
In most cases, the specific A-levels I chose allowed me to continue to study my favourite subjects from GCSE in more depth, and with greater focus, but I also chose to take advantage of the wider range of subjects available with A-level Politics, through which I could combine my extra-curricular interests with my academic ones. It was also important to me that all my subjects complemented each other, so that I felt as though I had a coherent programme of study.
What have been the highlights so far?
Although Covid has put rather a limit on the number of in-person visits and trips that were available during my time at Petroc, I was very lucky to have been able to compete in the Rotary Club Youth Speaks debating competition alongside two other fellow students, an opportunity which allowed me learn and improve while doing what I love outside the classroom!
What do you most enjoy about studying at Petroc?
People are so dedicated to the subjects which they teach and study – through such a friendly and dynamic atmosphere learning becomes a collaborative process, allowing me to develop levels of insight I would not have achieved outside such an environment.
Did you undertake any work experience throughout your studies?
Again, Covid was not a helpful factor in terms of finding and completing work experience, but I have still been able to complete programmes aimed with aiding the progression to university. I managed to complete much of the Exeter Scholars programme in person, a series of interactive sessions on the university's campus which enabled me an insight into university life, and an increasingly large range of online programmes that have emerged in the past year, such as the Sutton Trust summer school, are equally as immersive.
What do you plan to do when you leave Petroc?
I hope to study History and Politics at the University of York.
What's the long-term plan?
Although I don't have one clear career path or goal I'm currently working for, I can't see myself wanting to leave education any time soon – it's really important to me that, whatever I do, there are always opportunities to develop my knowledge and understanding of the wider world, and learning is a vital part of that process.
Any advice for someone thinking of choosing the same course as you?
Although it's vitally important to continue studying what you love, don't be afraid to expand your horizons in terms of subjects – it's likely that at A-level there will be a wider range than there was at GCSE, so make sure you explore all options available to you!
A-level English Literature, English Language, History and Politics

I instantly knew that Petroc was the place which would enable me to pursue my academic passions.

More stories from our students