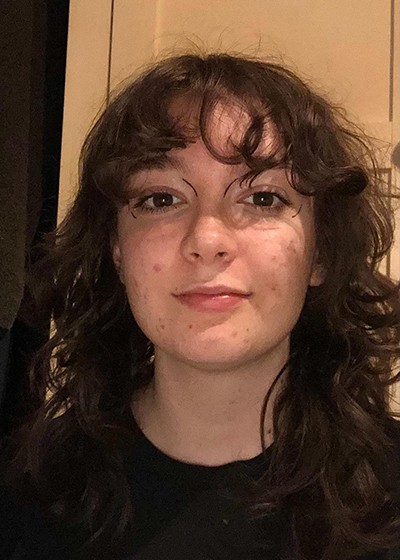 Why did you choose to come to Petroc?
Petroc's location was ideal for me as I did not have to catch the bus or the train which saved expenses. It is also the college both my siblings had attended, and they enjoyed their learning experience there. Petroc was also a popular choice for people who attended my secondary school so transitioning would be easier as I already knew people and had friends, but it also provided the opportunity to meet new people.
And what made you pick this particular study programme?
Art – I always knew that I wanted to choose Art as I had enjoyed it at GCSE. I already attended a workshop for Art at Petroc during Year 11 which helped cement my decision as Petroc provided so much more space and freedom for their students. The range of materials and processes on offer really astounded me and the staff were very helpful during my visit. The comfortability and competition the course would provide made the decision to choose art easy.
Media – Initially, I did not intend on choosing Media but, upon learning more about it from my friend, I was hooked. Media Studies was not an option at our secondary school so I saw it as an opportunity to learn something new that could be applicable to any future career as I was still torn on what I wanted to do after college. Analysing pieces of production and creating our own magazine intrigued my creative and academic side so it was the perfect fit for me!
History – I did not intend on choosing History but, at the taster day, I was convinced by the students doing the course to select it as an option. I already had an interest in History as I had taken it at GCSE, but the topics covered – particularly the Wars of the Roses – fascinated me. Additionally, the possibility of picking what to do for coursework let me know that the course would build my independence as a student and really help me grow.
Aspire – As a student, I usually felt left out of debates as I did not have much general knowledge nor the skills to formulate an argument in my head and speak my mind clearly. The Aspire Academy offered me the chance to obtain and solidify new knowledge as well as discuss it among my peers. So I decided to join with some friends to build my confidence.
What have been the highlights so far?
Art – I am still stunned by how much I have improved in the space of a year. In Art, we are all like minded individuals and support each other's work. We encourage and inspire each other with our varying styles. Last year we were able to visit the V&A in London which helped broaden my list of artists and introduced me to artists with other focuses.
Media – Media has been one of my most practical subjects. I have often found myself saying in education before "But how can I use this in real life?" for Media, I find myself using those skills every day.
History – I have enjoyed learning about the different characters throughout history and how they were able to shape the direction of an entire country. Furthermore, uncovering changes and continuity throughout different time periods in history has been fascinating, as well as historians' ability to define entire decades by a single title.
What do you most enjoy about studying at Petroc?
I have enjoyed the freedom and independence that has come along with taking A- Levels. Lecturers treat us as adults and respect our opinions which is a huge change. The atmosphere at Petroc is quite calming and it's easy to find like-minded individuals to befriend.
What do you plan to do when you leave Petroc?
I intend on taking an Art course at Petroc Brannams campus in order to gain a diploma so I can weigh my options going into university as I am still undecided over what course to take.
Any advice for someone thinking of choosing the same course as you?
Do not be nervous about having huge amounts of background knowledge before entering a subject or being too shy to speak. Peers and lecturers are always there to help support you and encourage your development – you'll be shocked at the progress you make.
A-level History, A-level Art, A-level Media Studies, ASPIRE Academy

I have enjoyed the freedom and independence that has come along with taking A- levels.
More stories from our students