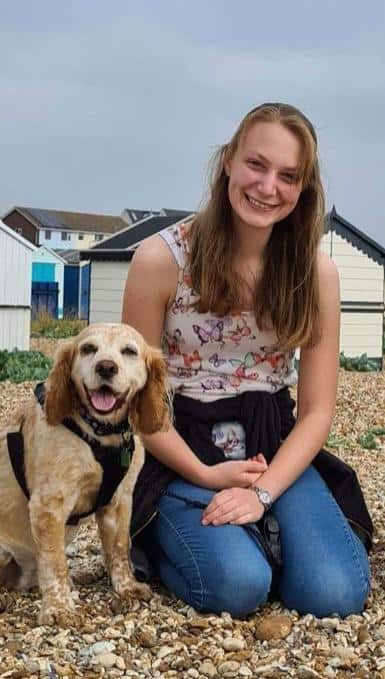 Why did you choose to come to Petroc?
I chose to come to Petroc originally to study A Levels which I did for a year. After the first year I decided I wanted to work more hands-on with animals so moved across to the Animal Management course. I chose to go to Petroc due to its location close to home and the Animal Care Centre.
What made you pick this particular course?
I wanted to specialise in the future working with animals. The Animal Management course at Petroc covered a wide range of subjects which I found to be interesting – I knew that I wanted to go on to study Veterinary Nursing and completing the Animal Management course would give me a good foundation of knowledge.
What were the highlights so far?
We went on trips to Paignton Zoo, Plymouth Aquarium, Lynton Goat Herding to name a few. Each trip we went on was looking at a different area of knowledge we had learnt in the classroom and we were able to go out and see it in practice.
What did you most enjoy about studying at Petroc?
I enjoyed studying at Petroc as a whole – we spent time each week within the Animal Care Centre where we worked hands-on with the animals. I loved the field trips out and the projects we were able to take part in.
Did you undertake any work experience throughout your studies?
I completed a variety of work experience placements during my time at Petroc. I was able to visit local zoos, Combe Martin Wildlife and Dinosaur Park, my local dairy farm and complete a week's work experience with my local vets, Charter Veterinary Hospital. Doing a variety of different placements helped me to decide which career path I wanted to go down. I thoroughly enjoyed completing my work experience, it gave me the experience to learn how to work alongside other teams. For me work experience not only helped me to confirm the type of work I wanted to do but it helped me to get the job I am in now. After my work experience at Charter Vets I was contacted a few months later and offered a job as an Animal Nursing Assistant. It was from my work experience where I made a good impression, to be considered for the job. If I had not done my work experience I would not be working as I am now as a qualified Veterinary Nurse.
What have you done since leaving Petroc?
I left Petroc 3 years ago, after leaving I started working full time as an Animal Nursing Assistant at Charter Vets. I did this role for 18 months before starting my student vet nurse training.
What's the long-term plan?
I have just qualified as a Veterinary Nurse. I plan in the future to look at specialising in animal behaviour or referral inpatient care. After completing my nursing qualification, I have the option to go on and do further qualifications to develop my knowledge in certain areas should I choose to.
Any advice for someone thinking of choosing the same course as you?
My advice to anyone wanting to go into nursing is to gain as much practical experience as you can. The course is hard don't get me wrong but the end outcome is well worth it. A passion for animals is a must, but also the ability to work alongside the general public because all pets come with owners!
Level 3 Advanced Diploma in Animal Management

"The Animal Management course at Petroc covered a wide range of subjects which I found to be interesting – I knew that I wanted to go on to study Veterinary Nursing and completing the Animal Management course would give me a good foundation of knowledge."
More stories from our students