Another year of outstanding A Level results for Petroc!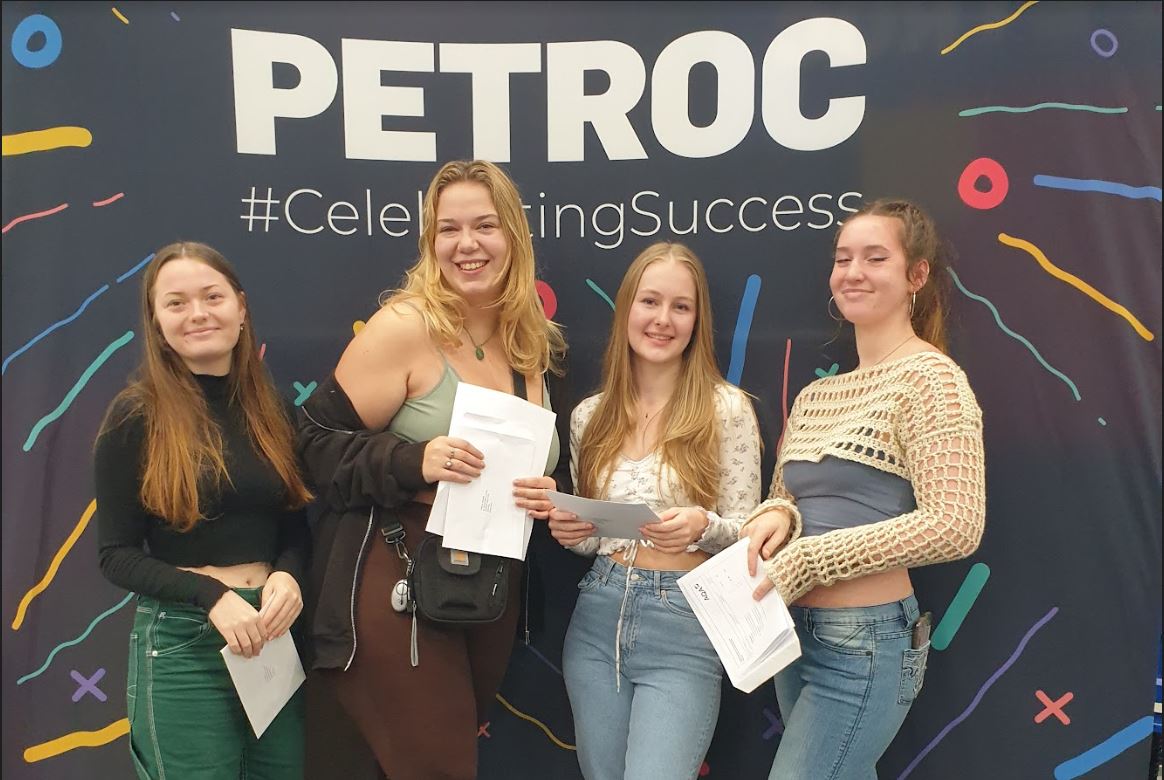 In the most challenging of times Petroc students have done unbelievably well, with the results comparable to 2019, the last year A Level students sat exams. We congratulate them on their hard work and our dedicated staff for supporting them. We are very proud.
We have seen some outstanding performances from our students: for example,  in Environmental Science every student gained a grade of between A*-C and in Music, three in four of them achieved grade A*-B.
Sean Mackney, Principal and CEO at Petroc, said: "I congratulate all our students who have received their A Level and vocational results today. 
I feel a great sense of pride seeing what they have accomplished over the last two years, which is also felt by our students' lecturers and support staff who have helped them to achieve these grades. 
Our learners have shown determination and resilience, and have come out with outstanding results setting them up for future success." 
Faculty Manager of A Levels, Claire Scott, said: "We are immensely proud of the tremendous effort that all of our amazing students have put into their studies this year. This cohort have had to struggle with Covid and lockdowns throughout their time with us and during their final year at school, so their first experience – apart from their mocks with us – of an actual set of examinations were their final A Levels. They have been resilient, flexible and hard-working through all the ups and downs of the past two years and these results bear witness to their diligence and determination to succeed."
A Level learner, Skye Pirie, received  A*, A*, A* in Maths, Biology and Chemistry. She said: "Now that I've  received my results I'm going to take a gap year travelling and then I'll be going to Birmingham University to study a Masters in Chemical Engineering. In September I will be representing Great Britain at the World Surf Life Saving Championships."
Alexander Parsons achieved an A in Classical Civilisation, A in History and a Distinction* in Sport. He said: "I really enjoyed being able to focus on studying what I am interested in. Now that I have my grades, I am off to Southampton University to study History and Ancient History. I would like to be a pilot if possible but first I want to study for a degree in something that I enjoy." 
Student William Nicholls gained an A*, A*, A in Law, Psychology and Sociology. He is now off to the University of  Brighton. He said: "With my grades, I am excited to be moving away to study Paramedic Science."
Darcy Lewis received an A, A, A in History, Law and Politics. She said: "I really enjoyed my time at Petroc and I'm really pleased with the results I've achieved. I'm now going to Exeter to study History, then I would like to do a Masters and PhD with the hopes of becoming a Researcher." 
Emily Meardon studied four A Levels and received A, A, B, B in Economics, Business, Law and Politics. Emily accepted a place at the University of York to study Politics, Philosophy and Economics. She said: "I really enjoyed my time at Petroc, making new friends with the same interests as me. I really valued the support from my lecturers and am excited to be going to York University."
It's not just A Level learners celebrating today. We can proudly say that our vocational students received some very impressive results. For example, two thirds of students on our Construction courses achieved a starred distinction, the highest grade, whilst 100% of our students passed Business, Performing Arts and Sports programmes.
We wish our students the very best of luck as they progress in life and we hope to see many of them returning to study a degree with us.
It's not too late to study for a degree at Petroc; through clearing you can apply now! There are generous cash bursaries available for all students.
Contact us now to secure your place for September, call 01271 852330 or email he@petroc.ac.uk
To find out more please visit www.petroc.ac.uk/clearing