Petroc apprentice in Southwest Chef of the Year final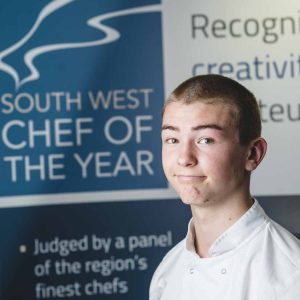 We are delighted to announce that apprentice commis chef, Perran Clark, has reached the finals of the Southwest Chef of the Year Competition, in the Student/Apprentice Chef Category.
Richard Hands, lecturer in Hospitality and Catering at Petroc, said: "Perran is in some ways skilled and knowledgeable beyond his years. His natural talent should see him with a glowing future career within the hospitality and catering industry. By getting to this stage of the competition he is set to showcase his talent, and also demonstrate that extremely high-quality chefs do not always come from cities, and the southwest has its own complement of rising stars."
Martin Baylis, Chef Director at New Coast Kitchen also gave glowing praise on hearing the news of Perran's achievement: "We are incredibly proud of young Perran, he has been an asset to the company since he has started and testament to his learning at Petroc. We have high hopes for his future and look forward to happens next for him."
The Finals will be held in Exeter on 24 October, and we look forward to celebrating Perrans progress.