Petroc exhibits at the Recruitment, Wellbeing and Advice Fair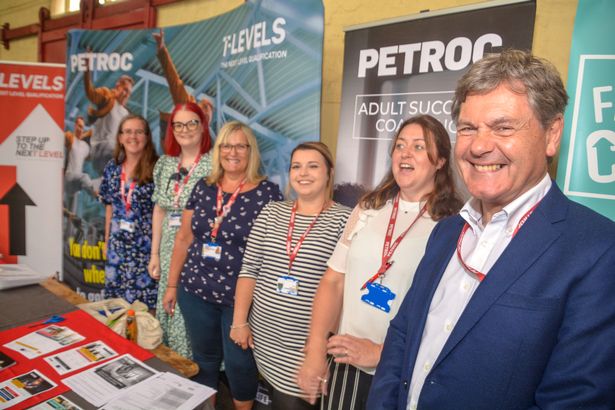 Petroc was delighted to exhibit at the recent Jobs Fair at Barnstaple Pannier Market on Wednesday 13 July.
The 'It's a New day – Recruitment, Wellbeing and Advice Fair' was hosted by Griffiths, the civil engineering organisation who are working on the North Devon Link Road, as part of their social values campaign with Devon County Council.
They want to help improve the lives of the people of North Devon by increasing employment opportunities. Lynda Sudlow from Alun Griffiths was part of the team who organised the event. She said: "We're all crying out for people. Griffiths are indeed, and I think most of the people here that are recruiting are. This is about upskilling, training, advice and help with your CV."
Petroc was on hand to explain what opportunities are available for young people at our North Devon campus and we used the fair to engage with the public about our work with people who are employed, unemployed or are economically inactive. There was a particular focus on highlighting the T Levels and apprenticeships available at the college.
You can find out more about the event on the DevonLive website.