Petroc launches new South West Institute of Technology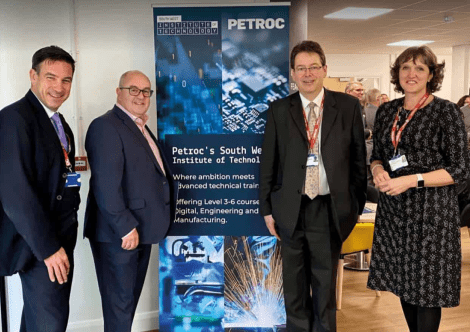 We were delighted to see so many faces at the launch of our brand NEW South West Institute of Technology (SWIoT) centre. Our guests thoroughly enjoyed viewing the new facilities and the tours with our expert lecturers. 
SWIoT CEO, Andy Correy, said a few words prior to cutting the ribbon to officially launch the centre. He spoke about how the centres will train thousands of students in technical subjects across the region, bringing unparalleled skills development and career opportunities. Andy said: "It's a pleasure to open this fantastic refurbishment. The SWIoT is really important in the South West. As an employer in the South West, I have noticed a massive skill shortage in technically trained people. The SWIoT was set up to deal with this and give us a better chance of training our people in this region. The SWIoT is the largest in the country, we were the second one to be established, we have the biggest range of colleges and universities and we have some of the biggest employers in the South West engaged." 
SWIoT is a unique collaboration between a number of partner organisations, including Petroc, the University of Exeter, University of Plymouth, Bridgwater & Taunton College, City College Plymouth, Exeter College and Truro & Penwith College, each investing in the development of state-of-the-art facilities for training in technical subjects to create Britain's next generation of highly-skilled technicians and engineers. SWIoT will operate as a virtual college, specialising in technical training and development in the South West.
The building incorporates two state-of-the-art facilities. The Engineering facility houses cleanroom fabrication capabilities; electronics design, manufacture and testing laboratories; additive technologies (3D); and production robotics, whilst the Digital Science suite contains a bespoke area for developing virtual environments; a large space for drone experimentation; and the latest specification networking, software, and data engineering facilities.
Our Principal, Sean Mackney, said: "The Institute of Technology will provide employers in Northern and Mid Devon with the trained workforce that is so critically needed to meet the skills shortages across our world-class engineering, manufacturing and digital businesses. We are sure that being part of this prestigious programme, with the investment it brings, will inspire people to reskill, upskill and develop their careers in the local area, supporting enhanced productivity and business growth".
To find out more about what programs we run for this area, please visit Petroc.ac.uk/swiot