Petroc student wins Best Short Film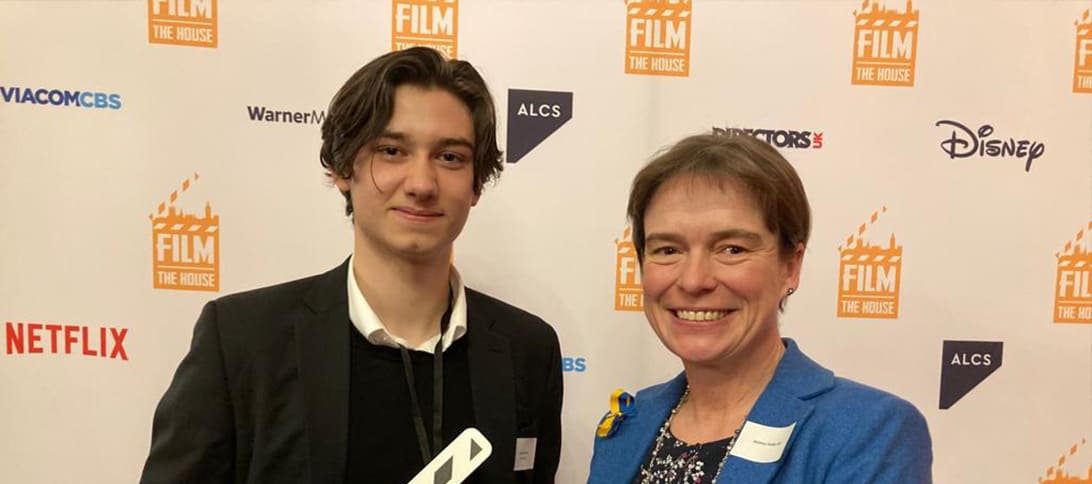 We are very proud to announce that on 8 March 2022, Saul Bell-West, who is a Level 3 Extended Diploma Creative Media Production & Technology student at Petroc, won Best Short Film Under 19 at the prestigious Film the House filmmaking competition run by MPs. Saul was nominated by Selaine Saxby MP for his film 'Deserter', which is about a young WWI soldier who fled the battlefield. Saul walked away with the top award at the ceremony in Parliament.
Selaine Saxby MP said: "Creative industries are a huge UK export to the world and it is wonderful to know that our filmmaking talent in North Devon is being recognised. I do hope that this will inspire more young people to be creative and be entrepreneurial as there should be nothing holding them back. Saul is a credit to his family, Petroc and the film industry. It was a pleasure to meet him, and the star of his film."
Ian Brennan, Faculty Manager for Creative Arts, Media, Music and Performing Arts at Petroc said: "We are so proud of Saul's achievement. To win a national award selected by the House of Commons highlights his amazing creative talent and determination in producing a moving tribute to the heroism of soldiers in WW1. Using the skills learnt on our Creative Media course, Saul has an exciting and rewarding career ahead of him".
Saul said: "The whole experience was nerve-racking and surreal. Even after I had received the award, it still felt too good to be true because I was so sure I wouldn't win. The fact that my short film beat all these other amazing ones feels unreal. I'm that much more proud of it now and who knows, maybe I could do it again next year."
Winners received Film the House trophies, cash prizes, a certificate of classification for their film from the British Board of Film Classification, as well as future mentoring sessions from industry screenwriting professionals, including a meeting with a professional director, courtesy of Directors UK.