Petroc students excel in UKMT Maths Challenge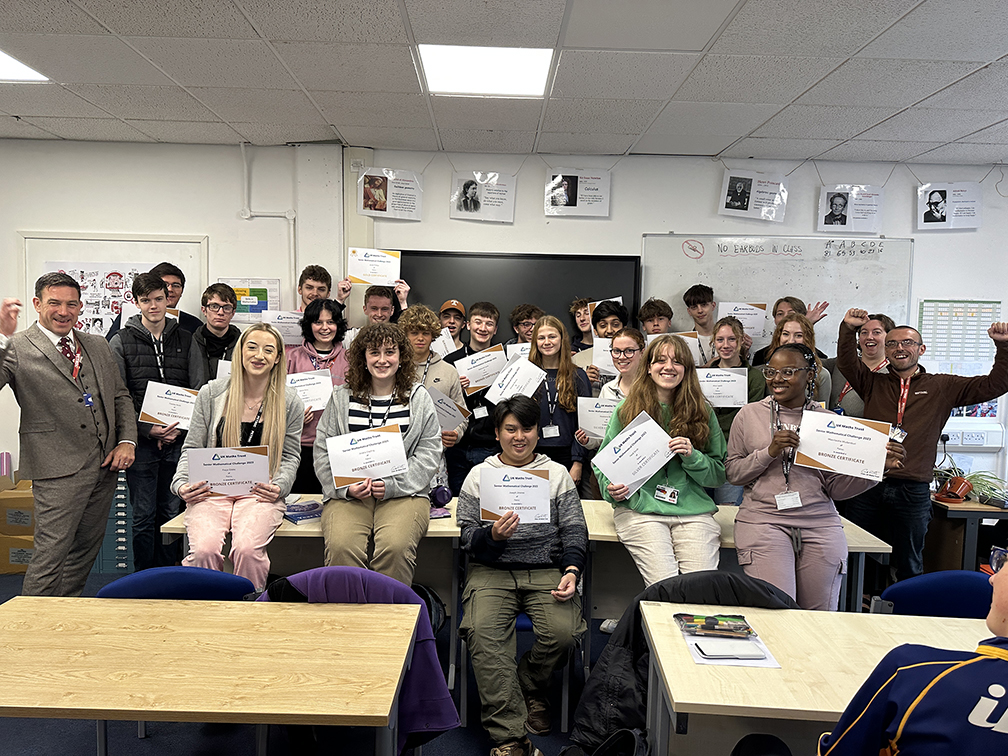 Petroc is thrilled to announce the outstanding achievements of its remarkable Maths students in the recent UKMT Senior Maths Challenge.These talented individuals have not only showcased their exceptional mathematical prowess but have also made us immensely proud of their accomplishments.
Two of our exceptional students soared to the top, securing Gold awards and placing themselves among the elite top 10% of mathematical geniuses across the nation! Eight more of our students clinched Silver awards, demonstrating their brilliance as they found their place among the top 20% in the country, whilst a remarkable 22 of our students achieved Bronze awards, solidifying their presence in the prestigious top 30% of mathematicians in the country!
Jacob, a dedicated student studying Maths, Physics and Computer Science with aspirations for a degree apprenticeship in computer science, expressed his surprise and gratitude, saying, "I'm so surprised to get the gold award, and I'm really grateful to our lecturers; we couldn't have done it without them!". Elicia, who is pursuing studies in Maths, Biology and Chemistry, and is aiming for a dentistry degree at university, shared her enthusiasm, saying, "It's really good to get this recognition and a great thing to add to my personal statement to help me get into uni!"
Rachel Booth, Interim Director of Academic Studies at Petroc, applauded the achievements of the students, saying, "I am immensely proud of our learners and their achievements. The Research Review Series on Mathematics undertaken by OFSTED and published in May 2021 sets out very clearly the case for maths meeting the needs of the local, regional, and national context. Students with higher levels of achievement in maths are associated with higher earnings, and I feel our students are putting themselves in the best possible position in terms of future employment. In the Southwest, key future employment sectors include: marine, microelectronics and photonics, nuclear, aerospace, science and innovation, tourism, and digital technology, all requiring a high level of quantitative skills which I am proud to say our students have clearly demonstrated."
Gemma Quick, Mathematics Lecturer at Petroc, expressed her delight, stating, "I'm delighted by our students' success. It's great to see North Devon's aspiring mathematicians coming through Petroc and achieving these accolades. It's a credit to our local secondary schools and our Mathematics department for supporting these young people through their mathematical journey."
Principal Dr. Sean Mackney had the honour of presenting them with their well-deserved awards, congratulating these math superstars and offering words of encouragement as they continue to excel in their academic pursuits.