Petroc students win trophy at AoC Sport National Championships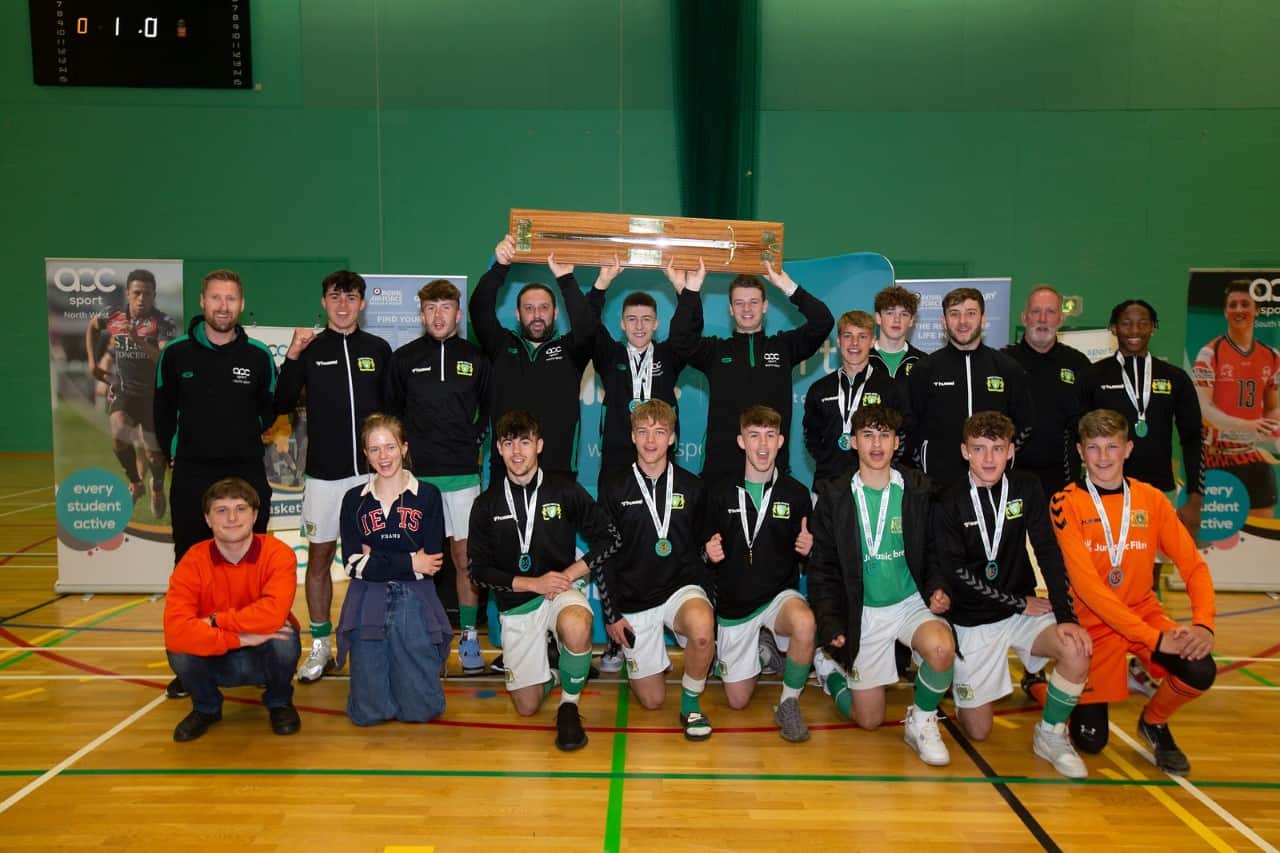 Last weekend, five students from Petroc competed at the 42nd AoC Sport National Championships at the University of Nottingham.
After having competed and qualified at the Regional Championships in November 2021, our athletes won the opportunity to represent the South West region in this, the largest annual student sporting event in Europe. Skye Pirie, Abi Oscroft and Dylan Dayman competed in Cross Country, whilst Zoe Lefeuvre and Harvey Sawyer competed in Badminton.
On Friday evening, the team attended the AoC Opening Ceremony which included a procession of the regional flags and a formal opening by Mark White, Chairman of the AoC Sport Board of Directors. This provided some inspiration and excitement for the team who were raring to go and compete against all 10 other regions in their chosen sports!
The Cross Country running event took place on both Saturday and Sunday. On Saturday morning, Skye and Abi placed 8th and 27th respectively in the Women's race and Dylan finished 17th in the Men's race. On Sunday, Skye had to return to North Devon to attend GB Surf Lifesaving trials, but Abi ran strongly again and finished 26th while Dylan put in a superb performance to finish 12th in the Men's race. Overall, our student's excellent performance contributed to the South West ladies finishing in Silver Medal position – with the South West men finishing in 5th place.
The Badminton team was ably led by Harvey Sawyer who organised, coached and played some excellent games all weekend – so much so that the team coach from Truro wanted to award him his own medal for endeavour! They played a Davis Cup format (playing singles, doubles and mixed doubles against each opponent), however, due to injury, the South West team only had one female member – our Zoe – which meant that Zoe had to play every game of mixed doubles and ladies singles giving her a terrific workload! Despite this, the South West team managed a very credible 6th place.
These fantastic results contributed to the South West regaining the Wilkinson Sword Trophy for the first time since 2016.
AoC Sport Director of Sport and Student Experience Dean Hardman, said: "It goes without saying that the past two years have been extremely difficult for everyone and especially young people. We were therefore delighted to see the return of the AoC Sport National Championships for the first time since 2019 and the much-needed opportunity for our talented athletes from across the country to compete against each other at this fantastic event."
Jason Fern, Head of Petroc Sports Academies,  said: "We are immensely proud of the hard work and dedication of all our students. They performed brilliantly and represented the college impeccably. We will be looking to repeat these successes in 2023!"