Record numbers of students attend Petroc Open Event!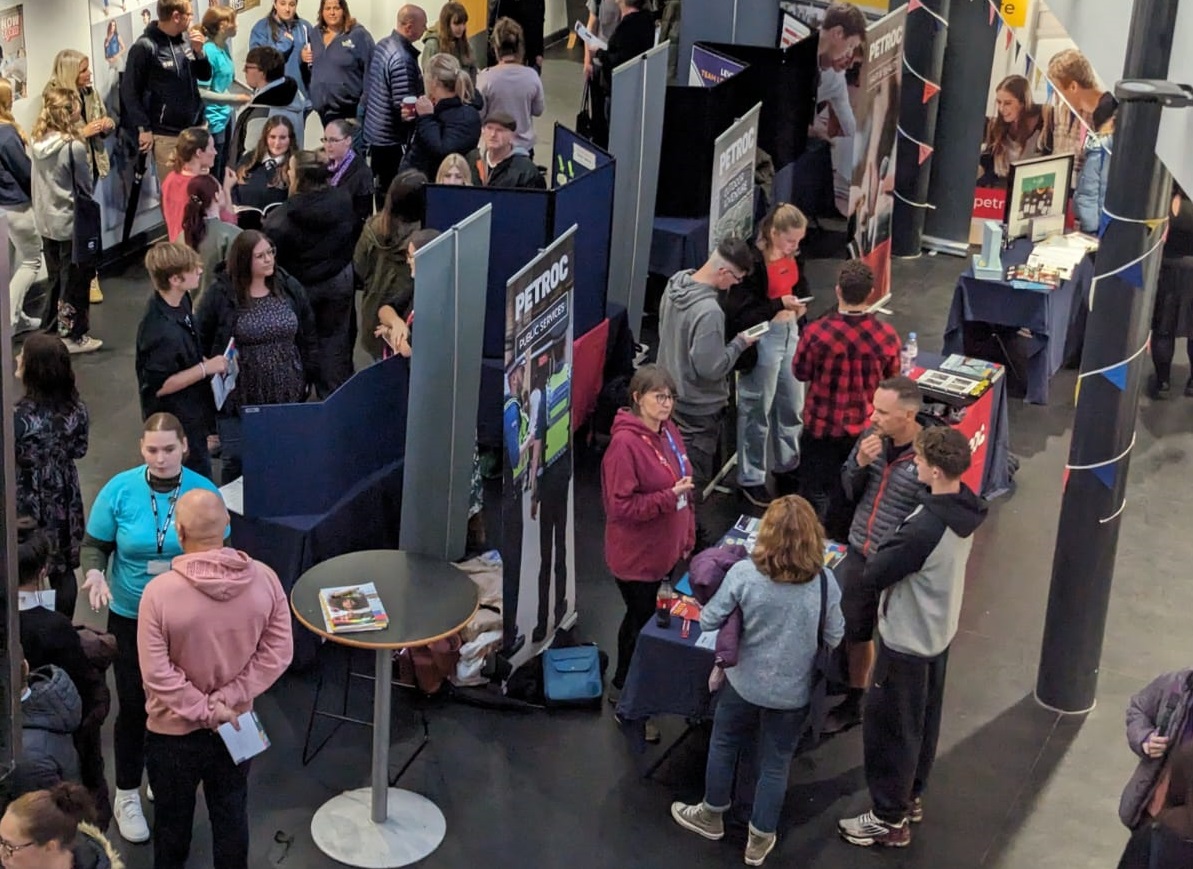 Petroc is thrilled to announce an unprecedented surge in attendance at its Open Evening this week. With a remarkable 120% increase in attendance from students of local schools and those hailing from further afield, Petroc is the first choice for a rapidly growing number of aspiring young minds.
Dr Jason Jones, Deputy Principal – Education & Learners, attributes this astounding increase in numbers to Petroc's unwavering commitment to education and personal growth. "The college has made substantial investments in state-of-the-art facilities, an extensive program of academies and enriching experiences, as well as introducing a new suite of courses that have consistently yielded outstanding results," he said. "More and more students are realising that Petroc is the key to unlocking their brightest future. By choosing Petroc, they not only receive a world-class education but also have the invaluable opportunity to develop themselves in alignment with their courses, and are spared from the time-consuming rigours of daily commuting to providers further away from their community."
One parent commented on the evening, "We've had a warm welcome on site, lots of people smiling and welcoming us. It is great to see student ambassadors helping their lecturers and hearing about their experiences and what they have planned for the future. We focussed on two areas – Outdoor Education and Hospitality & Catering – but the event made us realise how many other options there are, so we are coming back for the next open event to look at two more course options – Sport and  A Levels –  to make sure the final decision is the correct one."
Another parent visited our Sports provision at Tarka Leisure Centre, saying, "I was really impressed with the facilities at the Leisure Centre. The teaching staff were really helpful and explained the course options and course content. We had a thorough tour of the facilities down there and my daughter was very impressed, especially being able to join the gym and the possibility of being part of the Netball Academy. I think she has made her mind up and is ready to apply but needs to speak to staff in a few other areas before making any final decisions so I will register her for the November event as well.".
One student couldn't be happier with their decision to attend Petroc. "I tried the train, but after a couple of weeks, I realised how much time I was wasting on travelling. Mornings aren't my thing!".
Petroc's commitment to developing individual learners with a range of academies and enrichment is increasingly attractive to employers. Peter Morrish, Chair of the local Economy, Innovation, and Skills Board and a manager at a global precision engineering firm in Great Torrington, CMTG, explained, "We are always on the lookout for the best talent to hire, offering fantastic, well-paid jobs. We seek individuals who have utilised their time to broaden their horizons beyond just their A Levels. Individuals who are passionate about making a meaningful impact in their community, beyond their coursework. Petroc is the answer. It's well-connected and empowers its students with the tools for a sharp career. It's a wonder why everyone doesn't choose Petroc, and it's heartening to see its growing recognition."
Following the resounding success of the October event, Petroc eagerly anticipates yet another fantastic turnout at their next Open Event on Saturday 25 November. To ensure your spot, Petroc encourages all prospective students and parents to register their interest online in advance.