Sir Michael Morpurgo, OBE, joins Petroc University Centre graduates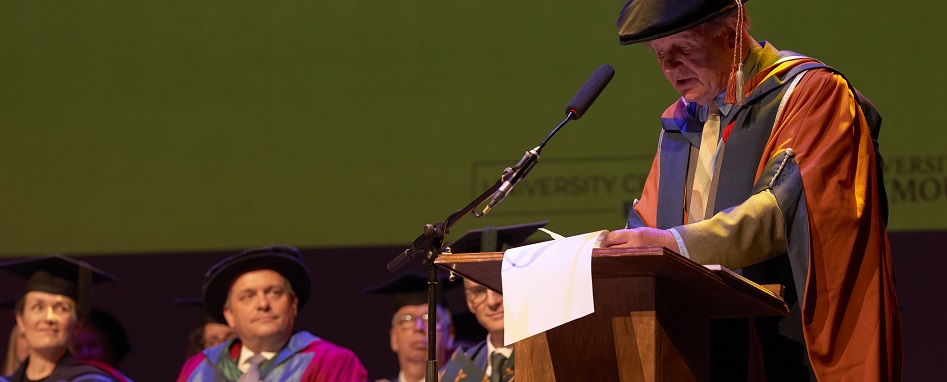 Last weekend saw the 16th annual graduation ceremony for University Centre Petroc students, who received their degree-level qualifications to huge applause from family, friends, employers and Petroc staff.
Dr Caroline Chipperfield, Director for Higher Education welcomed everyone, saying "It is such a joy to celebrate with you, our graduates, friends, family, guests, college and University Centre staff. We are truly honoured to be able to welcome Sir Michael into our University Centre family". Victoria Squire, Academic Partnership Manager for the University of Plymouth also welcomed graduates, saying "I want to emphasise how proud we all are of your achievements – you, our graduates and those also that have supported you throughout your time here, your success is why we are here, and these ceremonies are the highlights of the year. Today we celebrate both the success of the group of students in front of us, and the partnership between Petroc and the University of Plymouth".
Nearly 100 graduates from our degree-level programmes attended the ceremony at The Queen's Theatre in Barnstaple on Saturday, alongside esteemed faculty and local dignitaries, including guest speaker Peter Morrish, alumnus of the college, Chair of the Northern Devon Economy, Innovation and Skills group, and Manager at local business – CMTG. He addressed the students, saying "I hold Petroc close to my heart. It played a vital role in kickstarting my career. Three decades ago, the prospect of studying for a degree in North Devon was a distant dream. However, thanks to the advancements and dedication of Petroc, that dream is now a reality for many, through what I believe is a hidden gem in the College's University Centre". 
Sir Michael Morpurgo OBE, author, poet, playwright, librettist and philanthropist, best known for his children's novels War Horse and The Butterfly Lion among others, received the honorary degree award. He said: "It's such a welcome honour to receive an honorary degree from Petroc. I've lived for the last 50 years in deepest Devonshire. We made Iddesleigh our home. So when Petroc, the distinguished and local university centre, contacted me about this, I was doubly thrilled. We set up Farms for City Children 50 years ago in Devon. I've written almost all of my 150 books in Devon. I've set dozens of them here. So it means a great deal to me to be honoured this way".
Graduate, Rhiannon Stone was presented with the 2023 University of Plymouth Best Overall Student Award. Rhiannon graduated from our HNC Construction programme after working tirelessly on her studies and in employment, overcoming personal challenges and supporting the college on panel events along the way. 
Dr Sean Mackney, Petroc Principal and CEO closed proceedings, saying: "As a Petroc student you have been encouraged to work hard, to do your best and to challenge yourself intellectually, personally and socially. You have adapted to independent study, working with your lecturers, employers and peers to learn and develop skills that will position you to succeed in our increasingly complex and global society. We are very proud of you, as you should be of yourselves. Historically, our alumni go on to enhance their communities, create new businesses, take care of their neighbours and make a difference to their families. You are champions for higher education, champions for the College and champions for positive change. Congratulations Class of 2023!"
A huge congratulations to our University Centre Class of 2023, this is only the beginning for you and from everyone at Petroc, we look forward to seeing you go on to excel in your chosen fields. 
The University Centre Petroc offers a wide range of degree programmes in partnership with the University of Plymouth and a number of professional validating bodies. Over the last thirty years, 4000+ graduates have gone on to further study and/or employment.