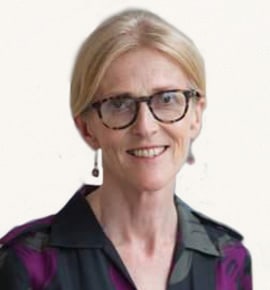 Pat was born in Solihull and went to school and university in the South East.
She has taught in various schools and colleges in the South East and South West and in Neo Liosia, Athens, Greece. Pat was appointed a Senior Manager at the Isle of Wight College during 1990 and supported preparation for Incorporation. Pat was appointed College Nominee and prepared the college for its first FEFC inspection. During this period, she trained as an FEFC part-time inspector. Pat successfully completed her Master of Business Administration and IPD qualifications.
Pat applied and was successfully appointed Head of Staff and Quality Services at Bridgwater College, Somerset during January 1996. During the period 1996-2003, the college achieved Beacon status and was recognised nationally as one of the most successful further education establishments in England. Pat was appointed College Nominee and prepared the college for a 2002 inspection that resulted in outstanding grades for all areas. Other roles undertaken included Clerk to Audit, Institutional Reviewer for two QAA reviews. Both QAA reviews scored 23 out of the maximum 24 points.
During January 2004, Pat applied for the post of Assistant Principal at South Devon College, meeting the challenges of preparing for an OFSTED inspection and moving to a new inspirational learning environment. Under her guidance and with the support of an exceptional Senior Management Team, South Devon College moved from unsatisfactory to good and finally outstanding in December 2008. Pat was appointed Vice Principal & Deputy
CEO in 2009.
Pat has guided the College to achieve other awards and successes including notably:
2014 Piloted the successful new Ofsted Common Inspection Framework
2011 & 2014 Investors in People Gold and Champion
2011 STEM Assured status
2010 & 2013 Matrix Standard for information/advice and guidance
2010 Sports Focus College Award
2007 & 2010 Training Quality Standard
2007 to 2014 8 Beacon Awards
2009 Beacon Status
2008 & 2009 BECTA Technology Exemplar Status !! Pat is a fully trained OFSTED inspector and has undertaken inspections of various colleges
and educational institutions!
Pat was awarded an OBE in the Queen's Birthday Honours List in 2012 for Services to Further Education. Pat has two adult children and enjoys her family and walking. She is honoured to be a Patron of MPCT (Motivational Preparation College for Training) since 2011. MPCT is an outstanding learning/training provider based in England and Wales.
Following early retirement during August 2015, Pat continues to work and support educational organisations to further improve quality and learner experience. During October 2015, Pat became a Company Director, PRTD. She now advises, mentors and supports various organisations and teams with the implementation of successful improvement strategies.
Email
executiveoffice@petroc.ac.uk