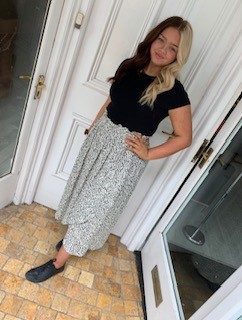 I chose to come to Petroc because they have a wide variety of courses to choose from and I was lucky to have this college right on my doorstep.
I picked the Level 2 Hairdressing Apprenticeship because I wanted on-the-job training as well as studying at college. It was good to earn my first proper wage and it made me become independent.
A highlight for me would have to be when we were asked to be involved in a charity event, where some students donated their hair to The Princess Trust. Me and a few other girls from my course carried out the big chop, we then complimented the girls with a cut and blowdry after.
I enjoyed studying at Petroc because I was taught everything I needed to know by some amazing lectures and because everyone pushes each other on because everyone wants the best for everybody. They help and guide you on to getting a successful career.
By doing an apprenticeship I found that I gained so much confidence, not just on the shop floor but as a whole – you would be greeted by new people every single day which was something I wasn't always confident in doing before. By working in a salon full-time I was able to see how salons in themselves work, how other stylists work and gain a lot of hands-on experience. This gave me the confidence to be able to train and do case studies on models in the college's salon in Year 2.
I left Petroc 2.5 years ago, and I am currently a full-time self-employed colour specialist. Since leaving college I have gained an amazing following on social media and have the best clientele which I will always be so grateful for. I have also experienced many amazing opportunities. I have been recognised by companies all around the world through my Instagram account (Hair_By_Chloepassmore) who have shared my work. By posting/sharing my work on a daily basis and by having a good following on my Instagram I have had companies approach me asking to work with them or I have been given products etc. I am currently working and is sponsored by a company called INNOluxe. This has led to me travelling to London, trying the new latest products and working with the most amazing people – one in being a famous hairstylist called Sophia Hilton.
In the future I would love to become an educator and would love to teach students, specialising in colours, mainly balayage and vivids as that's what I specialise in. I'm hoping to come back to college in September to study my Level 3 to then go on studying my AET.
My advice to anyone who is choosing to take this course would be to enjoy every second – make sure to watch and learn, shadow your work colleagues and be sure to stay focused. If you work hard then it pays off. There are so many opportunities out there and this is just the beginning.
Level 2 Hairdressing Apprenticeship

"I picked the Level 2 Hairdressing Apprenticeship because I wanted on-the-job training as well as studying at college, it was good to earn my first proper wage and it made me become independent."
More stories from our students