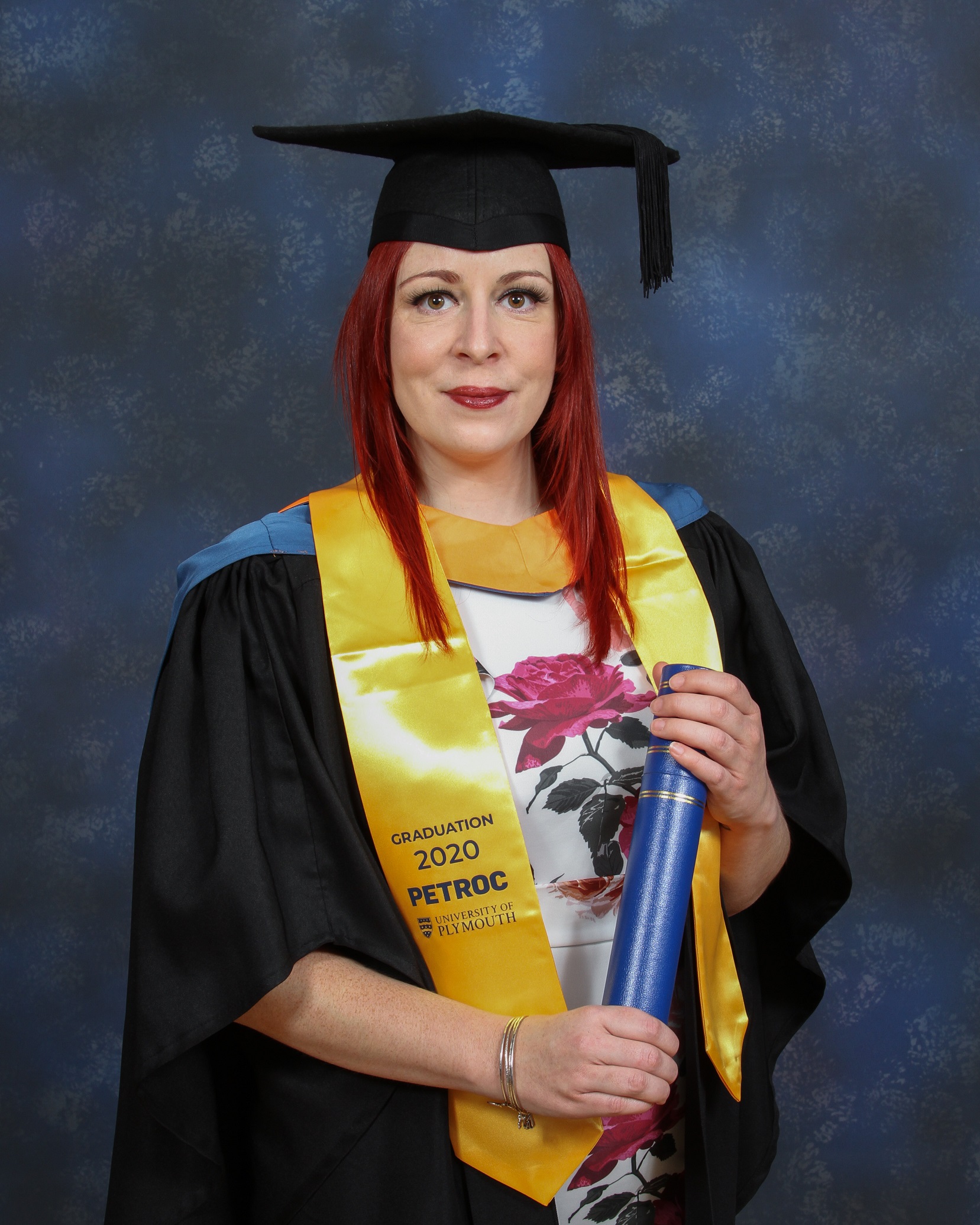 Why did you choose to come to Petroc?
I chose to come to Petroc due to the small campus, it was local to where I lived with lecturers who seemed very passionate and knowledgeable.
What made you pick this particular course?
I want to be a teacher and I was particularly passionate about early years, coming from a psychology background I found the childhood studies course to be a perfect mix of child development, psychology, and an in-depth look into theory behind teaching children.
What were the highlights so far?
We visited the University of Plymouth in our second year – it was a very fun bonding experience for the group.
What did you most enjoy about studying at Petroc?
I think Petroc is amazing because you get a degree qualification with what feels like private tutoring support! In my first degree we had lessons in lecture halls with over one hundred people and it was almost impossible to ever talk to the lecturer 1:1. Whereas, the most I was ever in a lesson with at Petroc was 30 (when we mixed with Health and Social Studies). This was the perfect environment for me. I was able to make close bonds with everyone on my course, some of whom are now lifelong friends, and get a huge amount of time with lecturers. The lecturers really care about you and your development too; they put in many extra hours for your benefit – I always felt supported.
From the moment I arrived at Petroc on an open day I knew this was the best fit for me. I almost entirely credit my degree result to Petroc as whilst I did work very hard, I feel that without the time, support and nurturing environment that I was lucky enough to receive, I wouldn't have been able to achieve the result I did.
Did you undertake any work experience throughout your studies?
Prior to and during my degree course I was working as a teaching assistant. This improved my learning on the course hugely as I was able to directly apply learning in the classroom to my experience at work to benefit the children I worked with.
What do you plan to do when you leave Petroc?
I am currently halfway into my SCITT teacher training course. I have worked as a teacher in two schools, one in Honiton and one in Exeter, across KS1 and KS2. The course is challenging and the workload is intense but I feel confident that I will qualify soon and leave being the best possible teacher I can be, thanks to the in-depth learning I received at Petroc.
What's the long-term plan?
In five months I will receive my qualified teacher status and begin working as a teacher come September!
Any advice for someone thinking of choosing the same course as you?
Do it! If you are not sure, go to an open day and meet the lecturers. This really sealed the deal for me. Their passion and dedication is so evident that I surprised myself and turned down other universities immediately after leaving the open day. From the second I arrived I knew this was the place I wanted to study.
If you are looking for a small, nurturing, family-feel environment with fantastic lecturers, library and support staff this is 100% the place for you.
BA Hons Professional Studies (Childhood Studies)

"I almost entirely credit my degree result to Petroc as whilst I did work very hard, I feel that without the time, support and nurturing environment that I was lucky enough to receive, I wouldn't have been able to achieve the result I did."
More stories from our students