Access to Higher Education Diploma: Sciences

Want to go to university? Want a change of career? Or want a new challenge?
No A Levels? No problem! It's never too late to study for a degree even if you have no qualifications at all. Or you may already have some qualifications at GCSE, NVQ or BTEC but not enough to get into university. Many adults return to education to improve their career opportunities and achieve their personal goals. Access to Higher Education Diplomas enable mature students to apply for a degree programme in only one year. So if you have a career path in mind which requires a degree and you thought you could never do it – think again.
An Access to Higher Education Diploma is a means of entry to a degree course. It will help you prepare for the academic rigour of higher education study, reviving skills you might not have used in a while and building your confidence. You will be part of a group of other adult students equally excited about learning, motivated to work hard and fulfil their ambitions.
This Access to HE Diploma prepares you for in-depth study of scientific disciplines at degree level. Learning at this stage is broad and the opportunities for employment equally so, as a science degree is sought after in almost every sphere today.
To complete the course, you must choose three subjects from biology, chemistry, mathematics, or psychology. Each subject comprises four or five modules in which you can earn credits toward your qualification
In biology, you will explore how our physical make-up is determined in biochemistry, cell biology, physiology, human disease, and inheritance.
Chemistry delves deep into the fundamental structure of universal elements, considering organic chemistry, chemical bonding and reactions, energetics and kinetics and redox (reduction and oxidation).
If you are fascinated by human behaviour and thought, you will enjoy being a student of psychology. This absorbing subject considers the impact on us of stress and wellbeing, and early social development; it also investigates theories of crime, and atypical psychology.
Mathematics, the foundation of scientific understanding, is almost a science in itself. In this subject, you will study modules introducing mathematics and calculus, statistics, and trigonometry.
Throughout the course, you will be developing your study skills including academic research from a wide range of sources. Tutorials will support your study and provide guidance that will help you progress toward a foundation degree or full honours degree programme.
Select from the start date/s below…
Assessments
This course employs continuous assessment. You will compile a portfolio of assessed work throughout the year, which is externally moderated at the end of the course. In some subjects there will be in-class timed tests.



Students taking GCSE English or Maths will also have external examinations in May/June.
Entry Requirements
Entry requirements vary depending on the modules you decide to take:

For Biology – GCSE grade C/B (4/5) in Biology; or GCSE grade C/B (4/5) in Science

For Chemistry – GCSE grade C/B (4/5) in Chemistry; or GCSE grade C/B (4/5) in Science together with grade C/B (4/5) in Additional Science

For Maths – GCSE grade B/6


Most universities require GCSE grades at C or above in English and Maths, or equivalent, as part of the entry requirements for degree courses. GCSE English and Maths are separate qualifications from the Access to Higher Education Diploma so, if required, we offer additional lessons for these subjects. If you don't already have a C grade or above in Maths or English at GCSE, these are currently free for students over 19. Please contact our Advice and Guidance Centre for further details. Please note that due to the amount of work involved, we strongly recommend that you only take one GCSE at the same time as the Access Diploma.


After you have been accepted for this course, you will be sent a reading list. In the meantime, you may find it very useful to look at GCSE and AS-level Human Biology textbooks: suggested websites for Biology: www.cellsalive.com, www.s-cool.co.uk, www.bbc.co.uk/schools/gcsebitesize.


If you are taking Chemistry, you should also visit http://www.chemguideforcie.co.uk/ and BBC Bitesize GCSE http://www.bbc.co.uk/education/subjects/zs6hvcw to refresh your Chemistry knowledge.


It will also be useful to research courses and universities prior to starting the course to help with your university application, which takes place in the first term.
Progression
After this course, you could apply for a science-based degree course, foundation degree or honours degree at Petroc. The diploma could also lead to a science-based career or degree course in, human biosciences, optometry, pharmacy, chemical engineering, forensics, conservation biology & ecology, zoology, veterinary science, nursing, midwifery, paramedic science, podiatry, occupational therapy, physiotherapy, dietetics, nutrition, psychology, computer science.
Facilities and resources
Access students are well supported at Petroc with well equipped and fully resourced physical and online facilities. There is an excellent Moodle (VLE) and other well supported learning resources. Dedicated labs support relevant courses, as do widely available IT resources. We also offer a designated common room for mature (19+) students.
FAQs
Q: Do universities recognise the Access to Higher Education Diploma?

A: The Access to Higher Education Diploma is a national qualification and is recognised and accepted by UK universities. Many universities have policies to encourage applications from Access to HE students, who are valued for their maturity and willingness to contribute to discussions.



Q: How much does it cost?

A: You are entitled to full fee remission if the following applies to you:

Aged 19 – 23 and studying your first full Level 3 qualification.

Aged 19+ – find out more about the Advanced Learner Loan – our Advice & Guidance Centre will be able to help you with this and any questions you may have.

Applicants who take the Advanced Learner Loan do not need to pay anything upfront. If you complete your Access Diploma and then go on to complete a course in Higher Education, the remaining balance of your Advanced Learner Loan, including any interest on it, will be written off. You can get full information from Student Finance England. Alternatively, you can contact our Advice & Guidance Centre for advice and information on fees.



Q: Can I get any help with childcare or other costs?

A: Some additional help is available, dependent upon individual circumstances – please contact our Advice & Guidance Centre for advice and information.
Study Programme
Every full-time student at Petroc will have their own Study Programme which will include:

– Your academic or vocational qualification.

– Maths and English Language development – if you have not achieved GCSE grade 4 in either of these subjects.

– Work Experience – hours will vary depending on your qualification and course level.

– Tutor Support – to support your personal, academic and professional development.

– Sustainability – helping you to identify how you can improve the sustainability of your future employment sectors.

– Personal Development Awards – developing six key areas of personal and employability behaviours to prepare you for the working world.
Starting Date : 12/09/2023
Course Code : FTB185L (2023)
North Devon campus
Starting Date : 09/09/2024
Course Code : FTB185L (2024)
North Devon campus
Why Petroc should be your first choice
Petroc offers high quality education and training across North and Mid Devon. We provide outstanding learning, excellent facilities, strong connections to employers and a supportive environment to help you fulfil your education goals and set you on your path to the career of your dreams.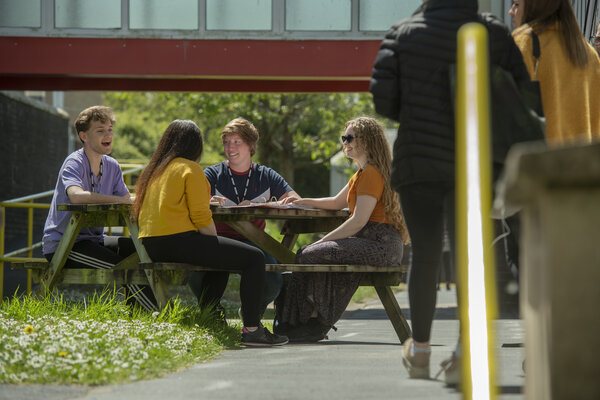 SUPPORTIVE
We offer a supportive and inclusive environment where you can flourish and feel a valued member of the college and wider community. 
INSPIRING
Our teaching spaces and facilities are some of the best in the region, providing stimulating and true-to-life learning environments. 
CONNECTED
We'll provide you with the experiences you need to be ready for employment or the next step on your educational journey.
You may also be interested in