This Level 1 Carpentry and Joinery qualification will give you the basics needed for you to build a career in Wood Occupations.
You will spend your time learning how to safely use hand tools, power tools and machinery to cut, shape and manufacture basic joinery products and working on some carpentry tasks.
Mandatory unit:
– Introduction to health and safety in construction
Optional units:
– Constructing halving joints
– Constructing housing joints
– Introduction to the construction industry
– Constructing through mortice and tenon joints
– Constructing angled halving joints
– Constructing bridle joints
– Constructing haunched mortice and tenon joints
– Constructing stub mortice and tenon joints
– Fixing architraves and skirtings
– Constructing and fixing hatch linings
– Fitting locks and latches
Practical Activities: Safety is our main priority while working in the workshops. The course content relates closely to the industry and is kept up to date. You will be assessed by your teachers against the set criteria, through training and assessments.
Workshops: When working on practical topics in the workshops, you will be required to follow the correct procedures when using tools, power tools and machines. Wearing safety boots and other PPE (Personal Protective Equipment) is mandatory in our workshops.
In addition to carpentry and joinery, you will attend sessions in which various topics relating to employment and required behaviours for the workplace. These could be about self-employment, understanding VAT, employability skills, working with quotes and estimates, drawing or simply passing the test to get the health and safety CSCS card.
You will also study GCSE's in Math and English to grades 4/5 as well as take part in a work experience placement.
Learners must achieve a minimum of 15 credits; 3 credits from the mandatory unit (health and safety) and 12 credits from the optional units.
Assessments
There are specific outcomes for each unit which must be achieved. You will complete assessments to meet these criteria. The assessment briefings will give you the information you need in order to achieve.

Your knowledge will be assessed using our Virtual Learning Environment.



Practical assessments will allow you to demonstrate that your skills meet the strict criteria in practical activities.

You will be issued the assessment briefs at appropriate stages in each unit. These assessments will contribute to your final grade for the appropriate units.
Entry Requirements
Both English and maths are used everyday in the life of a carpenter or joiner.

You will be expected to study Maths and English if you have yet to achieve a GCSE at grade 5/4 in these subjects, or study towards the Functional Skills qualification in English and Maths Level 1 or 2.
Progression
Following successful completion of the Level 1 Certificate in Construction Skills (Carpentry and Joinery) study programme, you may be able to progress to an *Intermediate Apprenticeship in either Site Carpentry or Bench Joinery.



* There is an interview process to become an apprentice. You will be asked to do an initial assessment, an aptitude test and a skill scan interview. Minimum GCSE grades in maths and English are required for an apprenticeship.
Facilities and resources
Classrooms are fully equipped with smart boards and other teaching and learning devices.



Workshops are also fully equipped with hand tools, power tools and up-to-date machinery.



The use of Moodle (our Virtual Learning Environment) is particularly important during teaching and learning; all learners will have access to it, at any time, to suit their needs.



The use of mobile devices (smartphone, iPad, tablet) is welcomed as long as they are used for learning. You will find many posters with QR codes allowing you to access resources such as videos, screencasts and more.
FAQs
Q: Is there any equipment needed to participate on this course?

A: Safety boots need to be purchased by the student. Students are also required to provide their own stationery and textbook; a full equipment list will be provided at interview.



Q: Are there any costs for this course?

A: Students may be asked to pay a contribution towards materials and learning resources used in workshops and classrooms. There may also be trips throughout the year which may incur a cost. If you are a 19+ learner there may be course fees, unless you are eligible for a remission. Financial support may be available, if you require further information contact the Advice & Guidance Centre on 01884 235330.
Study Programme
Every full-time student at Petroc will have their own Study Programme which will include:

– Your academic or vocational qualification.

– Maths and English Language development – if you have not achieved GCSE grade 4 in either of these subjects.

– Work Experience – hours will vary depending on your qualification and course level.

– Tutor Support – to support your personal, academic and professional development.

– Sustainability – helping you to identify how you can improve the sustainability of your future employment sectors.

– Personal Development Awards – developing six key areas of personal and employability behaviours to prepare you for the working world.
Staring Date : 12/09/2022
Course Code : FTB123 (2022)
North Devon campus, Mid Devon campus
Staring Date : 12/09/2022
Course Code : FTT080 (2022)
North Devon campus, Mid Devon campus
Why Petroc should be your first choice
Petroc offers high quality education and training across North and Mid Devon. We provide outstanding learning, excellent facilities, strong connections to employers and a supportive environment to help you fulfil your education goals and set you on your path to the career of your dreams.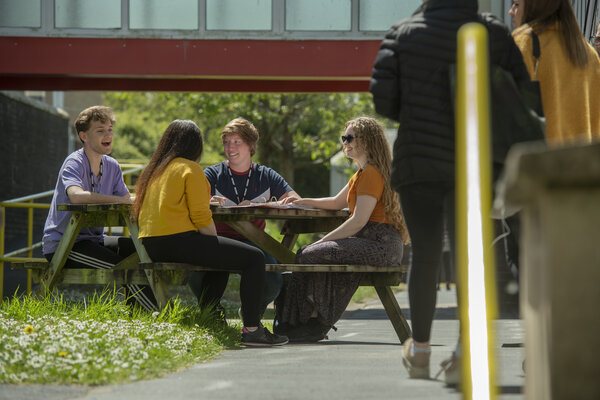 SUPPORTIVE
We offer a supportive and inclusive environment where you can flourish and feel a valued member of the college and wider community. 
INSPIRING
Our teaching spaces and facilities are some of the best in the region, providing stimulating and true-to-life learning environments. 
CONNECTED
We'll provide you with the experiences you need to be ready for employment or the next step on your educational journey.
You may also be interested in