Engineering Fitter – Apprenticeship

Fitters may typically have a mechanical, electrical, electronic, control systems, pipe fitting or instrumentation bias or operate across multiple disciplines depending on the type of assembly. To produce or re-furbish the components, fitters will interpret drawings/specifications and plan their work, for example ensuring they have the right tools, equipment and resources to complete the task to the required specification.
This is a versatile engineering programme which will offer you a wide range of engineering skills and knowledge. It can be tailored to meet the needs of the individual employer and so specific content can vary, however, it focuses on the common skills and behaviours required of all effective engineering fitters.
As an example, you may learn how to produce complex high value, low volume components or assemblies in full or part, using machines, equipment or systems. This may include turbines, cranes, gearboxes, production lines, rigs and platforms.
During this apprenticeship, you will be required to learn the following knowledge, skills and behaviours:
KNOWLEDGE:
– Learn about the materials used in components/assemblies and their use and application considerations.
– Principles of design and operation eg cost, waste, productivity, health and safety.
– Manufacturing and assembly processes eg filing, sawing, scraping, drilling, soldering, bolting, wire cutting.
– Safe use of tools and equipment; right tool for the job, requirements for machinery checks, adjustments, operation and shut down.
– Component/assembly specifications.
– Techniques for measuring, marking, cutting and drilling materials to the required size and shape, accurately, safely and economically.
– Engineering mathematical and scientific principles; methods, techniques, graphical expressions, symbols, formulae and calculations.
– Engineering data, eg electrical readings, vibration, speed and calibration.
– Component/assembly documentation. eg operating procedures, inspection records, assembly instructions.
– Quality standards for components/assembly for example, drawing, calibration of equipment, materials specification. Application of ISO9001 (Quality Management Standard) in the workplace.
– Health and safety, including Health & Safety at Work Act, personal protective equipment (PPE), manual handling, Control of Substances Hazardous to Health (COSHH), Provision and Use of Work Equipment Regulations (PUWER), Noise at Work Regulations, Electricity at Work regulations, risk assessments.
– Environmental considerations; safe disposal of waste, minimizing waste (re-use and re-cycle), energy efficiency.
– Who to communicate with and when and how
– Planning techniques – resources, tools, equipment, people.
– Component/assembly quality checks eg checking tolerances, threads, voltages.
– Commercial considerations including contractual arrangements. How the role contributes to commercial operations.
SKILLS:
– Read, interpret and understand the component/assembly specification, diagrams, drawings and work instructions.
– Plan component/assembly tasks.
– Prepare work area for component/assembly tasks.
– Carry out relevant planning and preparation activities before commencing work activity.
– Check tools during and after task completion.
– Measuring and testing, checking/inspecting component/assembly.
– Problem solving.
– Apply improvement techniques.
– Communicate with colleagues and/or customers.
– Complete component/assembly documentation.
– Report work outcomes and/or issues.
– Restore the work area on completion of the activity.
– Dispose of waste in accordance with waste streams.
– Operating in line with quality, health & safety and environmental policy and procedures; identifying risks and hazards and identifying control measure where applicable.
BEHAVIOURS:
– Take personal responsibility and be resilient.
– Work effectively in teams.
– Effectively communicate.
– Quality and problem solving.
– Commit to continuous personal development.
Assessments
Your end-point assessment will incorporate a project, multiple choice test and professional discussion.
Entry Requirements
To be accepted onto this Level 3 programme, you must hold at least five GCSEs at grade 4 or above, including GCSE Maths and English Language.
Progression
This program leads to job roles such as Mechanical Fitter, Electrical Fitter, Electronic Fitter, Instrumentation Fitter, Pipe Fitter, Controls and Systems Fitter. After completion of the qualification, you can progress to become a Charted Engineering Technician (EngTech). You can also advance to a Level 4 Higher Apprenticeship or Higher Education and enrol on a related HNC or FdSc programme.
Facilities and resources
As an apprentice, you will have full access to the college facilities including mechanical and mechatronics workshops, CAD and computer suites.
Starting Date : 01/08/2023
Course Code : AB131 (2023)
North Devon campus
Starting Date : 09/09/2024
Course Code : AB131 (2024)
North Devon campus
Why Petroc should be your first choice
Petroc offers high quality education and training across North and Mid Devon. We provide outstanding learning, excellent facilities, strong connections to employers and a supportive environment to help you fulfil your education goals and set you on your path to the career of your dreams.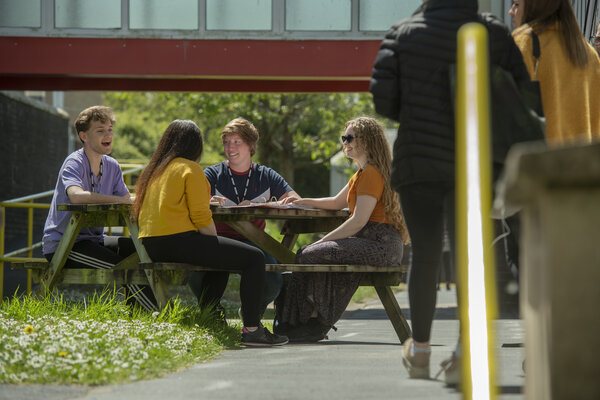 SUPPORTIVE
We offer a supportive and inclusive environment where you can flourish and feel a valued member of the college and wider community. 
INSPIRING
Our teaching spaces and facilities are some of the best in the region, providing stimulating and true-to-life learning environments. 
CONNECTED
We'll provide you with the experiences you need to be ready for employment or the next step on your educational journey.
You may also be interested in