Diploma in Advanced Manufacturing Engineering (Electronics) (ETT)

The EAL Diploma in Advanced Manufacturing Engineering (Electronics) is designed to teach both theoretical knowledge and practical skills, and provide you with the perfect foundation on which to develop your engineering knowledge.
This course will cover subjects that are essential to the electronics engineering sector such as mathematics for engineering technicians, analogue and digital electronics, communications in the engineering industry, measurement and control, health and safety, and much more besides.
Units covered in this programme include:
– Health and Safety: Regulations and risk assessment requirements
– Mathematics: Statistics, trigonometry and calculus
– Further Mathematics: Higher algebraic techniques, higher graphical techniques and complex numbers
– EEP: Terminal voltage, capacitors, inductors and AC theory
– Digital Electronics: Boolean algebra, sequential logic and combination logic
– Measurement and Control: Measurement theory and practical measurement
– Micro Electronics: Logic families, PIC and Arduino's
– Engineering Communications: Interpreting engineering drawing, written and verbal communication and sources of information
– Analogue Electronics: Analogue integrated circuits and analogue devices
By enrolling on this course, you will become part of SWIoT – the South West Institute of Technology. SWIoT is a unique collaboration between Petroc and a number of prestigious higher and further education partners; designed to provide innovative technical education and deliver a skilled local workforce, economic growth, and prosperity to the South West.
Whether you're new to further education, are looking for a qualification that'll give you access to higher-level study, want to retrain for a new career or are looking to upskill for your existing role, this could be the perfect place to start. And, as this is a part-time course, you can fit it in around your existing work or study commitments.
Assessments
Assessment for this course will be carried out via a combination of internally-moderated short-question tests, open-book exams, and externally-moderated multiple-choice exams. There will also be written and practical assignments. Your final grade will equate to two A Levels, with equivalent UCAS points awarded, so that universities and employers can compare your achievement with those students following traditional A Level routes.
Entry Requirements
To be accepted onto this Level 3 programme, you must hold at least four GCSEs at grade 4 or above, including GCSE Maths and English Language.
You're expected to have achieved four GCSEs at grade B/5 or above, including mathematics and a science subject, or Level 2 Diploma in Engineering at merit or above, along with GCSEs at grade C/4, or equivalent Level 2 vocational qualification at merit/pass or above will also be considered.
Progression
This course has a natural progression to Petroc's Foundation Degree (FdSc) in Mechanical Design and Manufacture. This pathway is often supported by local employers as part of your professional development, and to increase a company's qualified workforce. Alternatively, you may wish to progress to university as a full-time student, providing you meet the course entry requirements of your chosen university.
Facilities and resources
This programme will be taught at the Engineering Centre of Excellence, which is a specialist training and assessment facility for engineering and manufacturing students. The centre contains high-tech CAD facilities, 3D printing, electronics design and assembly, a fabrication and welding workshop, CNC and manual machining, and a bench fitting workshop. You will have access to specialist workshops, laboratories, and high-quality CAD applications installed on industry-standard computer systems.

The Mechanical work is supported by a number of professional resources, including a machine shop, welding and sheet metal workshops, and a well-equipped science laboratory with a range of industrial testing equipment.

The Electrical, Electronic, and Digital Technology studies are supported by computer-assisted learning and virtual instrumentation in two classrooms, and a practical workshop where soldering of surface mount devices (SMD), through hole plated (THP) technologies, assembly, and circuit testing can take place.
FAQs
Q: Do I need to have an apprenticeship?

A: The simple answer is no; you don't need to have an apprenticeship. However, if you're aged between 16 to 19, then we would suggest that an appropriate apprenticeship could be the best option for your future career.



Q: Can I do this course if I haven't studied for a long time?

A: Yes, we actually find that mature students who have a desire to learn new skills, and gain nationally recognised qualifications, usually do very well on our programmes.



Q: Do I need to have a relevant job?

A: No, you don't need to be currently employed in a related position, but working in the same industry as your chosen course can be highly beneficial.
Starting Date : 19/02/2024
Course Code : PTB638J
North Devon campus
Why Petroc should be your first choice
Petroc offers high quality education and training across North and Mid Devon. We provide outstanding learning, excellent facilities, strong connections to employers and a supportive environment to help you fulfil your education goals and set you on your path to the career of your dreams.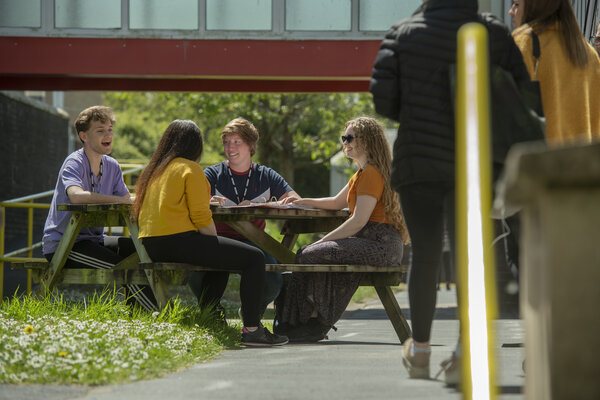 SUPPORTIVE
We offer a supportive and inclusive environment where you can flourish and feel a valued member of the college and wider community. 
INSPIRING
Our teaching spaces and facilities are some of the best in the region, providing stimulating and true-to-life learning environments. 
CONNECTED
We'll provide you with the experiences you need to be ready for employment or the next step on your educational journey.
You may also be interested in