National Extended Diploma In Health & Social Care

If you are serious about pursuing an exciting, challenging career in health and social care, and have a genuine interest in finding out about the varying needs of people of all ages, then this study programme can give you a really valuable qualification that opens doors to university, apprenticeship or employment.
Health and social care is one of the largest employers nationally and the ever-changing field of employment requires dedication and committed staff.
The first year of study will comprise of the following:
– Human lifespan development: Understanding human lifespan development, the different influences on an individual's development and how this relates to their care needs.
– Working in health and social care: Roles and responsibilities of health and social care practitioners and organisations. Roles covered will include social workers, occupational therapists, midwifery and care workers.
– Meeting individual care and support needs: Introduction to the values and skills that you will need to work in health and social care. Exploring the ethical issues that may arise and the challenges that are faced when providing personalised care.
– Principles of safe practice: safe working practices are vital for protecting yourself and service users from harm and for promoting wellbeing.
– Psychological perspectives: Psychology is a science devoted to the study of the human mind and behaviour. You will be introduced to several psychological perspectives and will be encouraged to not only understand them but also apply them to a work setting.
– Physiological disorders and their care: Different types of physiological disorders and how they are diagnosed and treated will be explored in this unit.
The second year content will include the following:
– Anatomy and physiology: Understanding basic human anatomy and physiology is essential to understanding how the body works. You should know how the body functions normally to appreciate what happens when something goes wrong.
– Enquiries into current research in health and social care: Research in health and social care potentially affects the health and wellbeing of everyone at each phase of their lives. You will investigate a current issue in H&SC using a literature search methodology.
– Promoting public health: Understanding the topic of how public health is promoted throughout the world, but especially in the UK. To obtain a higher grade for this unit you will need to evaluate how far health strategies meet the aims of health factors in Britain and how successful a recent health strategy has been.
– Work experience in health and social care: You will reflect on and develop the personal attributes and skills required to work in this sector. This is a practical unit that will teach you the benefits of work experience and provide a two-week placement opportunity in which you can develop, apply and reflect on knowledge and skills in a real-life situation.
– Supporting Individuals with additional needs: While working in health and social care, you may care for a full range of individuals who have additional needs. This unit gives you specialist knowledge that can be crucial to ensuring those with additional needs meet their full potential.
– Caring for individuals with dementia: A diagnosis of dementia can be a challenging experience for individuals and their relatives. By the end of this unit you should appreciate the importance of maintaining independence and dignity.
– Assessing children's development support needs: Knowing about children and how to support them as they grow and develop are important aspects of working with young people. There are many factors that have an impact on growth and development and you will have the opportunity to explore and understand this process. You will also learn about assessment methods.
Assessments
This programme is assessed through a combination of written assignments and external exams. There will be four written assignments and two exams in year one and year two. Additionally you will complete a work experience unit which will involve working in a health or social care setting and completing a reflective log book.
Entry Requirements
To be accepted onto this Level 3 programme, you must hold at least five GCSEs at grade 4 or above, including GCSE Maths and English Language.
You will also need a Disclosure and Barring Service (DBS) check before you start the course.
Progression
This programme enables progression to university or health care apprenticeships as well as a number of key worker roles in social care. It can open up all kinds of Higher Education or further education options for you including nursing, midwifery, occupational therapy, physiotherapy, paramedic science, speech and language therapy, social work and primary teaching.
Facilities and resources
You will be provided with the opportunity to apply your learning to practical tasks within our simulated clinical area. We also work closely with local organisations, to enable our students to experience real-life placements within the industry. You will have the opportunity to develop transferable, relevant skills which enhance your CV or UCAS application.
FAQs
Q: Is this course suitable for a career in medicine, dentistry or secondary school teaching?

A: For these careers, you would need additional subject specific qualifications.



Q: Do I need a Level 2 qualification in Health and Social Care to study at Level 3?

A: No, you can begin to study this subject area at Level 3.
Study Programme
Every full-time student at Petroc will have their own Study Programme which will include:

– Your academic or vocational qualification.

– Maths and English Language development – if you have not achieved GCSE grade 4 in either of these subjects.

– Work Experience – hours will vary depending on your qualification and course level.

– Tutor Support – to support your personal, academic and professional development.

– Sustainability – helping you to identify how you can improve the sustainability of your future employment sectors.

– Personal Development Awards – developing six key areas of personal and employability behaviours to prepare you for the working world.
As this course requires you to undertake work placements with children and/or vulnerable adults, a DBS check is required.
Starting Date : 04/09/2023
Course Code : FTT292 (2023)
North Devon campus, Tiverton campus
Starting Date : 08/09/2023
Course Code : FTB487 (2023)
North Devon campus, Tiverton campus
Why Petroc should be your first choice
Petroc offers high quality education and training across North and Mid Devon. We provide outstanding learning, excellent facilities, strong connections to employers and a supportive environment to help you fulfil your education goals and set you on your path to the career of your dreams.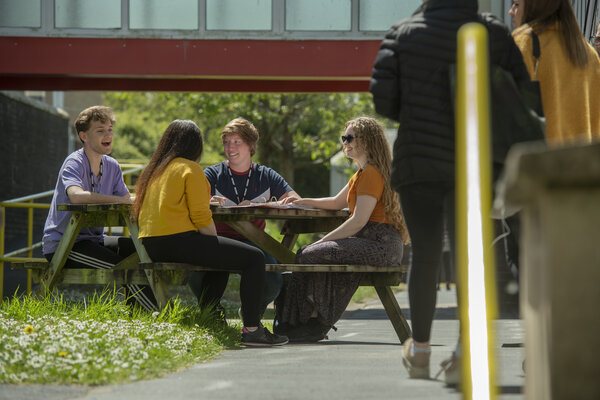 SUPPORTIVE
We offer a supportive and inclusive environment where you can flourish and feel a valued member of the college and wider community. 
INSPIRING
Our teaching spaces and facilities are some of the best in the region, providing stimulating and true-to-life learning environments. 
CONNECTED
We'll provide you with the experiences you need to be ready for employment or the next step on your educational journey.
You may also be interested in