BTEC Extended Certificate in Sport

This course is designed for students who wish to study a Sport and Physical Education topic alongside other A Level subjects.
You will cover four key topics:
– Anatomy and physiology in sport: The key areas for this unit explore the structure and function of the five different body systems that allow us to perform as athletes. You will learn about the different bones of the skeleton, the different types of joints, the sliding filament theory, the different types of muscle and muscle fibres, the structure of the heart and blood vessels, the mechanics of breathing, the role of Adenosine Triphosphate and its production via the three different energy systems. You will focus on the acute and long term effects of physical activity on the body. You will also have the chance to investigate the effects of exercise on each of the body systems by taking part in practical activities and conducting physiological tests to help see for yourself how each of these react.
– Practical sports performance: This unit will be based around performing, analysing and reviewing performance. You will have to demonstrate your technical ability, tactical awareness and knowledge of rules for specific sports.
– Fitness training and programming for health, sport and wellbeing: This unit covers a range of areas with a key focus on developing an individual's health, fitness and well-being. Fitness and health tests will be performed on clients with a focus on interpretation data and making dietary, lifestyle and training recommendation on the results found. This involves health screening, providing lifestyle recommendations and planning a training programme for a designated client.
– Professional development in the sports industry: You will investigate the sports industry, employment opportunities and career pathways on offer in this area. There is a chance to look into future careers with a focus on what steps you might take to get to your future career. There is also a focus on writing a CV, completing job applications and taking part in a job interview process, developing skills and giving experiences relevant to any future career pathway. It also covers the responsibilities and roles that need to be developed for someone looking to work in the sports industry.
The course is the equivalent to (and generates the same UCAS points as) one full A Level.
Assessments
This course will be assessed through a combination of examination and assignment work, presentations and one to one interviews.
Entry Requirements
To be accepted onto this Level 3 programme, you must hold at least five GCSEs at grade 4 or above, including GCSE Maths and English Language.
Having taken GCSE PE is an advantage but not essential. A good understanding of Biology will also be an advantage, and we recommend you have grade a 4/5 or above in a related science subject. Regular participation in sport is also required and you will be expected to develop your skills either in one of our sports performance academies or outside of the college environment. You will need to have an enthusiasm for sport, both theoretically and practically.
Progression
Upon completion of this course, you will be able to study a sport-related course at Higher Education level. Learners often go onto sports coaching, sport science, sport business and marketing, sports massage rehabilitation, physiotherapy or physical education careers with this qualification.
Facilities and resources
You will be working in both a theoretical and practical manner and whilst many sessions are classroom-based, you will undertake most of your practical sessions at Tarka Leisure Centre.

The Tarka Leisure Centre features an impressive range of facilities including a multi-use sports hall, a 110+ station gym, 2 fitness studios and top-of-the-range group cycling studio.
FAQs
Q: I was looking at studying an A Level in Sport but this is a BTEC, does this make a difference?

A: This qualification is the equivalent to a full A Level qualification over two years, and is recognised as such by Higher Education establishments. The difference is that you are graded in Pass, Merit, Distinction and Distinction* – all being equivalent to an A Level grade on the UCAS tariff system. e.g. Distinction = A grade.



Q: I'm unsure whether to choose this course alongside other A Levels or to choose the full-time Level 3 sport route, is there any guidance on this?

A: This smaller A Level equivalent option fits really well alongside other A Levels if you would like to keep your career options open or would like to study something specific to another industry in the future eg. Physiotherapy, Sports Business, Sport Psychology. The full-time option is an excellent option if you are almost certain that you'd like to progress in a sport-related career eg. PE Teaching, Sport Science, Sports Coaching even though you may be unsure about which one.
Study Programme
Every full-time student at Petroc will have their own Study Programme which will include:

– Your academic or vocational qualification.

– Maths and English Language development – if you have not achieved GCSE grade 4 in either of these subjects.

– Work Experience – hours will vary depending on your qualification and course level.

– Tutor Support – to support your personal, academic and professional development.

– Sustainability – helping you to identify how you can improve the sustainability of your future employment sectors.

– Personal Development Awards – developing six key areas of personal and employability behaviours to prepare you for the working world.
Starting Date : 09/09/2024
Course Code : FTB197 (2024)
North Devon Campus
Why Petroc should be your first choice
Petroc offers high quality education and training across North and Mid Devon. We provide outstanding learning, excellent facilities, strong connections to employers and a supportive environment to help you fulfil your education goals and set you on your path to the career of your dreams.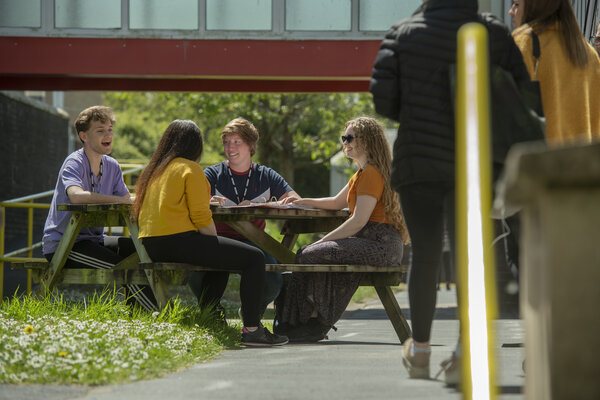 SUPPORTIVE
We offer a supportive and inclusive environment where you can flourish and feel a valued member of the college and wider community. 
INSPIRING
Our teaching spaces and facilities are some of the best in the region, providing stimulating and true-to-life learning environments. 
CONNECTED
We'll provide you with the experiences you need to be ready for employment or the next step on your educational journey.
You may also be interested in