Foundation Degree Animal Conservation

Our foundation degrees, in partnership with the University of Plymouth, are equivalent to studying the first two years of an honours degree, but unlike traditional degrees there are no formal entry requirements. Created in collaboration with employers, they combine academic study with developing the skills and attributes needed in the workplace. It makes them ideal preparation for a specific profession or industry or for making progress in your existing career. You can always convert to a full honours degree by taking a top-up course on completion.
In this ground-breaking foundation degree, you will study land and marine animal conservation, ecology, and zoology, all with direct reference to the unique habitats in the region, including Exmoor National Park, North Devon Biosphere Reserve and Lundy Island.
In a series of modules, the Foundation Degree in Animal Conservation combines practical conservation field work, laboratory work, and behaviour observations with seminars, lectures, tutorials to embed the core competencies needed for employment or progression to full BSc.
Animal anatomy and physiology, animal behaviour and animal health and diseases modules develop your understanding of animals of all kinds.
A group of ecology and conservation modules put your animal learning into an environmental context, examining the challenges of a dynamic and unpredictable world.
You will also learn about practical conservation and the role of zoos, and special modules are devoted to wildlife management and rehabilitation and marine animal biology and conservation.
The course develops your academic skills through research projects, supported by the Petroc virtual learning environment (VLE), and ensures you graduate with the transferable skills for further academic work or employment. The course includes a minimum of 50 hours of work experience.
Select from the start date/s below…
Assessments
Assessments for this course determine your theoretical and practical knowledge through ecological field surveys and reports, plant and animal identification tests, laboratory write-ups, and presentations and essays.
Entry Requirements
A Levels or vocational qualifications are accepted, at a minimum of 48 UCAS tariff points.

Substantial and relevant work experience in an appropriate sector is also accepted. Entry is welcome from mature students with relevant experience in place of these qualifications.
Progression
This foundation degree will give you the skills required to move into a wide range of careers and further study including animal behaviour, zoology and biosciences.
Facilities and resources
Our local environment is rich in animal life and habitat. We will use the beach and sea, Exmoor and Dartmoor National Parks, the extensive dune structure of Braunton Biosphere Reserve (burrows) and Lundy Island as our outdoor classrooms. Onsite resources include learning resource centres with specialist support for higher education students, biology laboratories and classrooms.
FAQs
Q: How much will this course cost?

A: For more information about course fees, please visit www.petroc.ac.uk/hefees



Q: Do I get to handle animals?

A: On this course, you do not spend regular time handling animals, although opportunities do arise through surveys and the work placement.



Q: How many days a week is the course?

A: It is run over two days per week. We also recommend each week you allow time for reading and your coursework.



Q: Do I need to buy books?

A: Our library holds all of the recommended texts for this course, however, there may be some additional books you wish to purchase. These can normally be bought online, second-hand at a reasonable price.



Q: Do you go on trips?

A: We do go on trips. For local trips in North Devon, you will be expected to arrange your own travel arrangements to and from the site; for trips that are further afield, Petroc will provide transport. There is also the opportunity to go on optional external trips and conferences, which are highly recommended.



Q: What jobs could this course lead on to?

A: This course makes sure all students meet the local organisations throughout the two years, allowing students to get a feel for the job market locally. This includes working with National Trust and Northam Burrows rangers, AONB project officers, and Devon Wildlife Trust ecologists. The course also encourages students to go to conferences and talks at Plymouth University and Exeter University and shows them opportunities within research.



Q: What advice would you give to budding conservationists?

A: Work experience, work experience, work experience! When you apply for a job, it isn't enough to have a qualification. You need to demonstrate soft skills and practical experience. Regular work experience will help give you the edge. Also, look at other important skills; being computer literate is very important. On the course, we give you the ability to do an Excel course, which will help you in whatever role you choose.



And finally, working in conversation isn't always glamorous; be prepared to wear wet weather gear, and regularly don a pair of wellies and get stuck in. Being physically fit and healthy is very important, as you can spend all day outside working away.
Please note: If you are only applying for a degree course at Petroc, you can do so through our website. If you are applying to more than one college or university, then you are required to apply via the UCAS application system
Starting Date : 09/09/2024
Course Code : HEB025F / D3H8 (2024)
North Devon campus
Starting Date : 09/09/2024
Course Code : HEB025P (2024)
North Devon campus
Why Petroc should be your first choice
Petroc offers high quality education and training across North and Mid Devon. We provide outstanding learning, excellent facilities, strong connections to employers and a supportive environment to help you fulfil your education goals and set you on your path to the career of your dreams.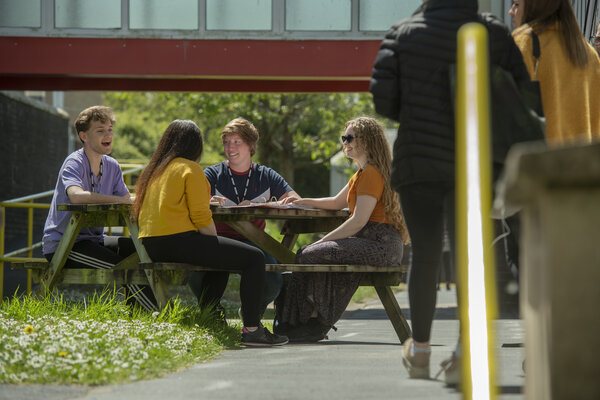 SUPPORTIVE
We offer a supportive and inclusive environment where you can flourish and feel a valued member of the college and wider community. 
INSPIRING
Our teaching spaces and facilities are some of the best in the region, providing stimulating and true-to-life learning environments. 
CONNECTED
We'll provide you with the experiences you need to be ready for employment or the next step on your educational journey.
You may also be interested in